Tokong Da Seng Ngan
 Cave Temple in Ipoh
Tokong Da Seng Ngan is a cave temple located at the foot of Gunung Rapat on Jalan Gopeng, Ipoh.
Gunung Rapat is an impressive limestone karst tower which contains a number of other nearby cave temples such as Perak Kwan Yin Tong (next door), Sam Poh Tong, Nam Thean Tong, Ling Sen Tong and Kek Lok Tong.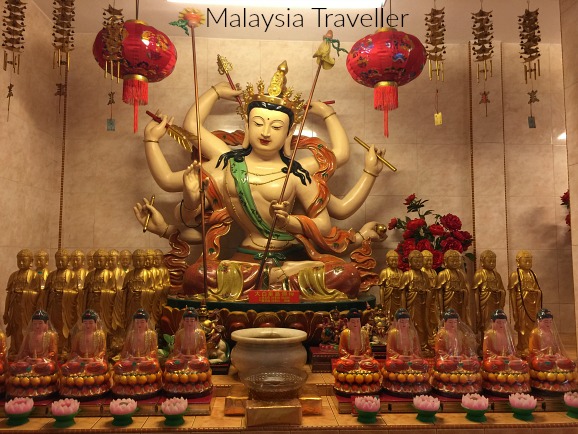 History of Da Seng Ngan Temple
The temple has an interesting history. It was established over 100 years ago. In 1974 it was struck by a flash flood and mudslide which washed tons of mud and rubble into the cave and submerged the whole area. The temple lay covered under the mud, undisturbed and largely forgotten for the next 32 years until it was re-excavated in 2006, a job which took several months. In the process of uncovering the temple they found century-old artefacts such as copper statues, urns and ceramics. 
Since its re-discovery the temple has been slowly upgrading and expanding.

 Da Deng Ngan Temple Today
The approach to the temple is impressive with a line up of golden buddha statues reflected in the pond.

Coming from the next door Perak Kwan Yin Tong temple you will cross the pond/stream by means of a metal bridge.

The aim is to eventually have 1,000 of these golden statues. Many are sponsored by devotees whose names are inscribed on plaques next to each statue. Sponsorship is said to bring the donor blessings and a better life. That doesn't mean you can commit all kinds of sins and get them all forgiven in exchange for money. Of course the donation of money is no substitute for leading a good and decent life.

A solid looking building encloses the entrance to the cave and has probably been designed to withstand any future flash floods.

A panoply of Buddhist statues awaits the visitor, depicting Buddhas in Amitabha, Shakyamuni and Maitreya forms, Guan Yin, Cundi, Heavenly Kings and various Bodhisattvas and Arhats.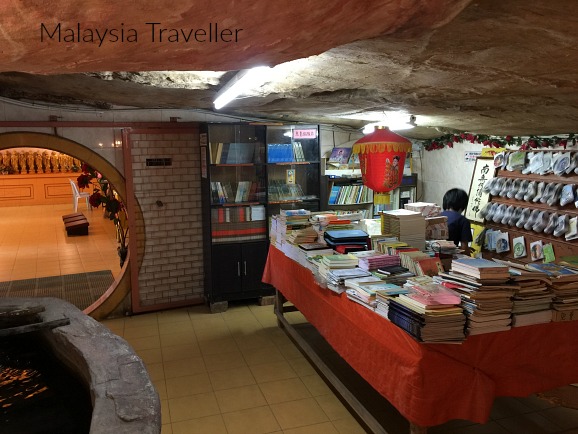 A cosy shop selling books and CDs on Buddhism is tucked away at the rear of the cave. With the low ceiling and the circular doorway it reminded me of a Hobbit house.
Outside is a pond for liberating fish and more statues.
You can read more details about this interesting temple on their Facebook page.

How to Get to Tokong Da Seng Ngan
I have marked the exact location of Tokong Da Seng Ngan on this map:

GPS Co-ordinates: 
These are the co-ordinates of Kwan Yin Tong's parking area next door. You can walk from there: 
4°33'30.5"N 101°06'48.3"E
4.558480, 101.113420
Address:
Tokong Jalan Raja Dr. Nazrin Shah (Jalan Gopeng), Batu 4 1/2, Kg. Kepayang, 31300 Ipoh, Perak, Malaysia.
Tel: +6016 4411 218 

Fax : +605 3133 600

 Opening Hours & Admission Charge 
Open daily from 9:30am to 6pm.
Entrance is free. Donations are welcome.

Nearby
Other nearby cave temples include:
And you should not miss the spectacular mirror lake, just a short walk away:
---
Share this page: