Tanjung Tualang Tin Dredge

Tanjung Tualang Tin Dredge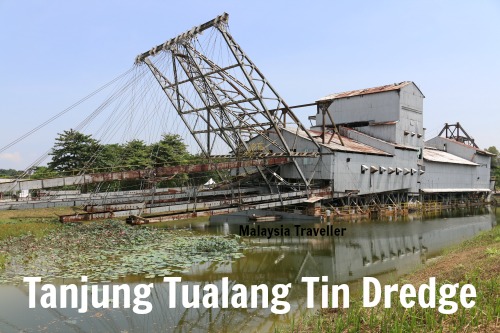 Tanjung Tualang Tin Dredge is a unique relic from Malaysia's tin mining heydays. 
A tin dredge is like a floating factory. This one, named Tanjung Tualang Dredge No. 5, or TT5,  weighs 4,500 tons and is supported by a pontoon of 75 meters in length, 35 meters in width and 3 meters in depth. It was built in England in 1938 by F.W.Payne & Son which, at that time, was a major design engineering company in bucketline dredges.

Tin dredges work by scooping up bucket loads of tin-bearing soil at the front end, which then passes through an oscillating drum and a system of jigs and screens to extract the tin, before spewing out the waste material at the rear end through a number of chutes.
This dredge was built for the Southern Malayan Tin Dredging Ltd, a company formed in 1926 which operated a further 5 dredges  in the Batu Gajah and Tanjung Tualang area. TT5 was in operation for 44 years until 1982 by which time the Malaysian tin industry was in rapid decline due to a combination of exhausted tin deposits, low tin prices and high operating costs.

After1982 the dredge fell on hard times. All the other dredges in the area were disposed of long ago and this last remaining example was in danger of being of being sold off for its high scrap metal value until heritage-loving individuals launched a "Save the Dredge" campaign.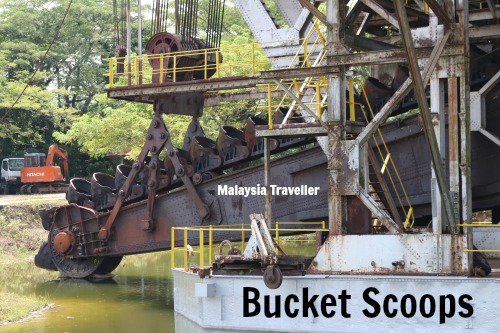 Fortunately that campaign was successful and the dredge has been preserved and restored. After some delays it is finally open to the public and visitors can now take guided historical tours of the last tin dredge.
In addition to tours of the dredge, visitors can enjoy Panning Experience, Self Tour TT5, Santai Bazaar@TT5 and other activities.

Opening Hours and Admission Charges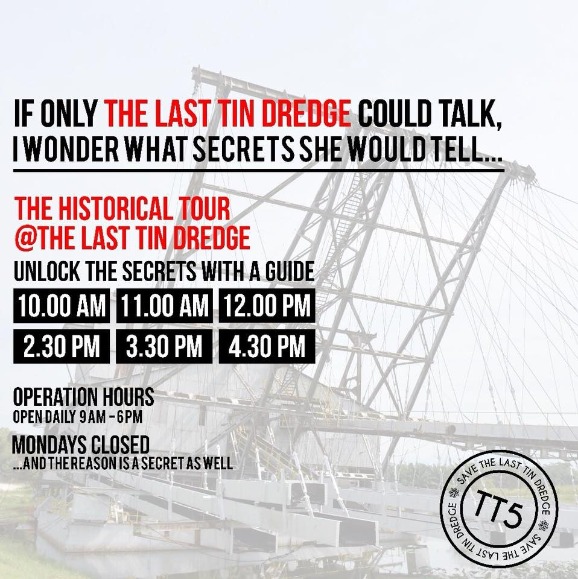 Open everyday except Monday from 9am to 6pm, lunch break 1pm - 2.30pm.
Guided Tin Dredge Tours start at 10am, 11am, 12 noon, 2.30pm, 3.30pm and 4.30pm.
Entrance Fees:

International Visitors

Adult: RM 20 
Child (ages 8-12): RM 10
Seniors (65+): RM 20
Children 7 and below are free.
MyKad Rate

Adult: RM 10 
Child (ages 8-12): RM 5
Seniors (65+): RM 5
Children 7 and below are free.
How to Get to Tanjung Tualang Tin Dredge
The exact location of Tanjung Tualang Tin Dredge is marked on this map.

Address: 9th KM, Jalan Tanjung Tualang, 31000 Batu Gajah, Perak, Malaysia

Enquiries: +6014 9043 255
GPS:

4°23'48.8"N 101°03'11.3"E

4.396890, 101.053130
Nearby
There are lots of interesting places to visit nearby:
---
Tanjung Tualang Tin Dredge
Share this page: