Tanjung Tualang Tin Dredge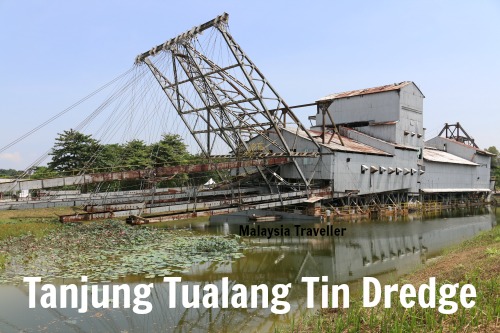 I first visited Tanjung Tualang Tin Dredge in 2011. Here is the review I wrote at the time on my Thrifty Traveller blog:
"A tin dredge is like a floating factory. This one, named Tanjung Tualang Dredge No. 5, or TT5,  weighs 4,500 tons and is supported by a pontoon of 75 meters in length, 35 meters in width and 3 meters in depth. It was built in England in 1938 by F.W.Payne & Son which, at that time, was a major design engineering company in bucketline dredges.

Tin dredges work by scooping up bucket loads of tin-bearing soil at the front end, which then passes through an oscillating drum and a system of jigs and screens to extract the tin, before spewing out the waste material at the rear end through a number of chutes.
This dredge was built for the Southern Malayan Tin Dredging Ltd, a company formed in 1926 which operated a further 5 dredges  in the Batu Gajah and Tanjung Tualang area. TT5 was in operation for 44 years until 1982 by which time the Malaysian tin industry was in rapid decline due to a combination of exhausted tin deposits, low tin prices and high operating costs.

Since 1982 the dredge has fallen on hard times. All the other dredges in the area were disposed of long ago and this last remaining example was in danger of being of being sold off for its high scrap metal value until heritage-loving individuals launched a "Save the Dredge" campaign. The dredge is currently owned by the Perak State Government so there is a chance it will be preserved. A visitor car park  has been created  (sadly mine was the only car in it) and there is a miniscule museum providing some information on tin mining and you have to pay a small fee to get up close. Workmen were doing some maintenance  during my visit ( a good sign perhaps?) so I was unable to go inside the dredge."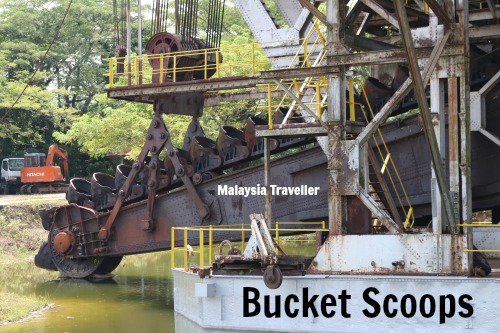 I revisited recently in August 2016. I had heard that it is undergoing renovation work with a view to opening it fully to the public and I was hoping that this time I would be able to take a look inside. Sadly it is still a work in progress and the interior remains off-limits. Recent newspaper articles report that it will not be re-opened inside until 2018.
I was allowed into the compound to take photos of the exterior of the dredge. I paid RM2 for this. 

The small museum building was not open to the public this time.

Review Verdict
This is a unique relic from Malaysia's tin mining heydays. It is good that it is still being looked after and renovation work is in progress. I would like to revisit when the interior is finally opened to the public.
Opening Hours and Admission Charges
Open daily from 9am to 5pm.
Currently visitors are charged RM2 to walk around the outside of the dredge.

Entrance fees for the inside will be determined once the repair work is completed.

How to Get to Tanjung Tualang Tin Dredge
I marked the exact location on the map on my Top Perak Attractions page.
Address: 9th KM, Jalan Tanjung Tualang, 31000 Batu Gajah, Perak, Malaysia

Phone:+60 5-370 2253

GPS:

4°23'48.8"N 101°03'11.3"E

4.396890, 101.053130
Nearby
There are lots of interesting places to visit nearby:
Accommodation
There are plenty of hotels in nearby Ipoh and Kampar. To search for available accommodation at discounted rates just click on the Agoda advert below.
Return from Tanjung Tualang Tin Dredge to Top Perak Attractions
Return from Tanjung Tualang Tin Dredge to Home
---