Taman Dusun Bandar
Nice Park in Kuala Lumpur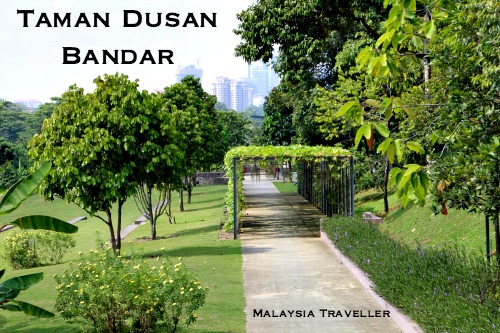 Taman Dusun Bandar, which translates as urban orchard park, is a fairly new park which opened a few years back at some considerable expense.
According to newspaper reports the park was singled out for criticism by the Auditor General's Report for financial discrepancies and wasting money. I was expecting to find a poorly maintained park but I was pleasantly surprised.
The grass lawns were neatly mown, everywhere was spotlessly clean, the small kids playground was in working condition, the fountains were working, the toilets were clean and the meeting hall buildings were modern and attractive (but not being used). Without nitpicking I found little to criticise.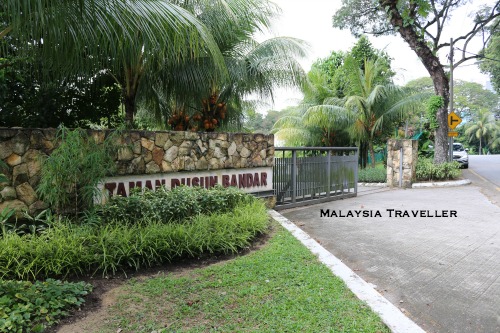 Main Features
As the name suggests, there are a lot of tropical fruit trees here, 1900 species according to some accounts but that seems exaggerated.
Many of the trees are labelled with a description and explain food or medicinal uses (in Bahasa).

Here are some of the trees which I observed:
Baccaurea reticulata (tampoi)
Dimocarpus longan (mata kucing)
Annona muricata - soursop (durian belanda)
Citrus maxima - pomelo (limau bali)
Averrhoa carambola - starfruit (belimbing besi)
Averrhoa bilimbi (belimbing buluh)
Nephelium rambutan (pulasan)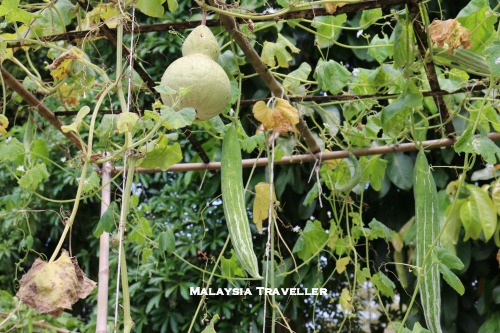 There are also gourds, coconuts, plenty of shrubs and some flowers. Bee colonies are being maintained to help with the natural pollination of the fruit trees.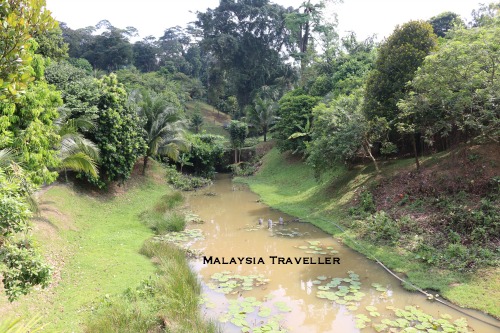 The park is nicely landscaped with a narrow lake crossed by footbridges.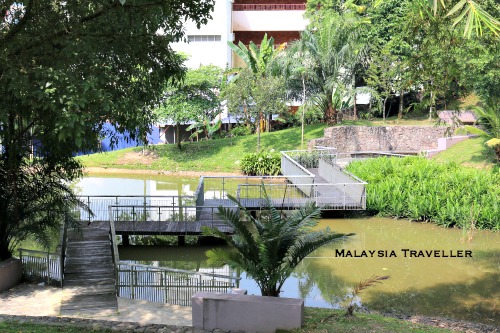 This zigzag bridge is a modern interpretation of those found in traditional Chinese gardens.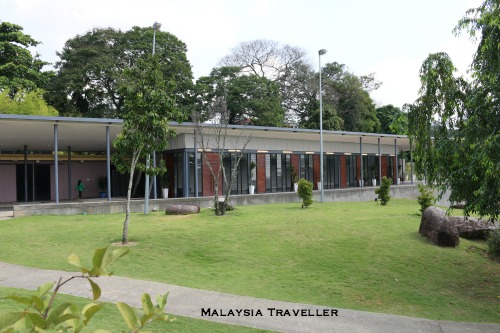 Nice modern buildings which could be used by shops, restaurants or for social events were locked and empty and the only people around were the gardeners.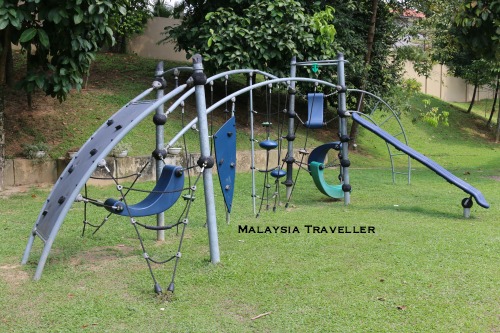 This was the only children's play equipment that I noticed.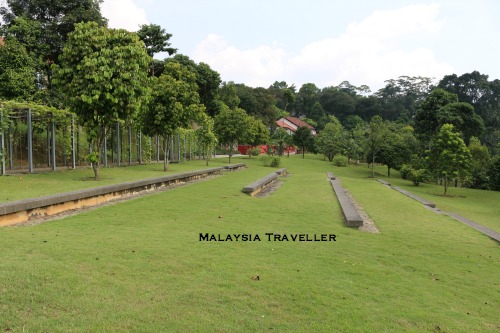 Plenty of space.

Facilities
The park is managed by DBKL who rent out the meeting halls and allow filming with fees as follows:
Hall Rental: RM 50 Per Hour ( minimum of 5 hours)
Photo/Movie shoot in the park:
Half day (7.00 am till 1.00 pm)RM 200
Whole day (7.00 am till 7.00 pm)RM 400
Reservations:

Kuala Lumpur City Hall

Tel : 03 – 2617 6394
Fax : 03 – 2698 3850
Email : jlr@dbkl.gov.my
Review Verdict
After reading unfavourable press reports I was expecting this park to be in poor condition but I was pleasantly surprised. It seemed well looked after and the toilets and other facilities were modern and clean. My only criticism is that I was the only person there apart from the gardening staff. If you looking for a quiet green space in KL to relax with the family, this is a good place to go.

Admission Charges and Opening Hours
Entrance is FREE.
The park is open daily 7am — 7pm.
 How to Get To Taman Dusun Bandar
The exact location is marked on this map. 
Address:

Taman Dusun Bandar, Jalan Bellamy, Kuala Lumpur.

GPS Co-ordinates:

3°07'49.3"N 101°41'46.0"E
3.130350, 101.696100
Nearby
The Royal Museum (former National Palace) backs on to the park though you may not be able to enter through the rear entrance. 
You can read what else there is to see on Jalan Bellamy on my Thrifty Traveller blog.

---
Share this page: