Taiping Heritage Trail - Part 2
If you have been following the itinerary suggested in Part 1 of my Taiping Heritage Trail you will now be exiting the Old House Museum or the Bismillah Restaurant. You will have seen from the map (in Part 1) that there is still some way to go so let's press on with the second half of our Taiping Heritage Trail.
Taiping Heritage Trail (continued)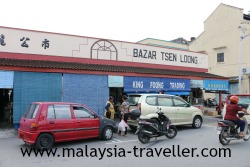 Bazar Tsen Loong is the next stop. It is a small shopping arcade filled mostly with tailoring shops run by Indian and Chinese female tailors.
---
Opposite the bazar is the Tseng Loong Hakka Association built in 1887 as the clan house for  Next we pass a grey building people originating from Tseng ch'eng (which is where the Immortal Girl mentioned above was said to be from) and Lungmen counties of Kuong-chou prefecture in southern China.
---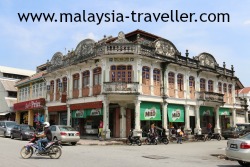 On Jalan Iskandar, the Peace Hotel was built in 1928 in Straits Eclectic architectural style as a residence for a wealthy importer and rice wine brewer called Mr. Toh Kay Beng.  After World War II it became the headquarters of Lee Rubber. In 1959 the ground floor was converted into a kedai kopi with a hotel above.
---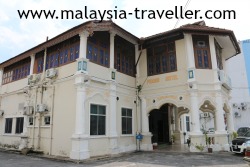 A block away is the Peking Hotel at 2, Jalan Idris. It was built in 1929 as premises for the rubber dealer's association. It was used by the Japanese Kempeitei (military police) during the Occupation. It is still a working hotel so you can stay here if you want a place with character. It is reputed to be haunted although the manageress assured me it was not!
---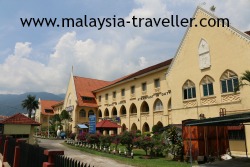 Next, on Jalan Convent, we pass the first of many schools on our Taiping Heritage Trail, the Taiping Convent School, built in 1938 in a style which incorporates tropical and Continental European touches. It is an all-girls secondary school.
---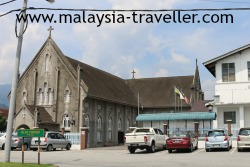 Next door is St. Louis Church, one of two Roman Catholic churches in Taiping It also dates from 1938 and replaced an earlier church of the same name which was built in 1899.
---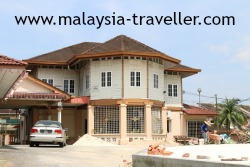 Rejoining Jalan Kota we pass a colonial era bungalow built by the British for Tengku Menteri as compensation for the requisitioning of his property. It is now used by the District Chief and appears to be having a makeover (not too extreme hopefully)
---
Across the street is Masjid India or Kling Mosque, built by Indian Muslims who first sett;ed in the Taiping area to trade in textiles, foodstuffs and cattle. The current mosque dates from 1969-73 when it replaced the earlier wooden structure.
---
An elegant heritage building nearby house Tadika Hua Lian (a kindergarten). A lady outside told me that it was once a palace but I have not yet found any information on it.
---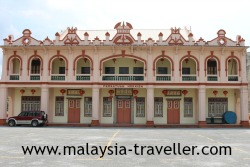 Next door is the ornate Hokkien Association clan house which was completed in 1931 to serve immigrants from the Fujian Province of South China.
---
On the corner of Jalan Kota and Jalan Masjid can be found the Masjid Melayu, the oldest mosque in Taiping dating from 1897. It has an unusual six-sided facade.
---
After a longish walk we reach the old railway station which is no longer used but has been preserved, for now, wedged up against the new station. The old station has been stripped of its contents and signage but some old signalling gear has been retained in a caged-off section of the platform. You can read more on my Great Malaysian Railway Journeys website.
---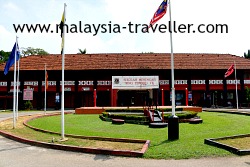 On Jalan Muzium Hulu we pass SK St. George 1 a boy's school with the date 1954 inscribed above the main entrance. Close by we pass the Sheffield Hostel (1928), part of King Edward VII Secondary School campus before reaching the main KEVII school building, painted in the school colours or red and black. This school is rated highly. When I visited, they were playing cricket on was Kapitan the school playing fields which is a rare sight in Malaysia.
---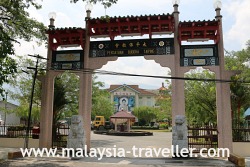 Just beyond the school is the compound of the Taiping Buddhist Society (Persatuan Buddha Taiping). Here you can find a stupa, a pagoda and a prayer hall and library inside what once may have been a grand private residence.
---
Retracing our steps back to Jalan Stesen, we pass some old railway properties where various rail equipment is being stored. Nearby is the very impressive St. George's Institution, a Catholic boy's school established in 1915. The original building was extended in 1928. During the WWII, according to the school website "It was converted into the headquarters for the Kempetai. The rumoured brutality and torture committed by the Japanese military police during the tenure of the school is a source of ghostly legends commonly circulated by the students even till today." The school has recently been given a fresh coat of paint in time for its centenary.
---
Further along Jalan Stesen is the main building of King Edward VII school which was opened by the Sultan of Perak in 1906.  It was built on the site of Taiping's first railway station. Many of Malaysia's famous leaders have been educated here.
---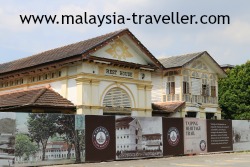 Across the road is the Rest House, built in 1894 when it was conveniently located near the first railway station. It was converted into the Lagenda Hotel for a while but is currently abandoned and in need of restoration. There are some more colonial-era administration buildings next door which are in even more dire need of TLC if they are to survive.
---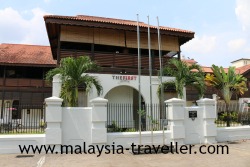 Where Jalan Stesen meets Jalan Ong Saik is a must for heritage lovers, a history museum called First Galleria, describing itself as an 'interactive heritage centre for Taiping's many firsts'. Update - This museum closed down on 30 August 2015.  The space outside the museum, called Laman Budaya, has some interesting exhibits too including a diesel locomotive, the Taiping railway station sign, some parts of a dismantled railway bridge, a red phone box and a trishaw. Read more details here.
---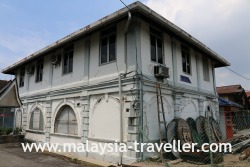 Next door to First Galleria is the old telegraph office and the post office. The post office (1884), the first in the Federated Malay States, has been renovated once or twice too often and has lost some of its original character.
---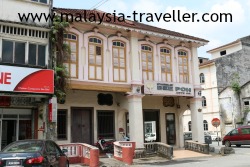 Lastly, where Jalan Barrack meets Jalan Ong Saik, is an attractive shophouse contains the Bee Poh art and decor shop. This building was owned by Kapitan Chung Keng Kooi (1829-1901), a prominent tin miner and Hakka community leader.
---
This concludes the main Taiping Heritage Trail but there are other attractions nearby as shown below.
Taiping Heritage Trail - Other Attractions in Taiping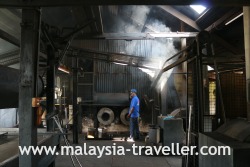 Antong Coffee Factory. Not far from the railway station is Malaysia's oldest coffee mill established in 1933. It is open to the public and you can buy their products here. Read more on my Thrifty Traveller blog. 
---
Taiping War Cemetery. Close to the Lake Gardens is a cemetery where 850 Allied personnel who died during World War II are buried. You can find out more and see photos here.
---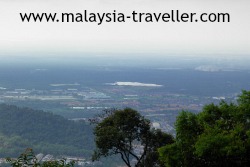 Bukit Larut (Maxwell Hill). This hill station overlooking Taiping was created in the 1880s by British officials looking to escape the oppressive heat of the plains below. Access is by Government owned Land Rovers or on foot. Get more information here.
---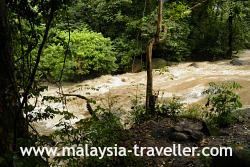 Burmese Pool. On the outskirts of town is a series of natural rock pools fed by a fast moving river and a small cascade which is a popular bathing spot for locals.
---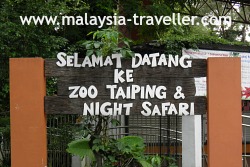 Taiping Zoo and Night Safari. This zoo covers a 34 acre site within the Lake Gardens area and is home to 1300 creatures from more than 180 species. It was opened in 1961.
---
Chan Shan Temple. Slightly out of the town centre is this picturesque multi storey temple with the date 1953 inscribed above the entrance.
---
Hope you enjoy your Taiping Heritage Trail.
Taiping Heritage Trail - Hotels
I stayed at the Hotel Vistana Micassa which was fairly charmless but conveniently located and cheap. 
---
Share this page: