Pantai Sri Tujuh
Tumpat, Kelantan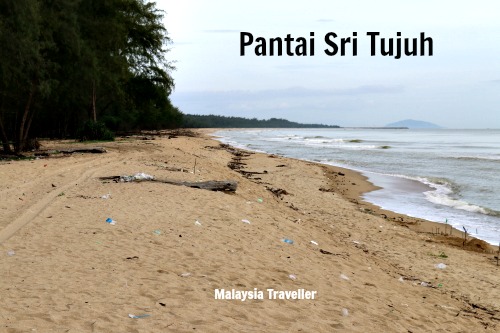 Pantai Sri Tujuh is the northernmost beach on the East Coast of the Malaysian Peninsular, stretching for a distance of about 7 km from Tumpat up to the mouth of the Golok River which marks the border with Thailand.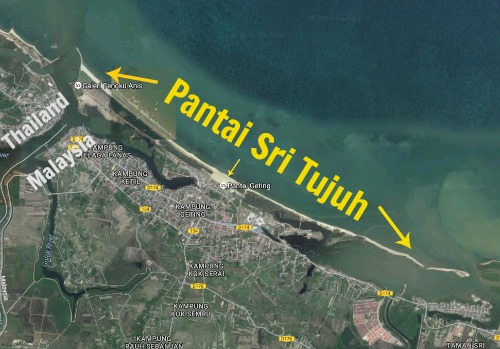 This long golden sandy beach is fringed with casuarina trees which provide shade for beach users. At the south-eastern end, the beach is a sandbar or spit separating the sea from a brackish lagoon. The middle part, which is also called Pantai Geting, has no lagoon while the north-western end is separated from the fishing village of Pengkalan Kubor by a lagoon-like river called Sungai Geting.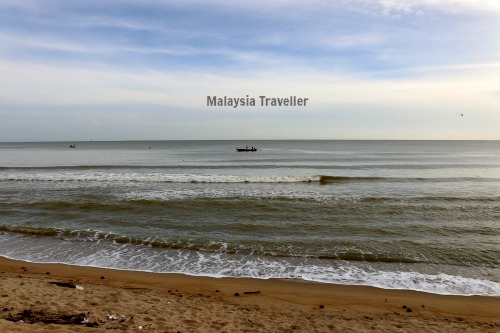 Things to Do and See
Swimming.  The sea looked calm and inviting during my visit but the sea can be dangerously rough during the monsoon season (November to March). The sand was soft on the feet but there was quite a bit of plastic litter on the beach. Swimming is not permitted in the lagoon behind the beach.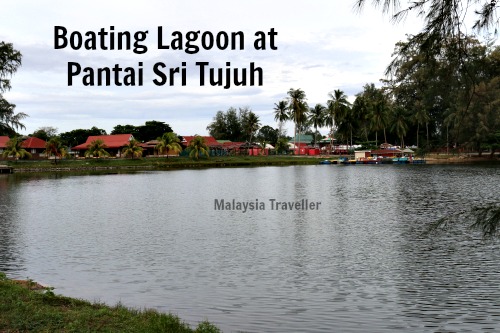 Boating. The lagoon has a centre for hiring paddle boats.
Eating. Those who don't bring their own picnics can find restaurants here where grilled fish is the speciality.
Fishing Village. There are plenty of picturesque small fishing boats along this part of the coast. You might be able to persuade a fisherman to take you out in one if you would like to try fishing. There are a number of floating fish farms and aquaculture sites here.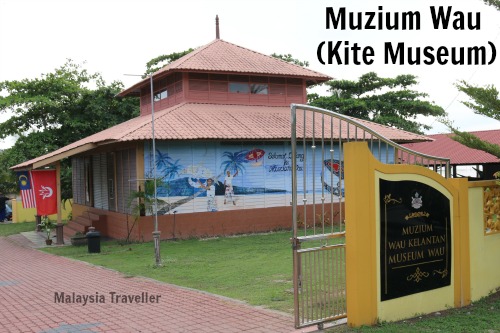 Muzium Wau. There is a small kite museum here showing off the types of elaborate kites which are popular in Kelantan.
Galeri Tengku Anis. At the Pengkalan Kubur end of the beach, where the Golok River separates Malaysia from Thailand, is a beach park and a nice building with traditional Malaysian architecture called Galeri Tengku Anis. This gallery mainly contains information pertaining to fishing.
How to Get To Pantai Sri Tujuh
The exact location is marked on the interactive map on the Top Kelantan Attractions page.
 If driving from Kota Bharu, just follow highway 134.  On the way you will pass a number of Thai-style Buddhist temples which are well worth a visit.
For other Beaches & Islands in Malaysia click here.
Accommodation
There are a few basic accommodation choices here such as Chalet Pantai Sri Tujuh Resort which has rooms on stilts above the lagoon, or D'Geting Beach Resort which has a nice beachfront location.

---
Share this page: