Munshi Abdullah House

Kampung Ketek - Malacca
Munshi Abdullah House is the humble birthplace in Malacca of Abdullah bin Abdul Kadir (1797-1854), a writer, translator and scholar who was conferred the title of Father of Modern Malay Literature.
Munshi Abdullah - Illustration by Harun Lat
 Who was Munshi Abdullah?
Abdullah was born into a respected family. His great Grandfather, Sheihk Abdul Kadir was a Yemeni who settled in Malacca to teach Arabic and the Quran. Abdul Kadir married a local woman who was also a teacher of the Quran. His father, also called Abdul Kadir, had a Tamil wife and made a living as a scribe preparing trade documents for merchants in Malacca.
Abdullah, having mixed blood in his ancestry, could by the age of ten, read and converse in Arabic, Malay, English, Tamil, Hindi as well having mastered the Quran. By the age of 13 he was teaching Indian soldiers in the British garrison how to read the Quran in Arabic and how to speak Malay. The soldiers nicknamed him Munshi, meaning teacher of languages and this title stuck with him for life.

He would probably have faded from history by now had he not been in the right place at the right time. He was witness to some of the most important changes in Malaya's history which brought him into contact with Sir Stamford Raffles and Captain William Farquhar.

For example in 1807 when the old Portuguese city walls and fortifications were being demolished by Farquhar, the 'Rajah of Malacca', in the hope of diverting trade and commerce away from Malacca to Penang, Abdullah wrote in Hikayat Abdullah:

'The Fort was the glory of the town of Malacca, and when the fort was destroyed, the town lost its glory like a woman whose husband is dead. Her face no longer has its glory'.

Despite Farquhar's act of shocking vandalism, Abdullah recognised his good qualities:

'Mr Farquhar's nature to be patient and tolerant of other people's faults, and he treated both rich and poor alike…. He was ever generous to all the servants of Allah. Truly all these qualities I have related were as cords tying the hearts of the people to him.'

(Farquhar, by the way, married a Portuguese-Malay nyonya with whom he had six children. One of his distant descendants is Justin Trudeau, the popular Canadian Prime Minister. Could Trudeau have inherited his good looks from his Malaysian ancestor and his kindly nature from William Farquhar?)

When Raffles came to Malacca he employed Munshi Abdullah as interpreter and translator, a role which enabled him to observe Raffles and his wife at close quarters and his record of those encounters provides us with a lot of detail about Raffles which otherwise might now be forgotten. 

Abdullah was impressed with Raffles. He wrote in Hikayat Abdullah:

'Mr Raffles loved always to be on good terms with the Malays, the poorest could speak to him …'

Abdullah went on to work for Raffles in Singapore.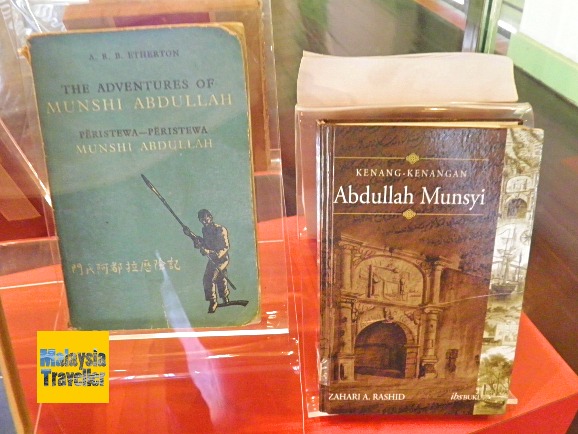 Some of Munshi Abdullah's books on display at the Museum of Literature, Melaka
Among Abdullah's written works, he wrote the first Malay translation of the New Testament, for which he received some criticism from Malays but since he was working as a translator for British missionaries at the time it was understandable and he never wavered in his devotion to Islam. Indeed he died in Jeddah from cholera in 1854 while performing the Haj.

 Munshi Abdullah's House
Kampung Ketek
The house is tucked away at the end of a small lane in Kampung Ketek, a tiny village which used to be known as Kampung Pali during Abdullah's time.

The entrance to Kampung Ketek is located facing Cheng Hoon Teng Temple on Jalan Tokong, just a short walk away from Jonker Street.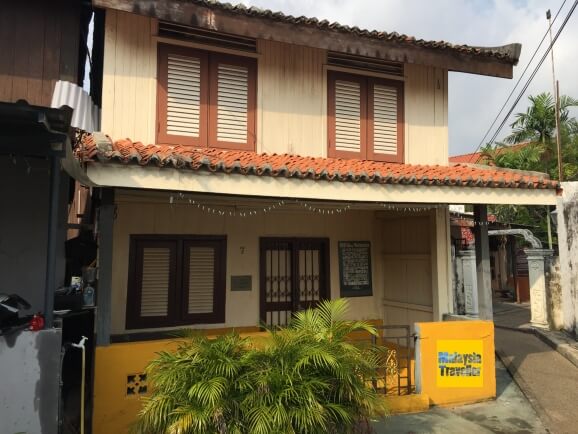 Munshi Abdullah's House
Munshi Abdullah house has a small plaque on the front but otherwise it is unremarkable and easy to miss. It is not open to the public.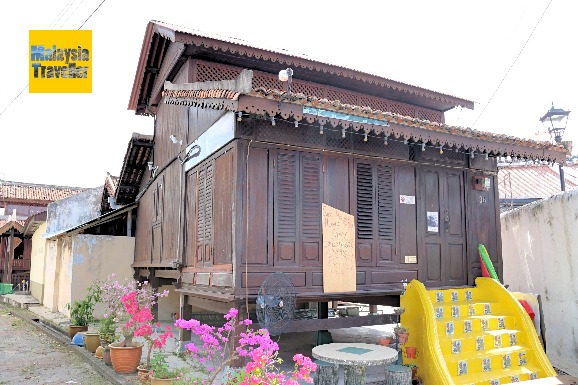 Homestay
There are other more picturesque wooden houses round about, one of which is available as a homestay if you want somewhere central but traditional to stay in Melaka.

Traditional House at Kg Ketek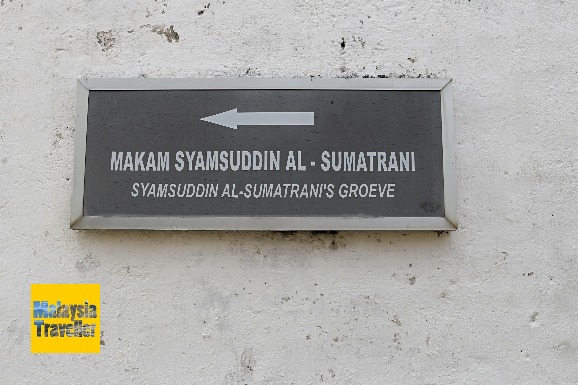 Kampung Ketek also has a small Muslim graveyard which includes the grave of Syed Syamsuddin Ibni Al Sumatrani, a noted Muslim scholar and warrior from Acheh during the rule of Sultan Iskandar Muda. He died in 1630 during an unsuccessful attempt by Acheh warriors to oust the Portuguese occupiers from Malacca.

 How to Get to Munshi Abdullah House
I have marked the exact location of Munshi  Abdullah House on this map:

Address:
Munshi Abdullah House
Kampung Ketek

75200 Melaka
Malaysia

 Nearby
Being located in the heart of Malacca's World Heritage zone there are many nearby attractions to visit. See my Melaka Heritage Trail for details.

---
Share this page: