Malaysia Mountain Climbing Tips
Know What To Expect
This section on Mountain Climbing Tips includes a few pointers on the type of conditions you can expect to find when walking in Malaysia.
Mountain Climbing Tip #1. When I use the term 'mountain climbing' I am talking about mountains that you can basically walk up. You might have to scramble over a few rocks or fallen logs but no specialist mountaineering equipment such as carabiners, belay devices or grappling hooks are required. Nor are any specialist climbing skills needed such as abseiling - endurance is all you need. 
Mountain Climbing Tip  #2. Advance bookings, permits and guides are compulsory for many of the more challenging mountains. Don't just turn up at Mt. Kinabalu for example hoping to get a same day climb. Do your homework before setting out to avoid disappointment.
Mountain Climbing Tip #3. Be aware of the hazards and annoyances of climbing the mountains of Malaysia.
- The heat. Malaysia is a hot tropical country. You will sweat buckets. If, like me, you wear glasses you will find that they fog up after the first 10 minutes and you will be constantly wiping the sweat and steam off. You might want to bring a headband and small towel to mop yourself.
- With all that sweating you need to drink plenty of fluids to prevent dehydration.
- It could rain anytime but especially during the monsoon season. The timings of the rainy seasons vary depending on which part of Malaysia you are visiting. Check the weather before setting out. If it is raining or looks imminent before you start you might be better off postponing your hike to avoid slippery rocks and treacherous slopes. Heavy rain means swollen rivers. Many trails entail a river crossing or two and after a downpour the crossings can become impassable or dangerous.
- Lightning strikes. Malaysia has the second highest number of lightning strikes in the world causing an average 125 fatalities per year. Exposed campsites are to be avoided in thundery weather but sheltering under trees is also not safe. Better not to climb if heavy rain is forecast.
- Mud. Unless there has been a prolonged dry spell the path is likely to have muddy patches. Don't wear your designer shoes!
- Sunstroke. Though you will be in the shade of trees for most of the time, there will be sunny areas and a good sun block and hat are needed to prevent sunburn.
- Vegetation. Prickly, thorny or rash producing plants that get in your way can be an annoyance but if the trail is a frequently used one it is not normally a problem.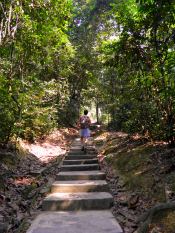 - Getting Lost. This is easily done on some mountains and no joke. Clear maps are hard to come by for most routes, paths are often indistinct or overgrown and markers are poor or non-existent. Employ a guide if you are planning any of the more ambitious climbs.
- Ghosts. If you believe in ghosts you might not want to go camping alone on Gunung Besar Hantu (translated as Big Ghost Mountain).
- Now the bugs! Leeches are a common and unpleasant feature on many Malaysia mountain trails. They wait patiently on the undersides of leaves and on rainforest tracks until a suitable meal (you) passes by. Armed with motion and heat sensors they can easily detect your approach and quietly jump or drop aboard, usually somewhere between your shoes and your shins but sometimes onto your arms, back or neck. Then they crawl (like one of those slinky spring toys that you may have had as a child) until they find a cosy warm patch of bare skin to sink their teeth into and they begin to gorge themselves on your blood.
It's not quite as awful as it sounds. I have had leeches on my ankles and between my toes (other favourite places are between the fingers and even the buttocks if they can get there). You do not feel them at all. Their saliva contains an analgesic and an anti-coagulant so your blood flows freely but they are not poisonous and there should be no lasting after effects unless the wound becomes infected. If you see them crawling up your shoes or socks you can just pick or flick them away. If they are already attached to your skin you can use salt, vinegar, Dettol or Tiger Balm to make them fall off. Or, if you don't have any of those handy, you can just roll it around gently until it lets go and then flick it off. If you try to pull it off you will probably leave part of its head still attached to your skin which may delay healing. Alternatively you can just leave it be - it will drop off by itself once it is fully engorged.
If all this sounds unpleasant you can console yourself by remembering that leeching used to be a common treatment for various illnesses in Europe not so long ago. Even today leeches are said to be an effective cure for arthritis.
The best way to stop yourself from being bitten is to apply Tiger balm freely and wear anti-leech socks. It is also said that if you soak tobacco leaves in water and pour the liquid over your anti-leech socks it will deter leeches. Funny how a dumb leech can instantly recognise that tobacco is poisonous but some supposedly intelligent humans still cannot admit it! By the way, there did not appear to be any leeches on Mt. Kinabalu during my climb.
- Ants. Vicious and aggressive big brown brutes with a painful bite. Steer well clear of them and careful where you set up your tent.
- Sand flies. Personally I have not encountered this pest on the few mountains that I have climbed so far but they exist. Again Tiger Balm and a strong insect repellent are your best bet.
- Mosquitoes. Not such a problem for day hikes but campers are more likely to be bitten. Malaria is not so common these days in Malaysia, especially in Peninsula Malaysia, but there is a risk of dengue fever. A good insect repellent is a must for all outdoor activities in Malaysia and when hiking, long trousers and long sleeved shirts are advisable.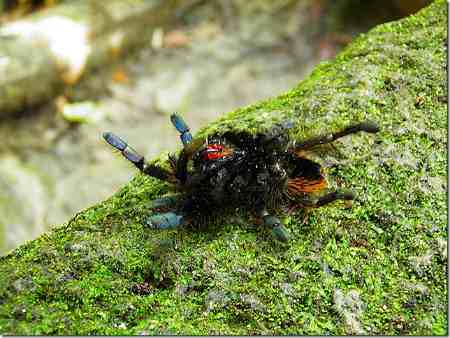 - Spiders. Spiders will always try to get out of your way but they do have an annoying habit of spinning their webs across the trail. Try not to be the first person of the day to walk up the trail (let someone else brush them away!).
- Snakes. You would be unlucky (or lucky depending on your view) to stumble across a snake on a frequently used mountain trail. Stick to the path, make plenty of noise and watch where you are stepping.
- Tigers. Yes there are still tigers in Malaysia (about 500 at the last count) but it is a highly endangered and protected species and you have more chance of winning the Euro-Millions lottery than being attacked by a tiger. There have been tiger sightings over the past decade or so at Gunung Yong Yap and Gunung Belumut. You can be sure that if a tiger is believed to be in the vicinity the mountain will be off-limits for climbers (for the tiger's protection, not yours!)
Mountain Climbing Tips #4. What to Bring?
- Waterproofs. Rain cape, poncho or waterproof jacket and trousers.

- Trekking pole(s). Can be helpful especially if you are prone to knee problems.
- Warm clothes (fleece, padded jacket, gloves, hat etc) if you are climbing Mt. Kinabalu or any of the high mountains.
- Water/energy drinks. On the longer treks lasting several days you will have to replenish your water from natural drinking water sources.
- Food, snacks, energy bars etc.
- First Aid kit (include the multi purpose Tiger Balm. It is small, light and available everywhere in Malaysia).
- A strong insect repellent. A product like Moz Away, made from natural Citronella and Neem oil, is quite effective in my experience.
- A wide brimmed hat.
- Sun block.
- Lightweight hiking boots (already worn-in) with ankle support and a good grip.
- Seamless good quality hiking socks (but they do not keep leeches out).
- Anti-leech socks (not needed for Mt. Kinabalu). These are more like leggings which you wear over your trousers and socks and come up to just below the knees.
- Torch or headlamp, spare batteries, compass or GPS, whistle, mobile phone (it might work in places).
_ Comfortable rucksack with padded shoulder straps, hip belt and internal frame and waterproof rucksack cover (for overnight trips - a small day rucksack will do for shorter trips).
- For overnight trips, tent, sleeping bag and cooking equipment, bearing in mind that you need to carry everything yourself. Porters are generally not available on Malaysia mountains.
Mountain Climbing Tip  #5. Do-it-yourself or Tour Company & Professional Guide?
I always prefer to be an independent traveller and generally do not enjoy packaged tours but there are times when a do-it-yourself approach is not advisable. For the easy day-trip climbs in Malaysia such as Gunung Angsi or Gunung Datuk it is fine to climb independently. But for the longer treks, unless you are travelling in a group which includes an experienced climber or two who have been on this particular trail many times before, it is best, for your comfort and safety, to use the services of a specialised tour company with professional guides. They can organise trips for a minimum of 2 people.
Mountain Climbing Tip #6. Mental Attitude. I hope all the above Mountain Climbing Tips have not put you off the idea of climbing in Malaysia. It is true that Malaysian mountains are not easy. It's not a walk in the park - it's a jungle out there! Sometimes you wonder whether the view from the peak justifies the effort. When I put this to an experienced Malaysian hiker he said "You have to love the jungle for itself and not just be looking forward to the top all the time." I guess he is right. The saying about the journey being more important than the destination is certainly true of mountains in Malaysia.
To read about climbing Mt. Kinabalu, click here.
Hope these mountain climbing tips for Malaysia are helpful.
---
Share this page: