Maybank Numismatic Museum

Maybank Numismatic Museum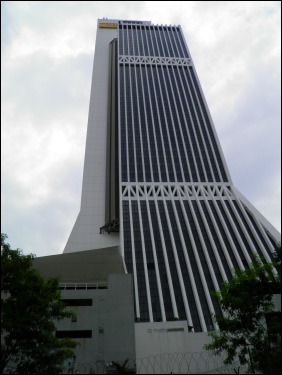 The Maybank Numismatic Museum is a small museum tucked away in the corner of the banking hall on the 1st Floor of Maybank's striking but, in my view, rather unattractive headquarters building.
As the name suggests, the museum is dedicated to bank notes and coins and traces their development through the ages in Malaysia.
Hanging from the ceiling is a giant coin tree from Kelantan (Pohon Pitis Kelantan) and there are some true-size versions in the display cases. These coin trees were made by casting tin coins in a mould which were joined together by 'branches' of the same metal. People would break off a coin for use when needed. I am glad my daughter did not see these as she would no longer believe me when I complain that 'money doesn't grow on trees'!
There are examples of antique money used by the Malacca Sultanate and later the Portuguese colonists.
Specimens of currency used in the various Malay states, Sarawak and North Borneo are displayed together with collections of Malaya banknotes dating from the reigns of different British monarchs.
During the Japanese occupation inflation took hold and vast quantities of cheap looking banknotes without serial numbers were produced. These became worthless after the War.
The changing banknote designs since independence are displayed as well as a selection of banknotes from neighbouring Asean countries.
There are even some private bank notes which appear to have been issued by local businessmen and companies (very useful if you can get away with it I would imagine!).
Some of the display cases were empty while others were affected by humidity which made the captions difficult to read.
Verdict
A modest museum worth visiting if you are a coin or banknote collector or are interested in the history of Malaysian and South East Asian money. See also Bank Negara's museum.
If you would like to know more about coin and banknote collecting in Malaysia you could refer to the website of the Malaysia Numismatic Society.
Opening Hours
Open Daily 10:00 am - 6:00 pm
Closed on public holidays.
Admission Charges
FREE!
Location of Maybank Numismatic Museum
1st Floor, Menara Maybank
100, Jalan Tun Perak
50050 Kuala Lumpur
Malaysia
Tel: 603-2070 8833
If you are going by public transport, Masjid Jamek and Plaza Rakyat are the closest Rapid KL LRT stations.
---
Maybank Numismatic Museum
Share this page: