Masjid Tinggi Bagan Serai

Masjid Tinggi

Bagan Serai, Perak
Visited on 23 Sep 2018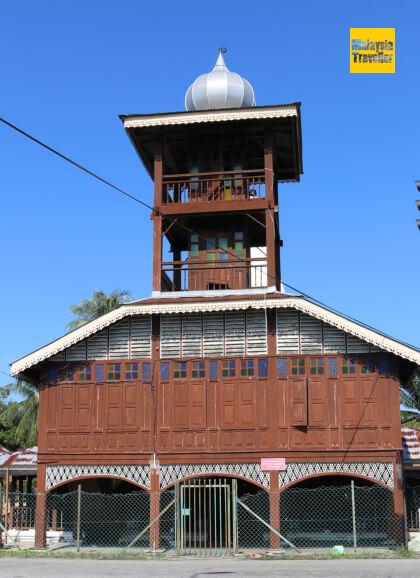 Masjid Tinggi Bagan Serai is an unusual wooden mosque with a zinc roof constructed in 1897 and formally inaugurated by the late Sultan Iskandar of Perak in 1928.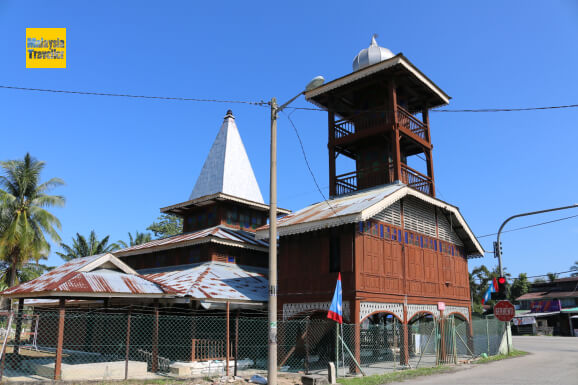 The unique design is said to be modelled on mosques found in Banjarmasin in South Kalimantan, Indonesia. During colonial times there was an influx of migrants from Banjarmasin who helped to establish rice growing in this region of Perak. The street next to the mosque is called Jalan Banjar. 
The mosque has a 4 storey wooden minaret which was one of the tallest in Perak at the time it was built, hence its name Masjid Tinggi. It is also called Masigit Lawas (Old Mosque) and it ceased to be used for prayer after a new mosque, Masjid Al Athar, was built next door in 1966.
Masjid Al-Athar
The Department of National Heritage restored Masjid Tinggi in 2006.

How to Get to Masjid Tinggi Bagan Serai
The exact location is marked on this map:

Address:
Kampung Masjid Tinggi

Jalan Banjar
34300 Bagan Serai
Perak
Malaysia
Plus Code:  XHR9+M3 Bagan Serai, Perak
GPS Coordinates:  4.991724, 100.567737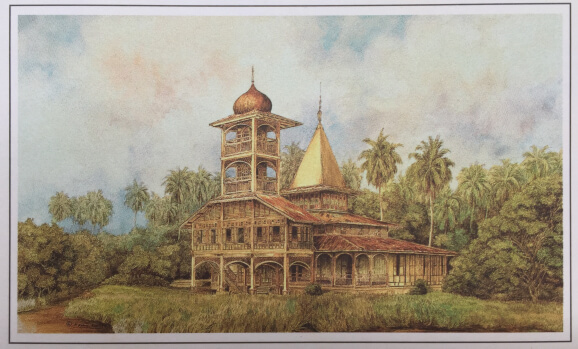 Drawing of Masjid Tinggi by A.Kasim Abas. His artwork can be purchased at www.kasimabas.com
Nearby
---
Masjid Tinggi Bagan Serai
Share this page: