Kuala Selangor Nature Park

Kuala Selangor Nature Park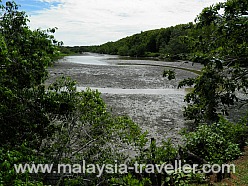 Kuala Selangor Nature Park (also known as Taman Alam Kuala Selangor) was created in 1987. The area had been earmarked for a golf course development but the Malaysian Nature Society (MNS), together with the Selangor State Government, rescued the 800 acre coastal site from that fate and instead set up this lovely nature sanctuary.
Malaysia Nature Society has done a good job of attracting corporate sponsorship and financial support for the park which has helped to maintain it in good condition.
These efforts have been recognised by Bird Life International, a global partnership of conservation organisations, who have designated the park an Important Bird Area.
Highlights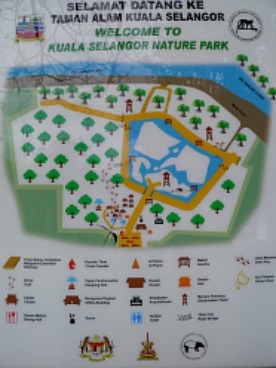 There are supposed to be four trials in the park but some paths have been closed off so I took the main circular route around the lake and the mangrove walkway. This trail is about 1.5km long and takes roughly an hour. It is very quiet and tranquil apart from the sounds of birds and creatures scurrying in the undergrowth.
The route covers some of the different habitats in the park, namely:
Brackish Lake System
This shallow, muddy lake was created for birds to nest and feed. Herons, egrets and storks were evident here during my walk. The path around the lake is unshaded so protection from the sun, such as a hat and sunblock, is required.
Photos: (L) Trail around the lake. (R) View looking back towards Kuala Selangor.
Secondary Forest
The forest area covers around 450 acres and visitors should stick to the path for safety. Silver leaf monkeys and macaques might be encountered here. Do not feed them.
There are a number of informative signs in English and Bahasa around the trail highlighting the flora and fauna that are found here.
One such sign points out the Morinda Citrifolia tree, the fruit juice of which is marketed as Noni Juice and is said to have medicinal benefits for blood circulation and blood pressure. These Noni fruits are found in abundance in the park and are enjoyed by the macaques and monkeys which probably explains why they look so healthy.
If Noni is so abundant it is a wonder that it is not grown commercially in Malaysia instead of buying the expensive imported Tahitian variety.
Photos: (L) Entrance to the Mangrove Boardwalk (R) Mangrove Forest at Kuala Selangor Nature Park.
Mangrove Forest
The best way to appreciate the mangrove forest is to take the mangrove boardwalk. I found this to be the most interesting part of the park. At first glance nothing much seems to be happening in the mangrove swamps but as you look closer you can see that the mud is alive with crabs, mud creepers (which have an interesting third eye) and mud skippers.
The fiddler crabs come in amazing colours including bright blue.
The boardwalk is actually made of concrete and is covered in dead leaves making it quite slippery underfoot. Also the wooden railings are broken in places so take care with children.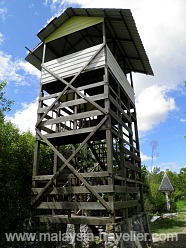 Watch Tower
There are three watch towers in the park but two were closed for repairs. The one that was open provided great views over the wetlands and the surrounding area.
Animals Recorded Here
According to the MNS, the following animals have been spotted in the park:
Otters
Leopards
Silver Leaf Monkeys
Macaques
98 species of local birds
57 species of migratory birds
butterflies and other insects
reptiles such as monitor lizards
mudskippers
mud lobsters
15 species of crabs.
Bird species found here include Birds of Prey, Bee-eaters, Crows, Cuckoo-shrikes, Egrets, Flower-peckers, Flycatchers, Herons, Kingfishers, Owls, Pigeons, Pittas, Storks, Sunbirds, Swallows, Tit, Waders, White-eye and Woodpeckers.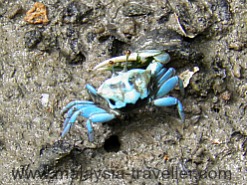 Precautions
There are a lot of mosquitoes here and you will hear them buzzing in your ears as soon as you stand still for a while. Wear long trousers, long sleeved shirt, a hat and plenty of powerful repellent and keep moving.
It can get hot and sunny so take ample water, a hat and sun screen.
Stay on the path and do not feed the monkeys.
Accommodation
If you are planning to do any research or other activities you might want to stay overnight. A-frame huts, chalets and a hostel are available at reasonable rates.
Cost Per Night
A-frame hut (max 2 per hut). RM30 (Public) RM25 (MNS Member)
Chalets w/bathroom(max 3 per chalet). RM60 (Public) RM50 (MNS Member)
Hostel (14 rooms)(Max 7 per room).RM175 (Public) RM140 (MNS Member)
They are building some new chalets which look much neater than the very basic ones they are replacing.
The good thing about staying here is that it is only walking distance from Kuala Selangor town centre where restaurants and shops are available.
Seminar Hall
If you are organizing a school or work function, an air-conditioned hall capable of holding 100 people is available for rental.
Park Entrance Fee
Adults RM4
MNS Members RM2
Students/Children below 17 RM1
Seniors (over 60) RM2
Photos: (L)Entrance to Park (R) Visitors' Information Centre
Opening Hours
The Visitors' Information Centre, where you buy the entrance ticket, is open from 9am - 6pm every day, including public holidays.
Nearby
Taman Ikan Air Tawar, a modest aquarium attraction with a large lotus pond, is located right next to the entrance of Kuala Selangor Nature Park.
How to Get to Kuala Selangor Nature Park
Address:
Kuala Selangor Nature Park, Jalan Klinik, 45000, Kuala Selangor, Selangor Darul Ehsan.
Tel: 03-3289 2294 Fax: 03-3289 4311
The location of Kuala Selangor Nature Park is marked on the map on my main Kuala Selangor page.
Take the LATAR expressway to Kuala Selangor. Once in the town centre head towards Bukit Melawati. At the foot of the hill you will see a turn to the left signposted Taman Alam.
Bird Watching
If you are interested in bird watching and perhaps would like to go on a bird watching tour, I recommend the Bird Malaysia website.
---
Kuala Selangor Nature Park
Share this page: