Kishu Toshogu Shrine

Wakayama City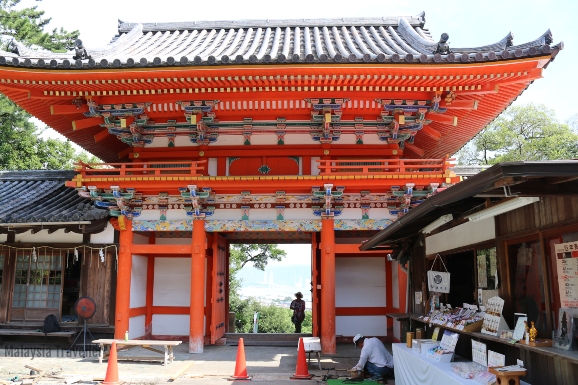 Kishu Toshogu Shrine, known locally as Gongen-sama, was established in 1621 by Yorinobu Tokugawa, the tenth son of Ieyasu Tokugawa, the first feudal lord of the Kishu Tokugawa clan. It is designated as an important cultural property of Japan.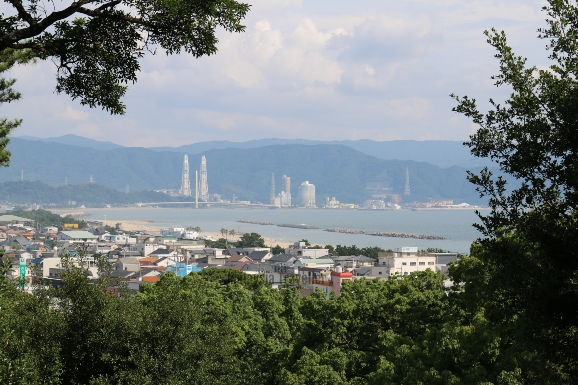 It is located on a pine-covered mountain called Samurai Hill and to reach it you have to climb 108 stone steps and enter through a magnificent vibrant red tower gate, said to be the best in Kansai. Looking back down the steps you are rewarded with a great view of Wakanoura Bay.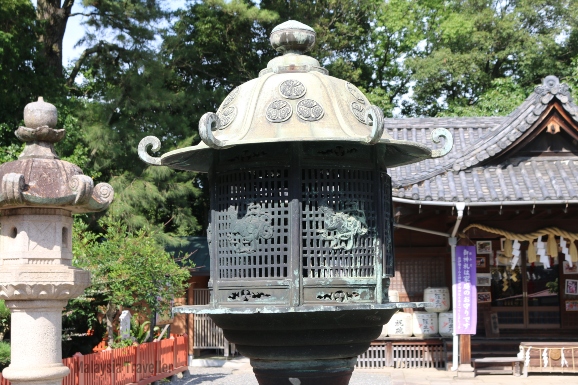 The main shrine pavilion is decorated with elaborate sculpture and wall paintings from the early Edo period. It houses a collection of 17 important treasures including armour, weapons, pottery, paintings and clothing.

Special Occasions
People come to the shrine at different times of the year for particular reasons. These include: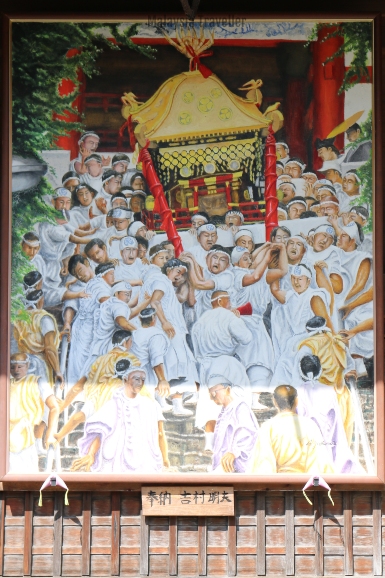 During the Wakamatsuri festival, held in May each year, white-clad devotees carry a mikoshi (portable shrine) down the 108 steps flowed by hordes of worshippers, as shown in this painting on display at the shrine.
Mothers-to-be visit during their fifth month of pregnancy for tightening the Iwata belt.By tightening the obi around the foetus, pregnant women pray for a safe delivery.
Newborn babies are brought to the shrine during their first few months to pray for healthy growth and happiness.

Students will come during the exam season to pray for success in their exams.

Coming-of-age ceremonies are also a popular time to visit shrines.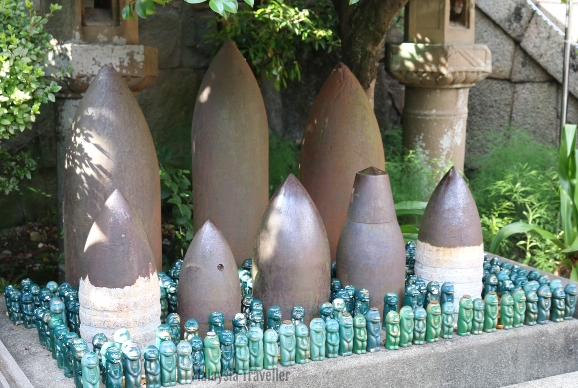 I am not sure what the significance of this display is with artillery shell casings and small green statues. A war memorial perhaps?

Opening Hours & Admission Charges
Open Daily from 9 am to 5 pm.
Admission Fee
As an ignorant foreigner, I didn't pay anything during my visit but I see from the official website that there is a charge of ¥300 for adults and ¥100 for students for preserving, maintaining, and restoring cultural properties and protecting them for future generations.

Guided tours are available (in Japanese) for an additional fee.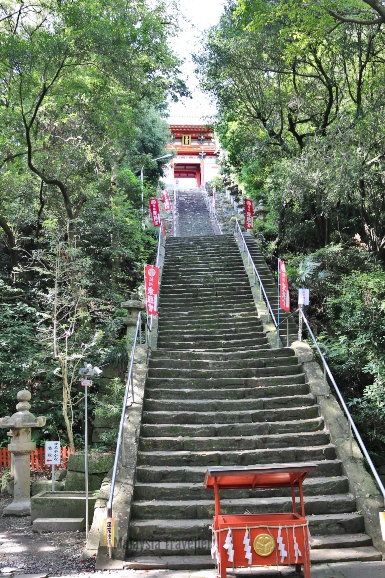 How To Get to Kishu Toshogu Shrine
The location of the temple can be found on this map:

The temple is about 30 minutes walk from JR Kimiidera Station. A bus or taxi might be more convenient.

Address:

Kishu Toshogu Shrine
2 Chome-1-20 Wakauranishi, Wakayama, 641-0024, Japan
Tel: +81734440808
Nearby
You should definitely also visit Wakaura Temmangu Shrine. It is only about 100 metres away but as far as I know there is no shortcut path between them. You have to descend one flight of steps, walk a short distance and climb another steep flight of steps. Never mind, it is good exercise and well worth the effort.
Also nearby
---
Share this page: