Kenaboi State Park

Negeri Sembilan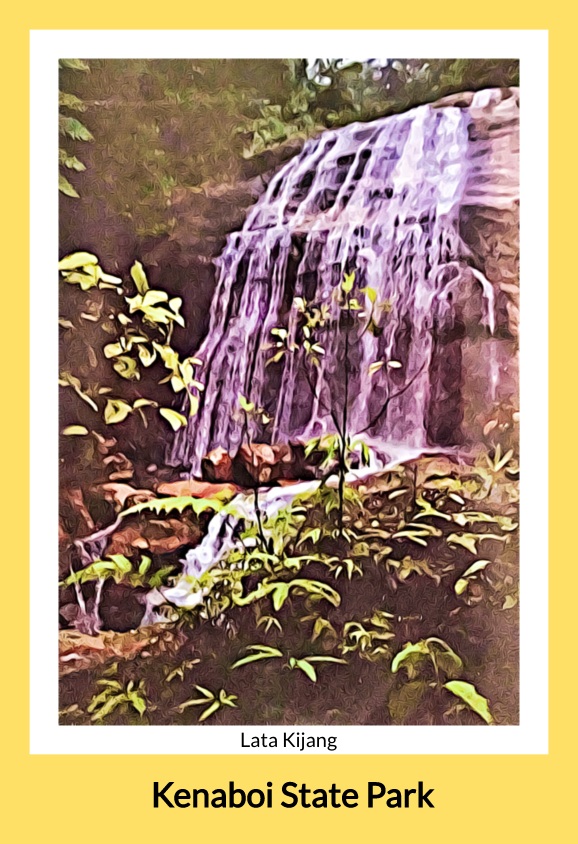 Kenaboi State Park is tucked away in the hilly and remote Jelebu District of Negeri Sembilan. Previously known as Taman Alam Liar Negeri (State Wildlife Park) this forest park is a stretch of Hill Dipterocarp rainforest rich in flora such as wild orchids, herbs, ferns and palms. It is popular with bird watchers and species like hornbills can be found here as well as Rajah Brooke butterflies.
I visited the park in July 2018 but unfortunately I failed to obtain a permit in advance and when I reached the park entrance the security guard did not allow me to enter. Do not make the same mistake. Apply for your permit (RM5) from the State Forestry Department's office in Kuala Klawang (contact details below). Kuala Klawang is 63 km away from the park entrance so a long way to go back if you forget your permit.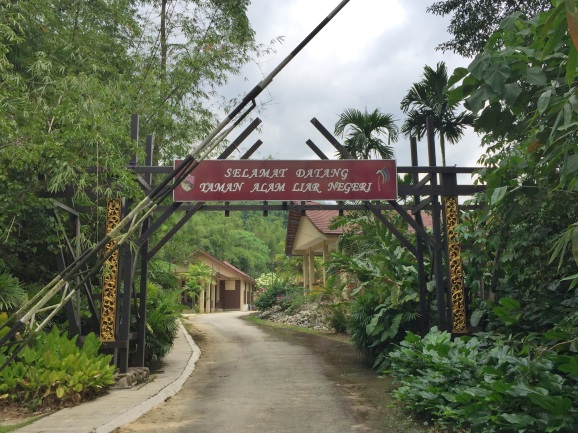 Activities
Waterfalls.The most popular attraction here is Lata Kijang, at 80 m high, it is one of the tallest waterfalls in Peninsular Malaysia. Jeram Berungut is another cascade somewhat closer to the park HQ.
Jungle Trekking. The park covers a vast area criss-crossed with many rivers, some of which are suitable for swimming. There are plenty of jungle treks (guide required) . Expect to get wet. 
Mountain Climbing. Fit hikers can take on Gunung Besar Hantu (1462 m) and her little sister  Gunung Kecil Hantu (1354 m).
Caving. There are caves (Semong and Gua Harimau).
People. Orang Asli villages in the area include Kampung London, Kg Tohor and Kg Nap.
Bird Watching and Butterfly Spotting.
Park HQ Facilities
Dormitory
Chalets
Campsite
Toilets
Multipurpose Hall
Lecture Room
Dining Hall
Store
Office
Prayer Room
Opening Hours & Admission Fees
Open Monday - Sunday 8 am - 6 pm.
Permit RM 5

How to Get To Kenaboi State Park
First Obtain the Permit:
Pejabat Renjer Hutan Daerah Jelubu, Kuala Klawang

Location marked on map below.

GPS: Coordinates of Permit Office:
Type Of Vehicle Required
The road as far as Kampong Ulu Kenaboi is good, including an excellent new stretch, with tarmac all the way. From Kg Ulu Kenaboi the road, although mostly metalled, is heavily rutted and potholed in places and the surface has been washed away. It is also narrow and if you meet oncoming traffic you may have to pull over onto overgrown verges to allow vehicles to pass. For this reason, 4WD or at least a car with high clearance is recommended. Having said that, I saw one couple who made it all the way to the park entrance in their Proton Saga. Once inside the park, there is a track taking you closer to the waterfall and for this 4WD is required or you could walk.

You can find the exact location of the park entrance and the permit office on this map:
GPS Co-ordinates of Kenaboi State Park Entrance:
3°10'35.7"N 101°59'09.5"E

3.176579, 101.985964
Contact:

Pejabat Hutan Daerah Negeri Sembilan Utara
71600 Kuala Klawang
Jelubu
Negeri Sembilan Darul Khusus
Tel: 06 6136500 / 06 7659849 
Negeri Sembilan Forestry Department Official Website

Nearby
---
Share this page: