Johor Bahru Heritage Trail

Johor Bahru Heritage Trail
This Johor Bahru Heritage Trail provides a map and details for a self-guided walking tour round some of JB's best tourist attractions.
Johor Bahru, or JB for short, is Malaysia's second largest city with a population of around 2 million covering a sprawling, industrialised and commercial urban area.
Just 150 years ago it was a small Malay fishing village but grew rapidly due to stable government policies, an influx of Chinese immigrants, the construction of the railway and, most importantly, its close proximity to Singapore to which it was linked by the Causeway completed in 1924.
The city does have some excellent tourist attractions for heritage lovers. Some of them are located close together in the historic heart of the city and can be covered easily on this walking tour (those coloured purple on the map below). Others are further away and you might need transport to reach them (those coloured yellow on the map).
Map of Johor Bahru Heritage Trail
We start our Johor Bahru Heritage Trail at the High Court.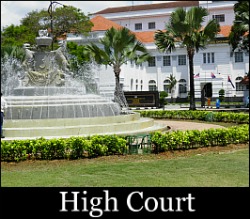 High Court Building
One thing that the British colonial administration always did well in Malaya was to construct classical and stately High Court buildings in every town. JB's High Court is no exception and a model of it is on display in Legoland Malaysia at Iskandar, just outside of JB. In front of the court is a fountain and monument bearing Johor's coat-of-arms.
From here you walk past the Post Office, noting the British-era letter box, and HSBC's Johor branch before turning into Jalan Bukit Timbalan.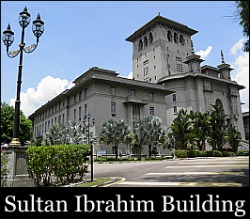 Sultan Ibrahim Building
This imposing building housed the State Secretariat until recently. It dominates the JB skyline and was once the tallest building in Malaysia until independence.
It was completed in 1940, just in time for the Japanese to occupy it and use it to plan their invasion of Singapore. Currently unoccupied, there is talk of converting the building into a museum.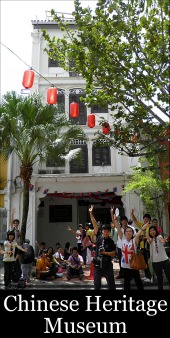 Johor Bahru Chinese Heritage Museum
Next on our Johor Bahru Heritage Trail, housed in a four story shophouse on Jalan Tan Hiok Nee, is the Chinese Heritage Museum, also known as the Tiong Hua Museum.
I enjoyed this museum which showcases the early days of Chinese settlement in JB - the history, culture, traditions and occupations of the various Chinese communities who have made Johor their home.
Opening hours:
9am – 5pm daily (Closed on Mondays)
Entrance fee:
RM3 for adults, RM1 for children, students and senior citizens
The security guard asked me how old I was since seniors over 55 pay less. While I am always happy to get a discount I was a bit miffed that he thought I looked old enough (even though I am)!
Jalan Tan Hiok Nee
This street is named after a trader of clothing, pepper and gambier who became known as Major China Johor and was a wealthy leader of the Chinese community. The street has been given a makeover with neat pavements, trees and painted shophouses.
From the red building in the photo I obtained a free copy of a Johor Bahru Heritage Trail booklet produced by Johor Bahru City Council and Tourism Malaysia-Johor. Their tour covers many of the same attractions as mine. There was also a photo exhibition going on in this building.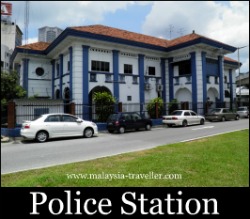 Sentral Police Station
Next on our Johor Bahru Heritage Trail, continue to Jalan Sawmill where an old police station dating from 1914 is located. This was once a seedy part of town where many illegal activities took place but today is surrounded by a motorway flyovers leading to the Causeway to Singapore. The police station is still in use today.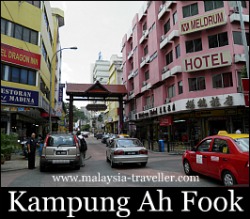 Kampung Ah Fook
This busy commercial area along Jalan Meldrum and Jalan Siu Nam is named after Wong Ah Fook who was a carpenter who eventually became the royal builder. Meldrum was a Scottish sawmill owner in the 19th century.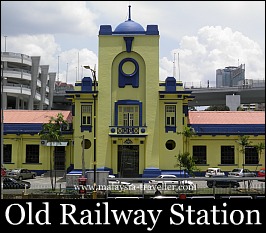 Old Johor Bahru Railway Station
This attractive station building was built in 1931. Prior to that, from 1917, all the train services operated from a small wooden building near the station.
Since there is a spanking new JB Sentral station just 200 meters away, the old one has been decommissioned and is to be converted into a railway museum.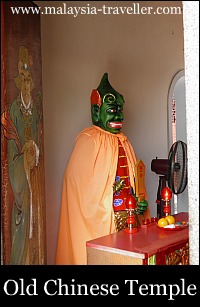 Chinese Temple
From here you need to find your way to Jalan Trus. For a convenient shortcut, you can take the steps and walkway next to Public Bank Tower (see map).
This 130 year old Chinese temple is the symbol of unity among the five different Chinese dialect groups (Teochow, Hakka, Hainanese, Hokkien and Cantonese), each of whom favour a different deity with is own statue in the temple. The temple also has Kwan Yin (Goddess of Mercy) and Weather God statues. If you visit you had better pray to all of them, just in case.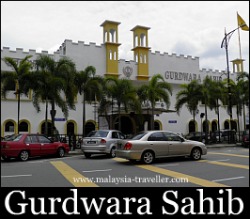 Gurdwara Sahib
Sikhs settled in the State of Johor in the late 19th Century, mostly employed in the Police Force or in the Johor Sultan's Guards.
In 1916 the Sikhs requested a piece of land from the Johor Police Commissioner to build a Sikh Gurdwara. On 10th February 1921, the present site was gazetted as a temple reserve. This land was very muddy and swampy. The Sikhs filled up the land with sand and stones and upon this they constructed their first Sikh Gurdwara in late 1921.
The temple was not used during the Second World War when Sikhs from Johor Bahru and Singapore were forced to flee to nearby towns.
In 1957 the second Gurdwara building was constructed at a cost of about RM45,000. This was a two storey concrete building.
By the 1980's, it became necessary to construct a new larger Gurdwara Sahib building to cater for the growing Sikh population and the present Gurdwara Sahib was opened in 1992.
Indian Enclave
The Arulmigu Rajamariamman Devasthanam Temple sits at the heart of a bustling Indian district which includes flower stalls, restaurants, music shops, barbers and so on. The current temple dates from the 1980s.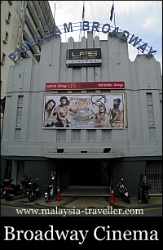 Broadway Cinema
The age of videos, DVDs, cable TV and cineplexes has killed off most stand-alone cinemas but the art-deco style Broadway Cinema still manages to survive by showing the latest Tamil and Hindi Bollywood blockbusters. Jalan Segget, where this cinema is located, is built above and next to what used to be the Segget River which now flows under the street.
Restoran Ya Wang
Naturally there are many restaurants in JB (although quite a few of them closed on a Sunday when I did my Johor Bahru Heritage Trail) but I tried Restoran Ya Wang on Jalan Segget. An elderly waitress fussed over me and suggested some dishes for me to try which were very tasty. The restaurant seemed popular with both Chinese and Indian diners.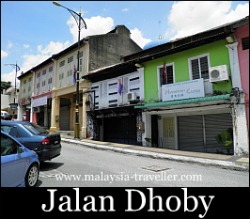 Jalan Dhoby
From here I wandered in the direction of Jalan Dhoby via Jalan Trus. Dhoby of course refers to laundry shops, a couple of which can still be found here. The street has been smartened up a little but still retains plenty of character. You are now back near HSBC and the High Court where we started the walk.
This ends the Johor Bahru Heritage Trail but if you still have energy left there are some other great places to visit in JB (shown with yellow markers on the map). I did walk to them all but the route is not at all pedestrian-friendly so you might be better driving or taking a taxi. These are the highlights:
Grand Palace and Royal Abu Bakar Museum
Sadly this museum was closed for upgrading works during my visit so I was unable to enter. It was due to reopen in February 2012 but still looked like work in progress as at March 2012. This is a pity as this museum would be a highlight of any Johor Bahru Heritage Trail.
Sultan Abu Bakar Mosque
This is one of the most beautiful mosques in Malaysia built in 1900 in a mix of Islamic and colonial architectural styles. It occupies a hilltop with views overlooking the Strait of Johor.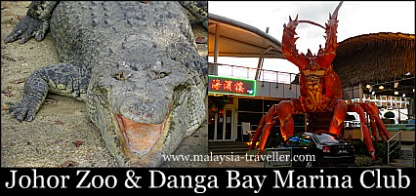 Johor Zoo
Established in 1928, this is a nice old-style zoo. It is small and compact with all the usual favourite animals so great for young kids. It is cheap too: Adults RM2, Kids (ages 3-12) RM1. It is open from 8am - 6pm. It is just across the road from the Sultan Abu Bakar Mosque.
Danga Bay Marina Club
This is part of a new urban waterfront development with a marina, fairground, restaurants and a waterside promenade.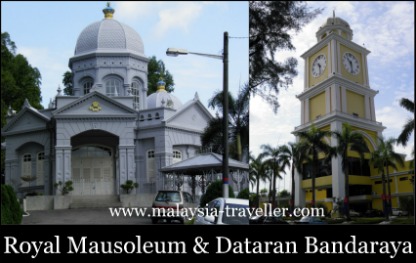 Royal Mausoleum
The Royal Mausoleum is the final resting place for the Johor Royalty. Located next to a Muslim Cemetery.
Dataran Bandaraya
This clock tower was built in 1994 to commemorate Johor Bahru achieving city status. It overlooks playing fields and is in front of what was the Johor Civil Service Club which was formed in 1920.
I hope you enjoy your Johor Bahru Heritage Trail. 
---
Johor Bahru Heritage Trail
Share this page: