Hotel Puri
Melaka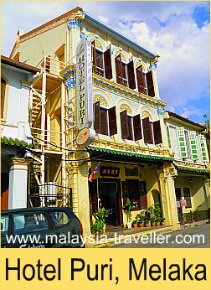 I stayed at the Hotel Puri in Melaka for one night in November 2011.
I chose this hotel for a number of reasons:
1. A Hotel With Character
Whenever possible I like to stay in a hotel which has unique charm and character. Hotel Puri meets that requirement and has bags of style. From the outside it is a typical 3 storey Peranakan style house with an ornate facade in keeping with other properties on Jalan Tun Tan Cheng Lock, formerly known as Heeren Street.
This street was also known as Millionaire's Row because it was home to many wealthy families from the Baba community.
The original building was completed in 1822 and shortly afterwards acquired by Tan Kim Seng, a successful rubber planter, businessman and philanthropist. The famous Kim Seng Clock Tower which stands in front of the Stadthuys is named after him.
From the street, the hotel appears small with a narrow frontage but, like all the buildings on this street, it goes back a long way, about 100 meters, and has three airwells which have become charming courtyards, gardens and ponds.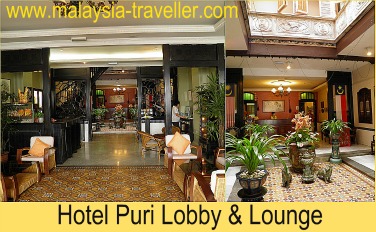 In converting this heritage building into a hotel, the owners were careful to preserve as many of the original architectural features as possible although parts had to be rebuilt completely due to poor condition.
Antique carved doorways, decorative floor and wall tiles and elaborate staircases add to the hotel's charm. There is even a history room containing ship models and information about Malacca.
In my opinion this is a successful combination of faithfully conserving a historic building while at the same time making a viable business out of it. Only by making money will Melaka's entrepreneurs have an interest in preserving such buildings for the long term.
This was my main reason for choosing the Hotel Puri.
2. Location of Hotel Puri
I wanted a hotel which was within walking distance of Melaka's main tourist attractions. You can find the hotel's location on this map.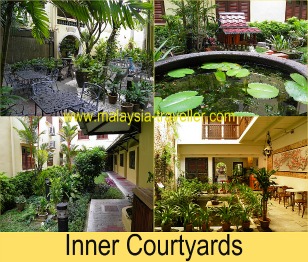 The Puri is in an ideal location on Jalan Tun Tan Cheng Lock (Heeren Street) which is itself one of the must-see streets in Malacca.
It is two minutes walk from Jalan Hang Jebat (Jonker Street) with its popular antique and art galleries, souvenir shops and restaurants. Jalan Hang Lekir, which links the two streets and is the closest that Melaka comes to having a nightlife, is just round the corner from the hotel.
The Melaka River, Dutch Square, the Stadthuys, Christ Church and St. Paul's Hill are just minutes away on foot.
Hotel Puri cannot be beaten on location. If you want to know more about what to see in the vicinity, take a look at my Melaka Heritage Trail page.
3. Parking
The hotel has its own off-street parking and it is free for hotel guests. Some of the other boutique style hotels in this part of town do not have parking and it can be difficult to find spaces in these narrow streets.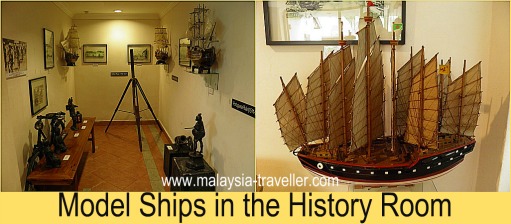 4. Reasonable Price
The hotel has 50 rooms ranging from Standard Rooms to Triples, Quads, Family Rooms and some suites.
I stayed in the cheapest, a standard room for which I paid about RM170 (including 10% service charge and 6% Government tax).
This rate included breakfast.
The room was nothing fancy but comfortable and clean. It had two single beds, cable TV (not many channels), wireless broadband, air-conditioning, a kettle, tea bags, coffee etc., a good size safe deposit box, free mineral water, shower, toilet, shampoo, bath gel and towels of course. In short everything needed for a comfortable stay.
There was a window with a shutter which I did not try to open but, being in a long thin building, I imagine it was a brick wall behind the shutter.
Buffet breakfast was served in an open courtyard area. It was the usual sort of stuff but I thought it was better than many that I have had. The fruit particularly (papaya, bananas and melon) was nice and fresh.
Overall I think the hotel was good value for money.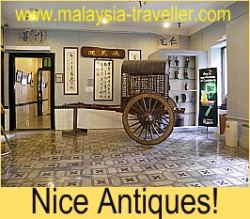 The other facility of note in the hotel is a spa, Biossentials Puri Spa. I did not try any of their treatments but the packages looked enticing.
The service at check-in and check-out was efficient and fast so no complaints with my stay.
I would stay there again.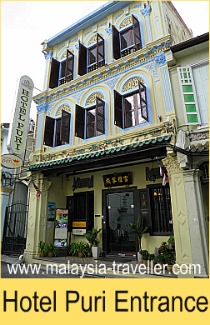 ---
Share this page: