Gunung Telapak Buruk
I should have known better! I went for a walk up Gunung Telapak Buruk last weekend. According to my list of Malaysia's Highest Mountains, Gunung Telapak Buruk is the 155th highest peak in the country at a modest height of 1193m (3913ft.) I chose this mountain because, according to my map, it appeared quite accessible. Indeed there seemed to be a minor road going all the way to the top.
It is located in Negeri Sembilan state, just east of highway 86 close to Jeram Toi Waterfall, about half-way between Seremban and Kuala Klawang.
Location of Gunung Telapak Buruk
The mountain's name, (according to Google Translate) means Mt. Bad Soles which should have given me an inkling that it would not be an easy walk!
I decided to park my car where the minor road joins route 86 and to walk the whole way rather than try driving. It looked a steep track and I did not have 4-wheel drive vehicle and anyway I wanted the exercise.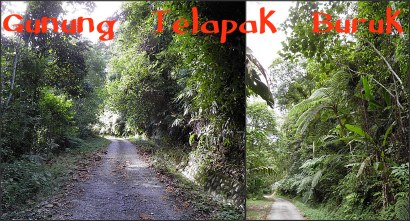 I estimated that the distance was about 24km there and back. I was breaking my own rule about not walking alone (see Mountain Climbing Tips) but reckoned there was minimal risk as long as I stuck to the track.
After about 10 minutes of steep uphill walking the distant rumble of traffic on highway 86 had faded away and for the next 4 hours I saw no other people and I only had the sounds of insects, birds, monkeys and running water for company. It is quite rare these days to feel so cut off from civilisation for such a long period.

The overwhelming colour of Malaysian jungles is green so when I saw a spot of red it was worth taking a picture. I am not sure what type of flower this is - I could not find it in my book of Malaysian plants. No doubt somebody can tell me its name but in the meantime, just in case it has never been discovered before, I shall name it malaysius travellus.
I have since been advised by the knowledgeable author of Waterfalls of Malaysia that this plant is wild ginger.
The millipedes seem to grow to a good size here.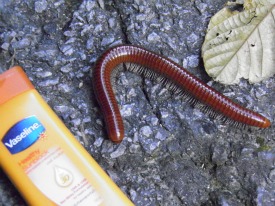 I had read that a RAF B-24 Liberator (KL654R) had crashed on Gunung Telapak Buruk just two weeks after the end of WW2 and that 8 RAF crew members had died. Seeing how dense the vegetation is I can fully understand why it was several years before any wreckage was found and it was not until August 2009 that a recovery mission was carried out. Hats off to the joint Malaysian and British team who camped up here for 10 days looking for the crash site. They successfully recovered human remains and thousands of the airmen's possessions. The remains of the 8 airmen were buried at KL's Cheras Road cemetery on 18th Octber 2012 in a service with full military honours. You can read more details about this on my blog.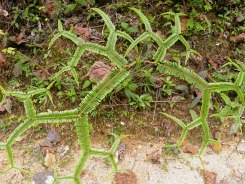 There are some strange looking ferns here which almost have an alien geometrical design. The fungus looks a bit UFO-like too.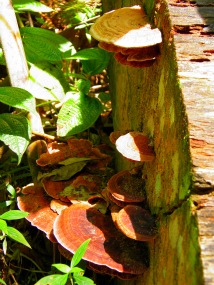 I had set myself a target of 2 hours to reach the peak or at least to sight the telecom tower which is supposed to be on the summit. But after walking for more than 2 hours there was still no sign of the tower and the track was going sharply downhill so I knew I wasn't there yet.
Hearing thunder rumbling in the distance I reluctantly decided to abandon my climb and to turn around and head back to the car.
After walking for another hour it started raining - heavily. Then the lightening came which was quite scary. The track had turned into a stream, my boots had filled up with water and of course I was completely drenched not having proper waterproof clothing (another of my Mountain Climbing Tips ignored!) Anyway I was glad to make it back to the car where I had a change of clothing.
Would I do it again? Well, I would like to see the peak and it was a nice walk until it started raining. With hindsight it probably would have been possible to drive my car the whole way up to the telecom tower. There were a few potholes and there had been minor landslips in places but it was just about passable. Certainly a 4-wheel drive vehicle or pick-up should have no problems.
I believe there might be another route up Gunung Telapak Buruk from the nearby Jeram Toi park. That would be fun to try but not alone next time!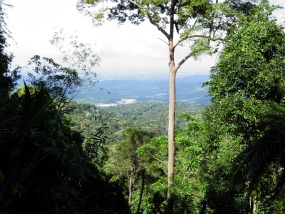 ---
Share this page: