Gunung Lambak


Kluang, Johor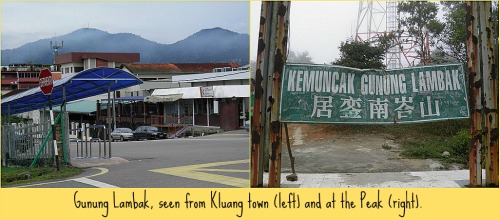 From the town of Kluang in Johor, the contours of Gunung Lambak are easily visible. Actually Lambak (which means Flea Mountain) has twin peaks, the higher of which reaches 510m (1673ft) and has a TV broadcasting mast on the summit.
I had read that it was an 'easy climb' and I had set aside a few hours in the afternoon after it had stopped raining for what I thought would be some moderate exercise.
It turned out to be a far more vigorous workout than I expected!
The trail starts at the Gunung Lambak Eco Resort on the outskirts of Kluang town. I parked in the hotel's car park and found my way to the trail via a suspension bridge which crosses a small stream. As the bridge was closed off due to disrepair, I had to go underneath and hop across the stream.
Alternatively I could have parked on the street just past the Eco Resort and started the trail from there.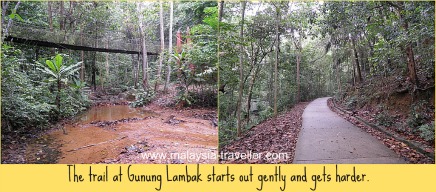 The trail is nice and easy at the beginning with a concrete path which makes its way alongside the stream and up through the rainforest.
Plenty of Kluang residents were taking some regular exercise on this part of the trail.
When the concrete path stops and turns into a jungle trail the hike becomes more difficult with plenty of steps to climb.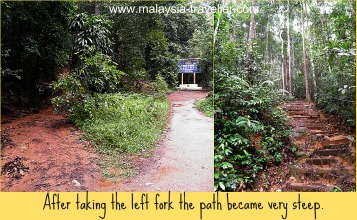 After a while the path forks. I believe you can go either way but I took the left trail. From here the track becomes very steep, with tree roots being used as rough steps. Ropes have been left in place to assist in climbing the tricky, near vertical parts.
It was a very steamy afternoon after the morning's rain and very soon my heart was pumping and I was sweating buckets.
The trail seemed to go on for ages, ever upwards, and reminded me of Gunung Angsi, another energy-sapping mountain hike.
Eventually I reached the top. I had hoped that after the rain there would be a stunning view of Kluang and the surrounding countryside but disappointingly the clouds had returned and there was nothing to see. After a short rest I went back down the same way but it is possible to continue onwards to the second of the twin peaks (slightly lower) and come back by another route to where the trail forked as mentioned earlier.
Two or three hours should be sufficient for most people to go up and down this mountain. There are no admission charges and no permits are required.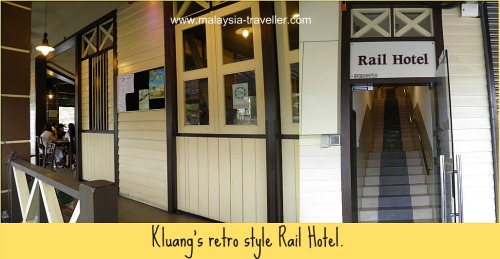 Where to Stay Near Gunung Lambak
The Eco Resort has chalet accommodation and has camping facilities. They also have a kiddies' playground and swimming pool with slides which they call a water park.
I stayed in Kluang at the Rail Hotel, a boutique budget hotel in a non-descript modern building but with some retro railway-style touches such as a wooden panelled reception with 3 clocks showing the times in New York, London and Kluang. The room was clean, comfortable and modern with wall-mounted flat screen TV and free Wi-Fi. My only complaint was that the walls were a bit thin and poorly soundproofed. Luckily my neighbours were not noisy. They charged me RM 125 net including a good breakfast at the Kluang Rail Coffee shop downstairs.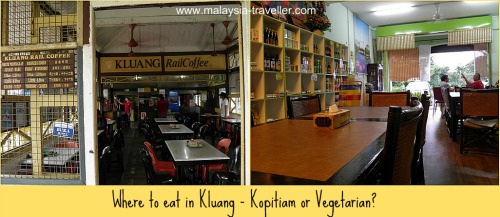 Where to Eat
The Kluang Rail Coffee shop at the Rail Hotel is a part of a larger chain. The original Kluang Rail Coffee establishment is also in Kluang, at the railway station where it has been serving staples like toast and coffee since 1938. It is open from 7am - 12 noon and from 2:30pm - 6pm. Oddly for a restaurant it is closed for lunch and dinner. It is also closed on Thursdays which is a bit inconvenient if you happen to be travelling by train from Kluang on that day.
The other place I tried while in Kluang, was the Green Home Healthy Vegetarian Café, at No. 14, Jalan Tasik, a couple of doors along from the Rail Hotel. This cosy place is run by a Buddhist nun and looks like a cross between a temple, a private home and a restaurant. You have to leave your shoes outside. They specialise in natural and organic produce and I enjoyed a simple and nutritious meal of rice, vegetables and fresh juice for RM 16. Tel: 019 7381218
How to Get to Gunung Lambak
From the North South Expressway (NSE), take the Air Hitam exit (Interchange 244) and take Highway 50 to Kluang town. Once near Kluang you will see signposts for Gunung Lambak Recreational Forest which is on the south east edge of the town. 

More Top Johor Attractions
---
Share this page: