Bukit Putih
Ah Pek Hill Trail
Update - January 2016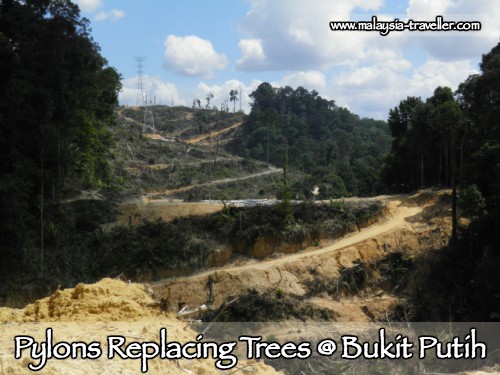 Photo Taken January 2016
The Bukit Putih hike has been spoiled by recent construction work. Tenaga Nasional is building a new power transmission route which is cutting across a section of the Ah Pek trail. A wide swathe of forest has been cleared to allow trucks to access sites for pylon construction and the installation of power cables. The contractors appointed by Tenaga, who include a logging firm, have left an ugly gash in the hillside. The denuded slopes are now exposed to soil erosion meaning that vegetation will find it harder to grow back once the construction work is complete. Presumably only grass will be allowed to grow back here as trees might interfere with the power cables.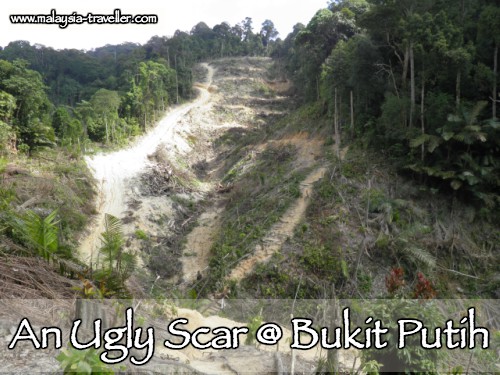 Photo Taken January 2016
It is accepted that a growing KL needs power but was it necessary to route the power lines through one of the few hiking spots remaining in this area? This area is supposed to be classified as Forest Reserve (hutan simpan) after all. 
Anyway what's done is done. The trail is still open to hikers and once you get beyond the affected area, the upper levels of the mountain remain as pristine as ever so read on and see what I wrote in 2015 which still applies.
Further Update - August 2017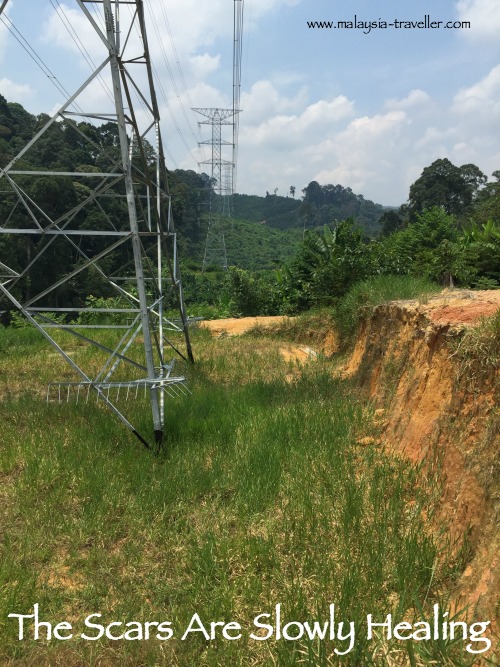 Photo Taken in August 2016. The scars from the pylon construction are slowly recovering.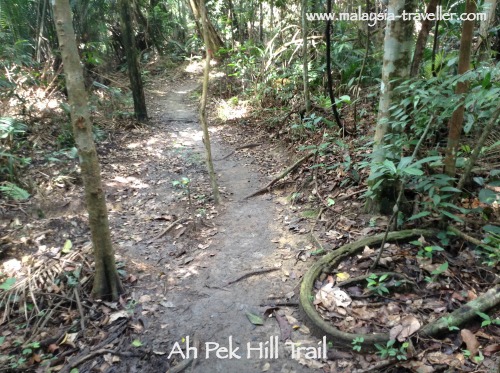 Why hike at Bukit Putih?
It was New Years Day 2015. I usually like to get some exercise on the first day of the new year. I had planned to wake up at 5am and greet the first sunrise of the year from the top of Broga Hill but I didn't manage to get up that early.
Instead I thought I would try out Bukit Putih (also spelt Bukit Puteh), a place I had never tried before.
This jungle hill walk is known in Hokkien as Ah Pek Hill Trail, Ah Pek referring to the many white haired senior hikers who like to exercise in this stretch of forest reserve.
Location of Bukit Putih
As you can see from the map, it is located on the eastern edge of Kuala Lumpur, in the district of Cheras, close to Hulu Langat. It is still a sizeable green area and the trail includes two modest hills, Putih and Bukit Saga.
I accessed the trail from the Taman Segar Perdana / One Legenda side but as shown on the map there are alternative access points.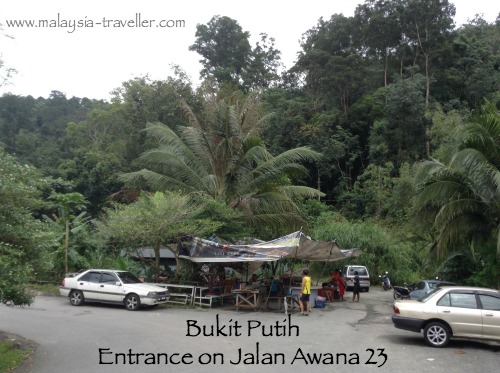 I exited the E7 Cheras-Kajang Expressway at the Taman Koperasi Cuepacs turn off. From there I took Jalan Medan Masira, then Persiaran Awana. After much twisting and turning I reached Jalan Awana 23 from where the Ah Pek Hill Trail starts.
Park somewhere near Jalan Awana 23 without obstructing or inconveniencing the local residents.
The Trail at Bukit Putih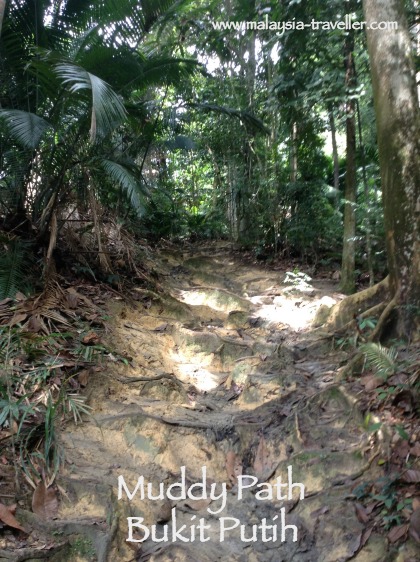 The trail itself is fairly busy, especially at weekends, so the path is well worn and easy to follow.
It is a long trail with plenty of ups and downs with a number of side routes so you can happily spend several hours exploring the forest while getting healthy exercise.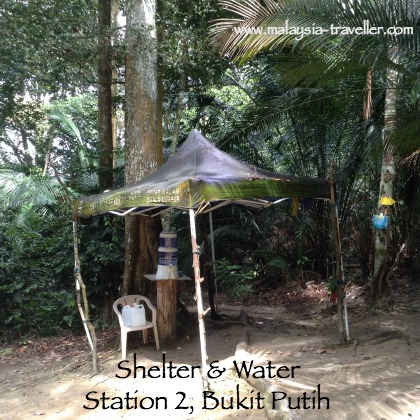 There are a number of rest stations - clearings with tented shelters and water dispensers.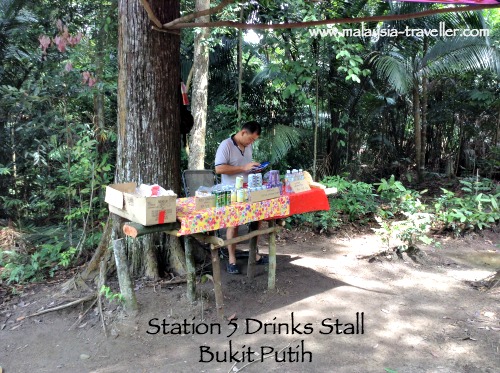 At station 5, there is even a stall selling water and soft drinks (weekends and holidays only).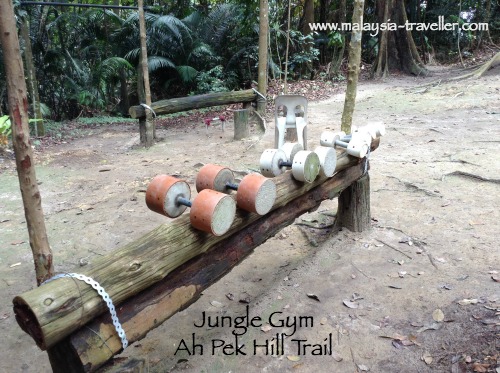 At station 3A there is a 'jungle gym' with rudimentary exercise equipment if you still have energy to spare after your long walk.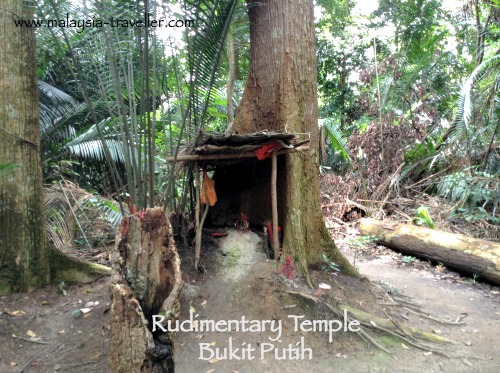 At station 5 the path forks and one branch leads to Ah Pek Hill Waterfall, a smallish fall where you can cool off. The path continues onto Bukit Saga and eventually you can exit the forest at Jalan Saga 28 in Taman Saga. However if you left your car back at Jalan Awana 23 you will probably want to return the way you came.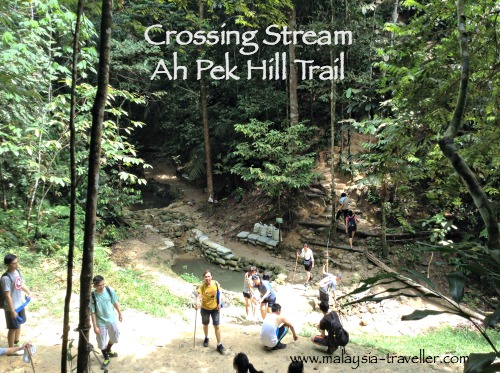 Verdict
I enjoyed this hike. I think it is physically more demanding than Bukit Puchong and there seems to be more wildlife too (monkeys and birds especially).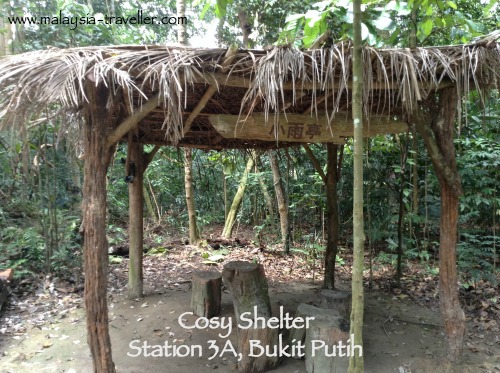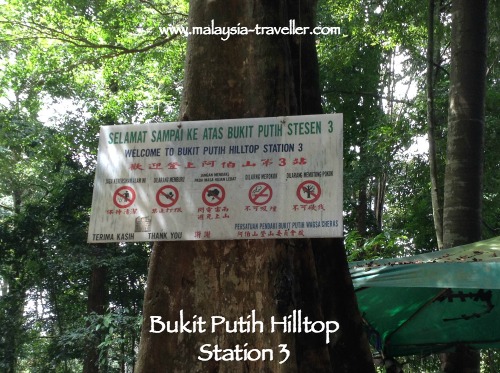 ---
Share this page: