Ayer Hitam Forest Reserve

Ayer Hitam Forest Reserve
Bukit Puchong (Puchong Hill)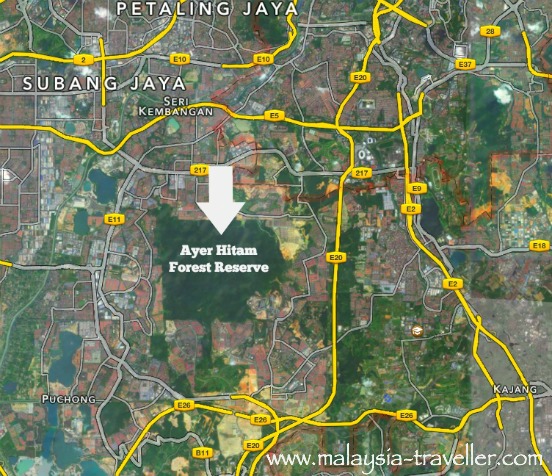 Introduction

It is easy to spot Ayer Hitam Forest Reserve on a satellite image of the Greater Kuala Lumpur area. It is the square of greenery shown here and it is all that remains of what was once a swathe of rainforest stretching for miles to the south of KL.
Relentless urban development has shrunk the gazetted forest reserve from over 4000 hectares in 1906 to just over 1200 hectares today. How can this happen you might ask? It seems that being gazetted as a 'permanent' forest reserve does not provide as much protection as you might think.
The reserve is now hemmed in by Puchong townships to the west, Seri Kembangan to the south, Subang Jaya to the north and Kajang to the east. Developers are nibbling away at the edges and no doubt would like to build over more of this prime location if they allowed to get away with it. Let's hope they don't.
Hiking at Ayer Hitam Forest Reserve
Ayer Hitam forest reserve might look pocket-sized on the satellite image but 1200 hectares of hilly rain-forested terrain still provides hikers the opportunity to experience jungle conditions and enjoy some fresh air and exercise.
Being located close to urban areas this forest reserve is very popular, especially with families at weekends.
I went along there recently to try it myself.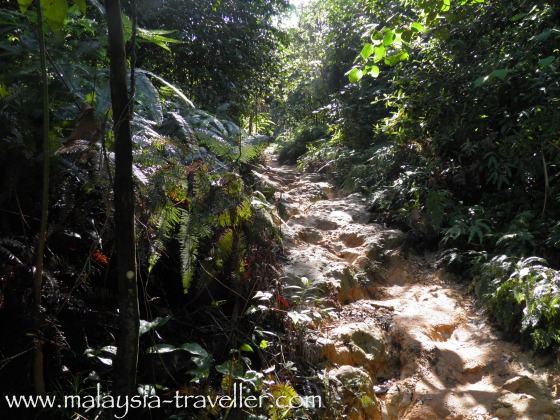 Location of Start Point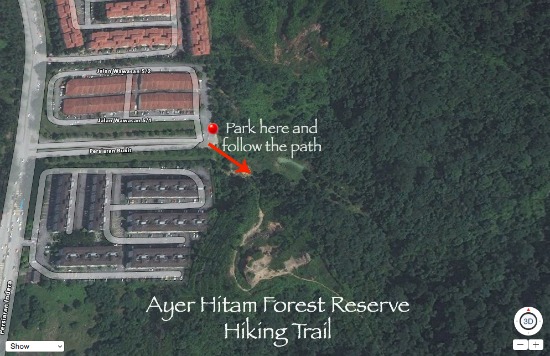 The trail starts next to Persiaran Bukit, which is located on the Bandar Puchong side, not from Giant Supermarket. There is plenty of space for parking here (free).
You can find the location on Waze by following this link: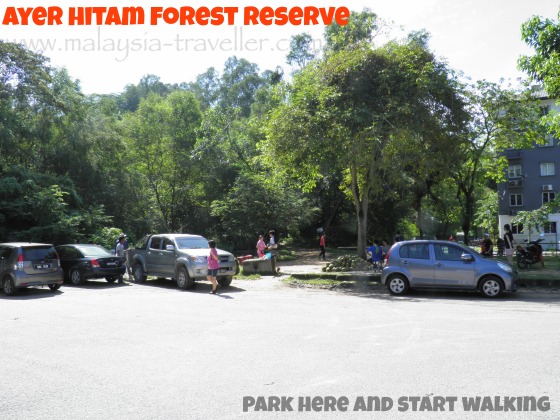 Due to heavy usage, the trail is well worn, heavily eroded in places, and easy to find and follow, though when I went it was muddy and slippery in parts.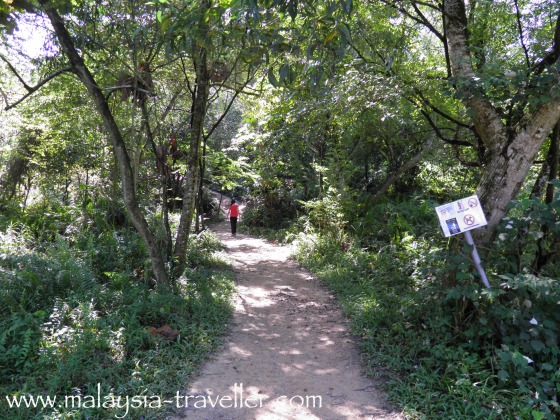 The Trail

For the first 10 minutes or so there is a steep incline and the terrain is open with clear views over the neighbouring suburbs.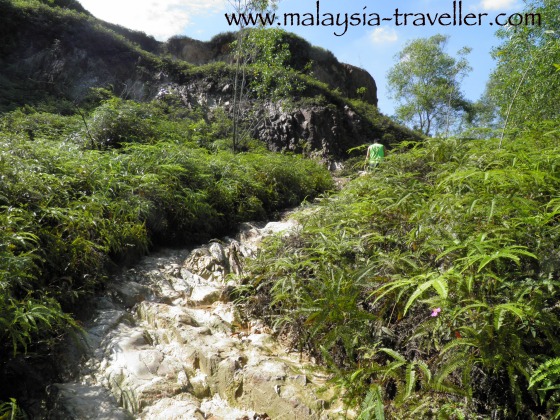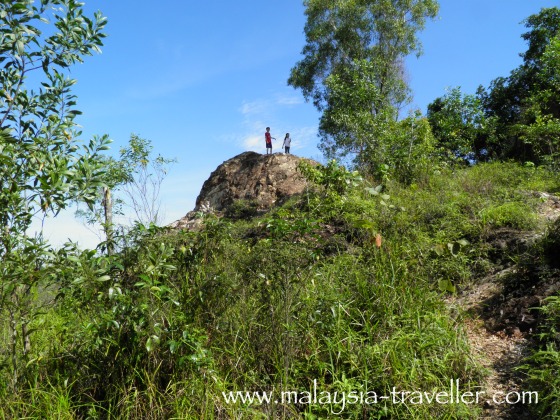 Next you reach a junction and you can go either left (clockwise) or right (anti-clockwise) since the trail is one long loop.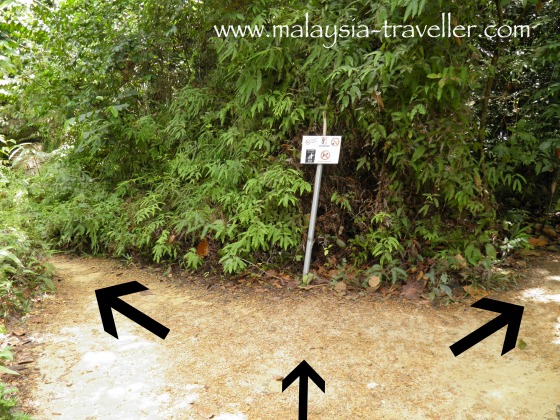 From here the forest closes in on the path and there are no more views.
It took me about an hour and a half to complete the walk at a leisurely pace.
It is good exercise as the terrain is undulating and the highest point, which I presume is Bukit Puchong (Puchong Hill), reaches an altitude of 233m.
The trail cross a clear stream. Elsewhere in the forest reserve is a waterfall and natural pool but this area is off-limits to the public.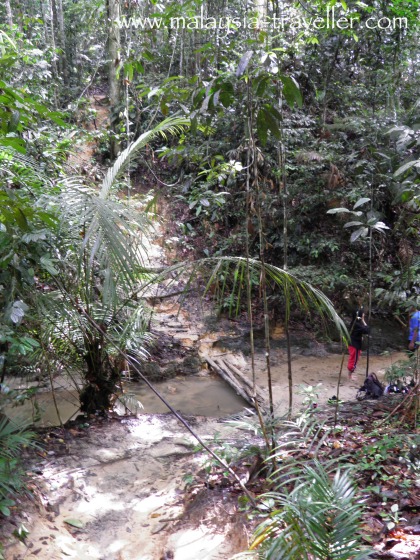 Flora and Fauna
Ayer Hitam is classified as lowland dipterocarp forest. This is not virgin rainforest and there are no huge trees in this forest reserve - they must have been logged years ago - but there are many reasonable sized specimens. The air is fresh and the distant traffic hum is barely audible above the noise of throbbing insects.
Tapirs and panthers once wandered these forest trails but it is highly unlikely that any remain. I heard a few monkeys thrashing around in the treetops. There is some birdlife and reptiles, including a very unusual light brown terrapin shaped like a leaf floating in the stream, in fact I thought it was a leaf until I saw it swimming upstream and spotted its extended neck and pointed nose. It could be a very rare species for all I know.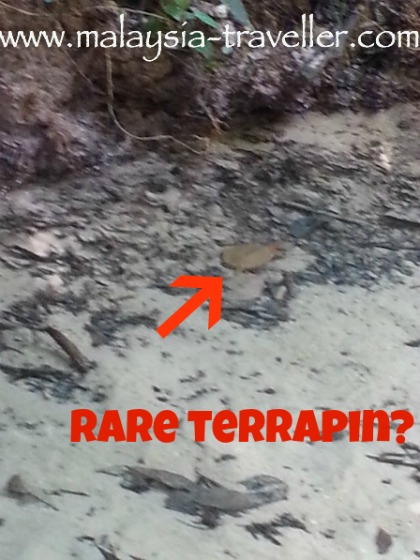 What to Bring
Though it is a relatively easy trail it should not be underestimated, particularly if you have children with you.
Take plenty of water, a snack, comfortable shoes and an effective insect repellent. 
Expect to sweat profusely.
Take your litter home with you. I saw almost no litter during my hike, which is quite unusual for Malaysia. One public-spirited gentleman was even sweeping leaves from the summit of Puchong Hill. Come to think of it parts of the trail looked like they had been swept too.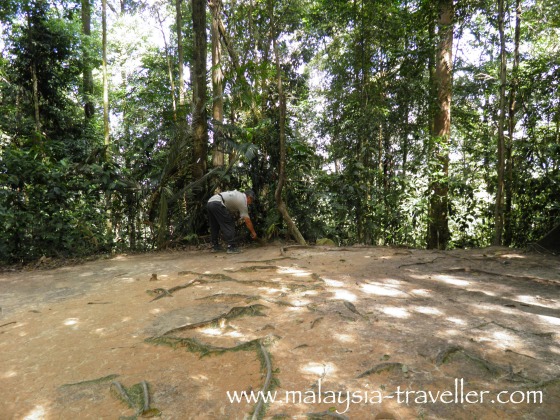 You Might Be Trespassing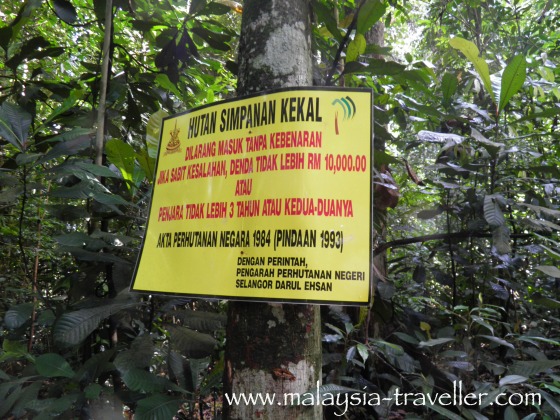 It was not until later that I discovered that Ayer Hitam Forest Reserve is not meant to be open to the public. This is a forest reserve (hutan simpanan) not a recreational forest (hutan lipur). The reserve is managed by Universiti Putra Malaysia who lease it for research purposes from the Selangor Forestry Department.
This sign warns that there is No Entry Without Permission - Upon Conviction a Fine of up to RM10,000 or 3 years in prison or both.
Yet there are other signs advising no smoking, no pets and no littering which are generally displayed in places which are intended for the public.
Anyway there is widespread disregard of the rules as there must have been at least 50 hikers on the trail on the day of my visit. Perhaps the authorities turn a blind eye provided visitors stick to the trail and do not try to reach those sections which are cordoned off such as the route to the waterfall.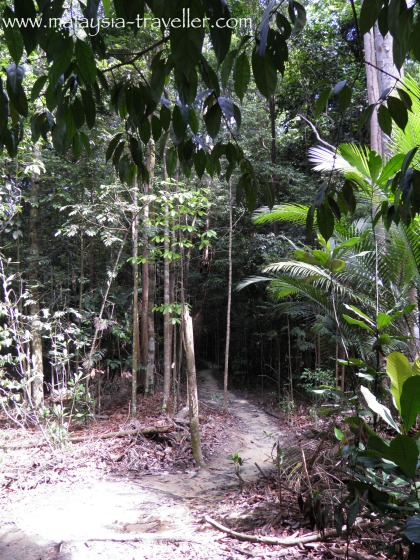 Enjoy Ayer Hitam Forest Reserve while you still can. Nothing is permanent it seems.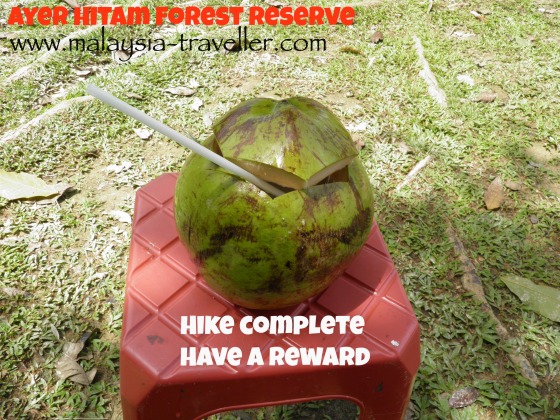 A coconut vendor is strategically located at the end of the trail so that hikers can enjoy a refreshing cool drink.
---
Ayer Hitam Forest Reserve
Share this page: