Hiking Bukit Besi Alam Damai
Cheras, Kuala Lumpur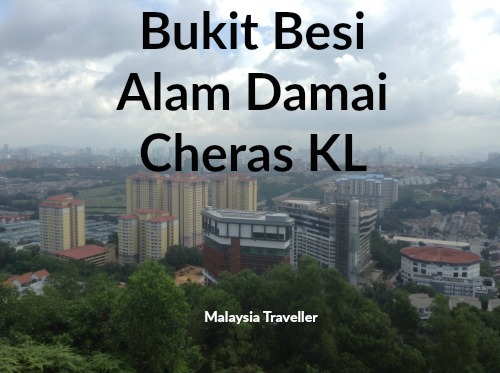 Bukit Besi Alam Damai is a 291 m (955 feet) high hill in the Sungai Besi / Alam Damai area of southeast Kuala Lumpur, just within the Federal Territory city limits. On Google Earth it shows up as a 4 square kilometre patch of greenery surrounded by housing. On the summit are three telecommunications masts.
The western side of this hill is bordered by the Sungai Besi army camp which is off-limits for civilians so hikers have to begin their climb in the north east corner where Persiaran Alam Damai joins Jalan Alam Damai.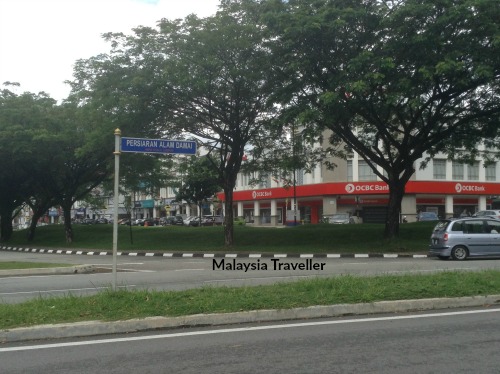 I parked the car here, next to OCBC Bank and crossed the street where a tarmac road with a barrier takes you steeply up the hill next to a residential tower called Altitude 236.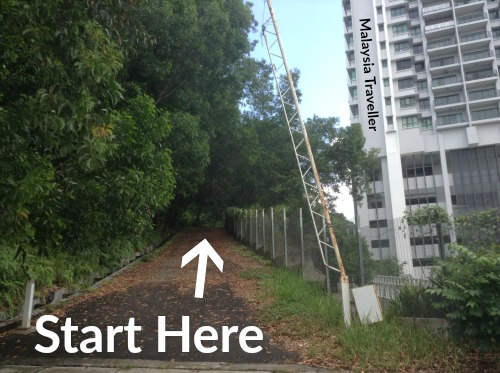 After 175 metres you see a large water tank. Some people turn off right into the jungle here but an easier route is to continue on the tarmac for a further 100 metres up until the second large water tank where the road ends.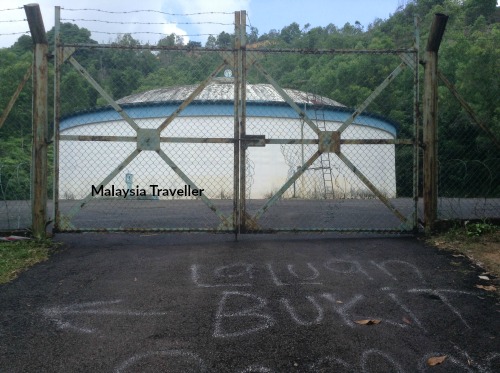 Second Water Tank
Somebody had conveniently chalked directions on the road. Take the path off to the left here.

From here the path winds its way up to a ridge from where you get your first views of the city.
In places it seems there are a number of different routes you could take but the rule of thumb is take the path which looks most used and keep going uphill.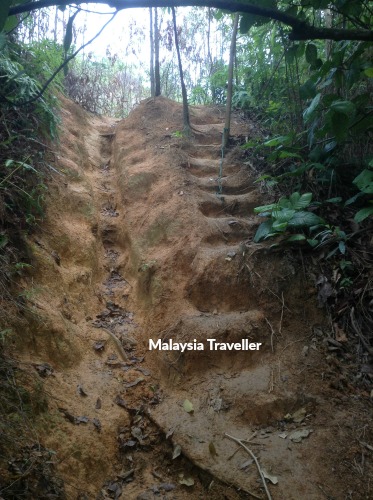 The Bukit Besi Alam Damai trail is fairly easy but there are steep sections where care should be taken, especially when coming back down.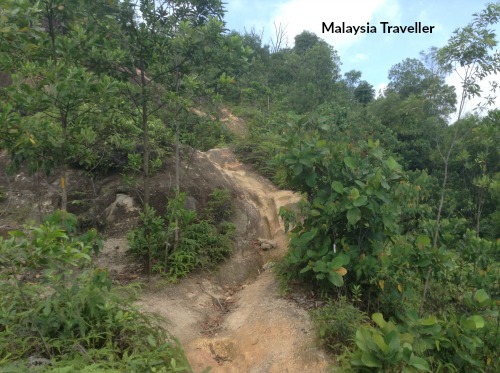 The dry sandy soil reminded me of the terrain at Ayer Hitam Forest Reserve which is not surprising as it is only about 10 km away as the bird flies.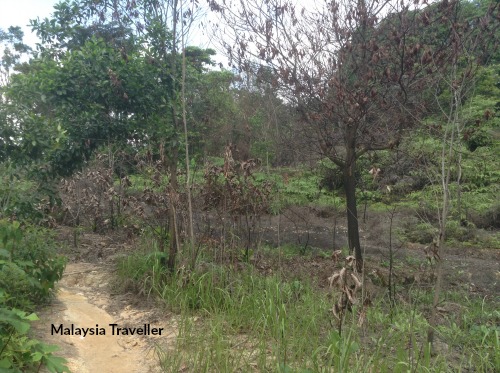 There appeared to have been some recent fire on the hill which had killed off some of the denser undergrowth.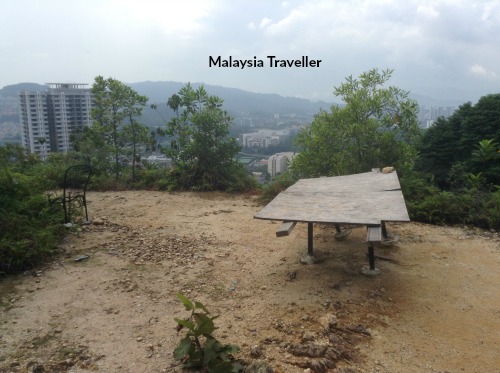 This spot is called Check Point 1 on some blogs. Rest here if you need to but this is a fairly short hike, about 3km. It only took me 1 hour to reach the top (with short breaks for photos and drinks) and 30 minutes to come back down.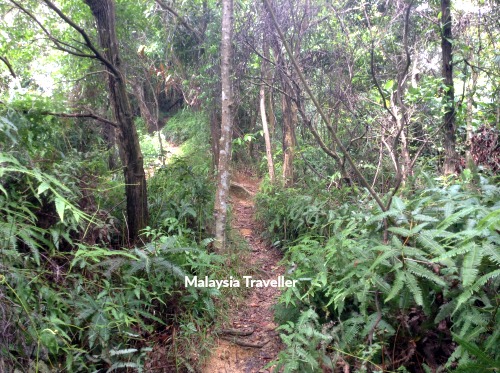 The final section is more jungle-like. I saw a family of macaques here.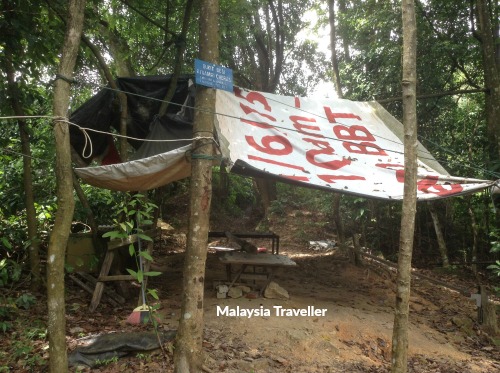 Check Point 3 with improvised dumbbells if you need more exercise.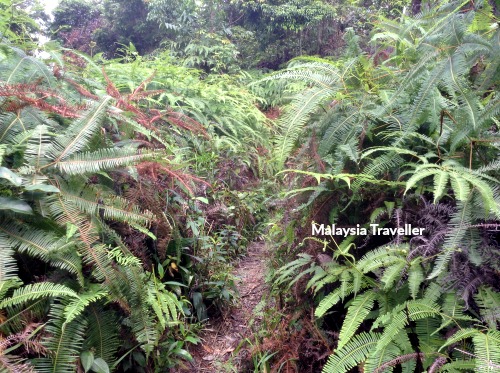 There are a lot of ferns on this hill. This is not my favourite vegetation because ferns are said to provide a good habitat for snakes.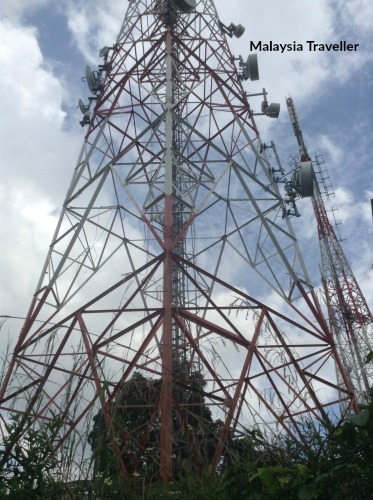 Finally you emerge at the summit next to the communications towers, which of course are behind barbed wire fences, being a protected and restricted area.  From next to the fence you can see some more good views.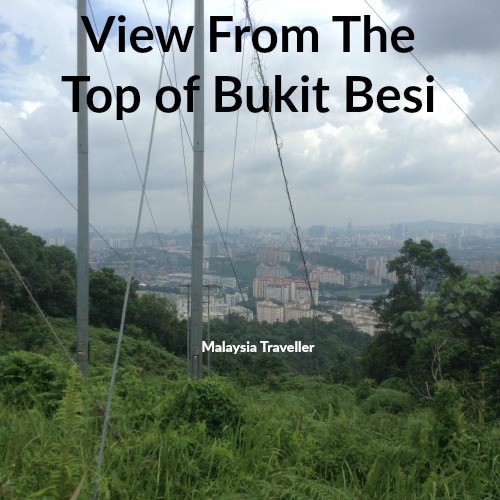 What to Bring
The usual: water, snacks, insect repellent, comfortable shoes, mobile phone.
I went on a Sunday (May 2017) expecting to see other hikers but there was nobody else around so try not to get lost.
 How to get to Bukit Besi Alam Damai
I have marked the start point on this map:

GPS Co-ordinates of the starting point:
3°04'32.2"N 101°44'11.1"E

3.075610, 101.736410
Address of starting point:
Persiaran Alam Damai, Alam Damai, 56000 Kuala Lumpur, Wilayah Persekutuan Kuala Lumpur, Malaysia
---
Share this page: