Yutoku Inari Shrine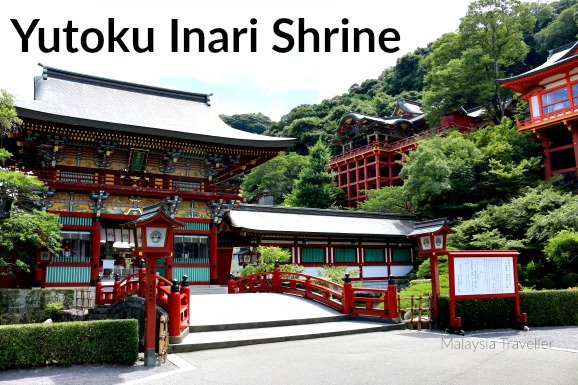 Yutoku Inari Shrine (Yutoku Inari Jinja) is located in Kashima in Saga Prefecture about half way between the cities of Fukuoka and Nagasaki.
The shrine was built in 1637. There are over 30,000 Inari shrines in Japan and this is one of the three largest, dedicated to the deity Inari Okami (or Inari-gami), a spirit associated with rice, prosperity, clothing, and shelter. Inari shrines are characterised by their numerous red torii gates and statues of foxes (kitsune).

Over three million devotees visit here annually to pray for success at business, good family fortune, a large catch (fishermen), safety on the roads, successful marriage and more. They purchase amulets, good luck charms, fortune slips and votive plaques to bring them the wishes they are looking for.
Here are some of the main features in the precincts of the shrine.

 Ochouza (Purification Water)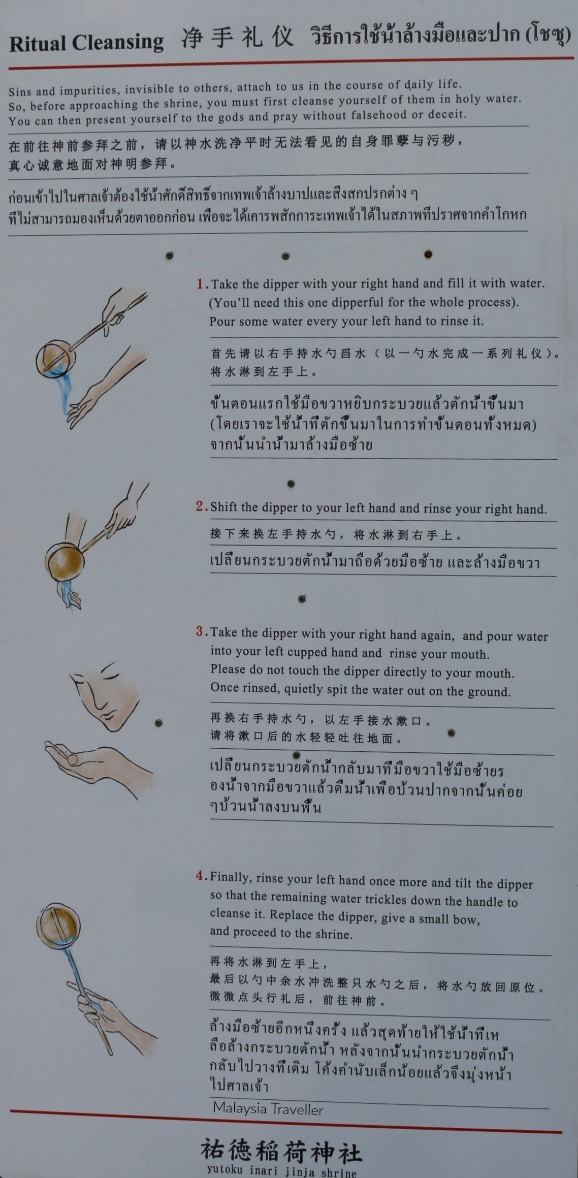 On entering the precincts you should cleanse yourself of sins and impurities by rinsing your hands and mouth with the holy water. Instructions on the etiquette for this ritual cleansing are provided. Don't spit water back into the fountain!
 Kitsune Statues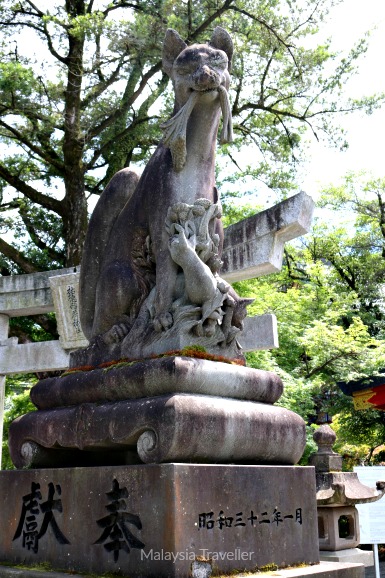 There are a pair of stylized fox statues near the entrance. Foxes are thought to be Inari's messengers. This one is holding a sheaf of rice in its mouth and is with cubs.

Okaguraden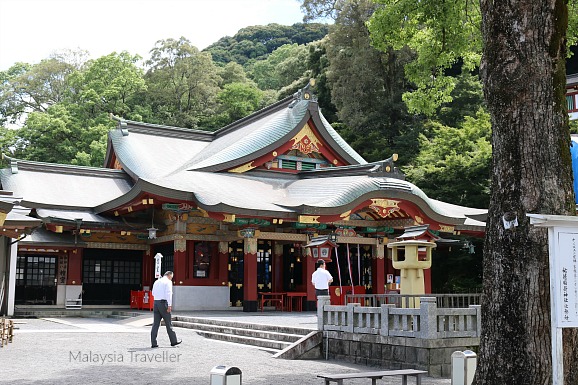 This is one of the subordinate temple buildings, guarded by a pair of ferocious looking masks.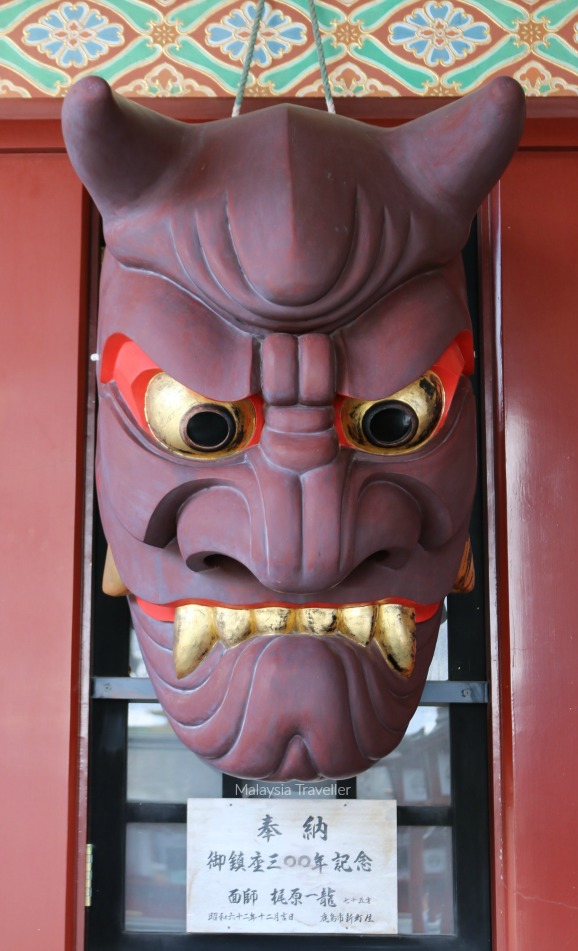 Gohonden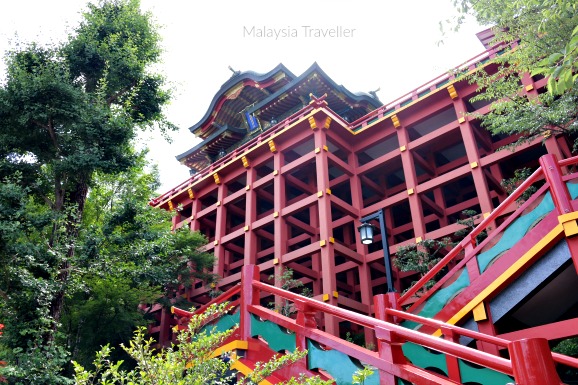 The heart of the shrine compound is the magnificent Gohonden built on a platform on red lacquer-coated stilts 18 metres above the ground on the slopes of the Iwakabe hill. It is reached by climbing 117 steps, although there is an elevator for those needing it. The platform is even higher than the one at Kiyomizu-dera in Kyoto.

Myobusha Shrine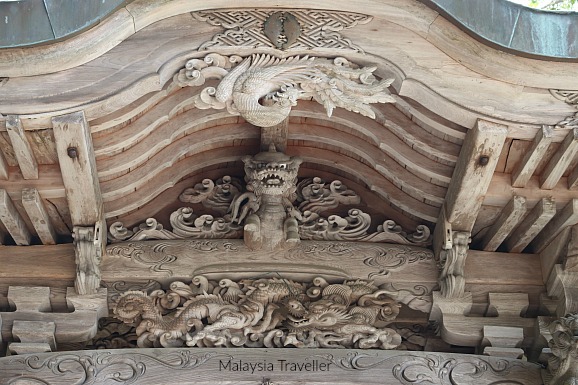 The path continues uphill above the main shrine building. On the way up you will pass this shrine, dedicated to Byakko (white fox). It is the oldest building within the Yutoku Shrine compound.

Red Torii Archways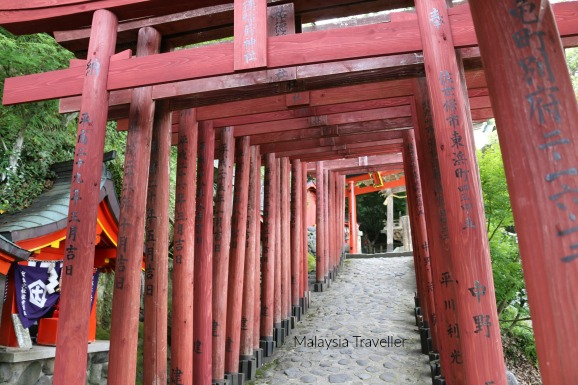 Those worshippers whose wishes have been granted after coming to the shrine to pray will often express their gratitude by dedicating a torii gate. Judging by the number of them, a lot of wishes must have come true.

 Inner Shrine (Okunoin)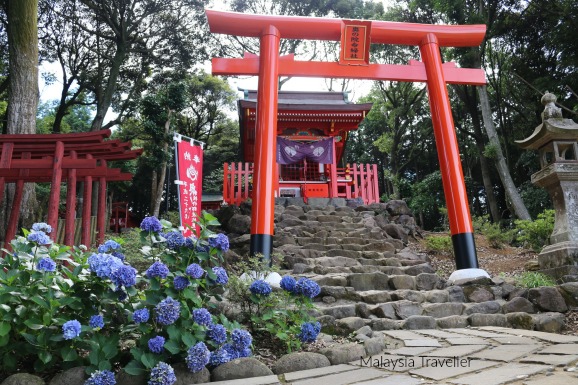 After twenty minutes or so steep climb you will reach the top of the hill where there is a small shrine and a fine view overlooking Kashima City and the Ariake Sea.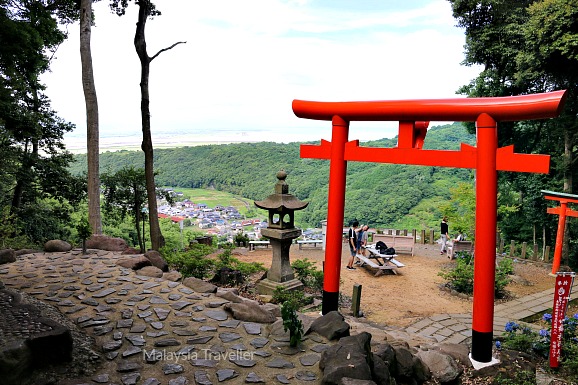 Nadeuma (Petting Horses)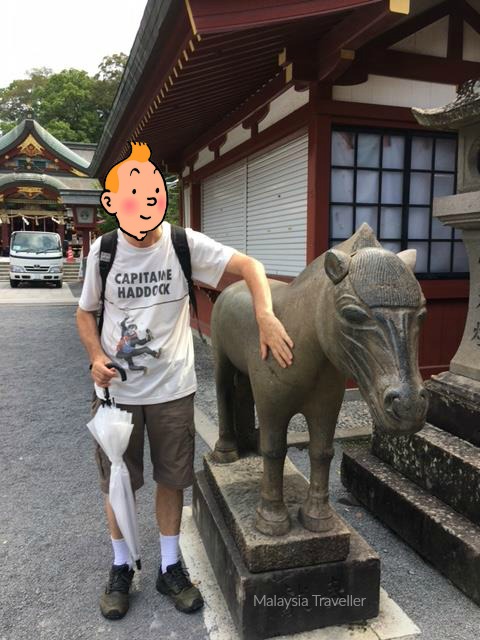 Do horses have prostates?
Arriving back at the base of the stairway you will see a pair of stone horses. It is said that you will be cured of illnesses if you rub the part of the horse corresponding to the part of your body where you are ill. I'm not sure if it works. Despite rubbing the horse vigorously I do not appear to have been cured of my various ailments!

Japanese Garden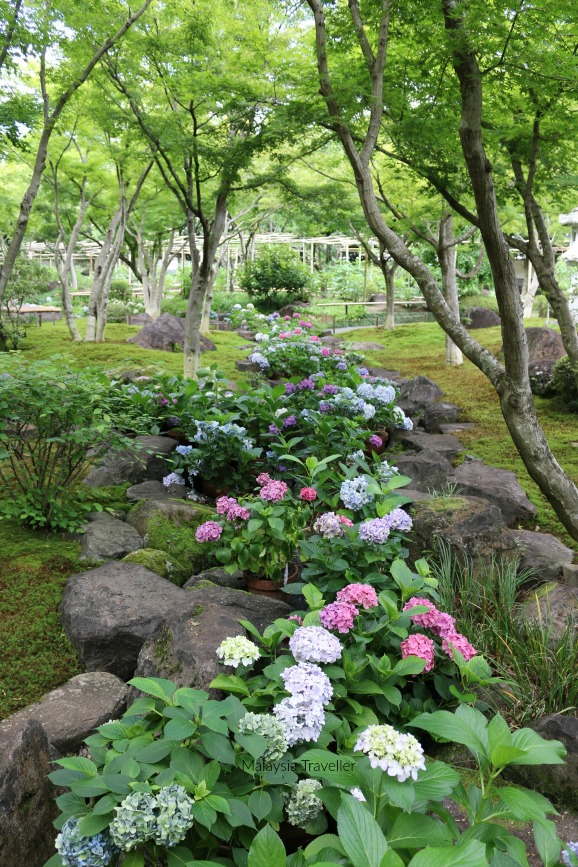 The shrine has a small but attractive Japanese garden with a brook, pond, bridge and a variety of blooms which are designed to provide visitors with a colourful landscape whatever the season, but especially beautiful in autumn when the maples turn red.  This photo was taken in summer.

Yutoku Museum
There is a small museum next to the car park whose exhibits include samurai armour, swords and other artefacts.

Yutoku Monzen Shopping Street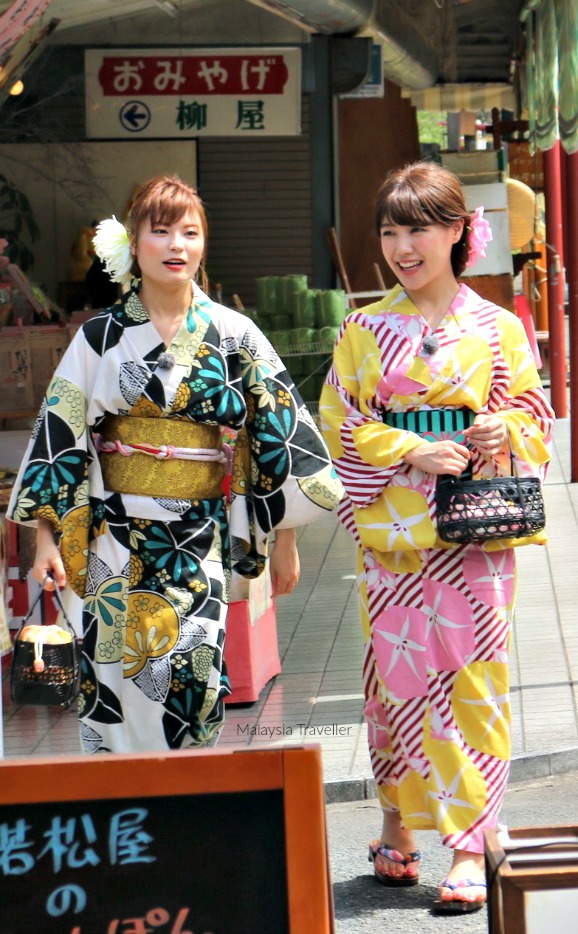 The approach to the shrine is a 400 m long promenade planted with cherry trees and lined with more than 30 souvenir shops and restaurants. The local speciality here is Inari Yokan, a type of sweet bean jelly. 

 How to Get to Yutoku Inari Shrine
We went by limited express train from Fukuoka's Hakata station to Hizen-Kashima Station. We used our JR Kyushu Rail Pass but if we did not have one the fare would be ¥3,100 one-way. The trip takes just under an hour. From the station we took a taxi (fare ¥1,600) but buses are also available (¥320).
Address:

Yutoku Inari Jinja, Furueda, Kashima, Saga Prefecture 849-132, Japan

Tel: +81-954-62-2151

Official Website: 

 Opening Hours & Admission Prices
Yutoku Inari Shrine
Always open.
Admission is free.
Japanese Garden
Open daily from 9am to 4.30pm.
Admission is ¥200
Yutoku Inari Shrine Museum
Open daily from 9am to 4.30pm.
Admission is ¥300.
---
Share this page: