Top Yufuin Attractions
Here are some of the main Yufuin attractions that you might like to experience on a trip to Yufuin.

Clouds of steam from hot springs can be seen in the background.
Yufuin is a scenic hot-spring resort tucked away in the hills of northern Kyushu, close to the spa town of Beppu. Yufuin sits amid rural scenery in a valley at the foot of Mount Yufu. Natural hot springs blow plumes of steam into the sky at various locations around the town. 

In recent years a large number of shops, museums, cafés, restaurants, hotels and fun things to do have sprung up to cater for the hordes of visitors and tourists who visit annually. Most of the tourists appear to come from Korea, China, Taiwan or other parts of Japan.
Here are some of the main Yufuin attractions

1. Museums & Art Galleries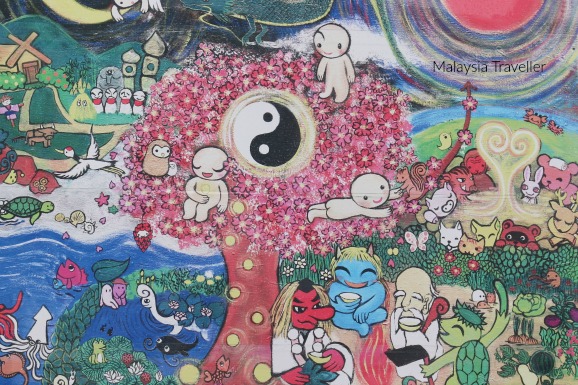 Local artwork on sale in Yufuin
There are quite a few museums here. We visited three of them:
This small and intimate museum contains a collection of works by Russian-French artist Marc Chagall (1887-1985). This lakeside museum has a café with a terrace overlooking the lake.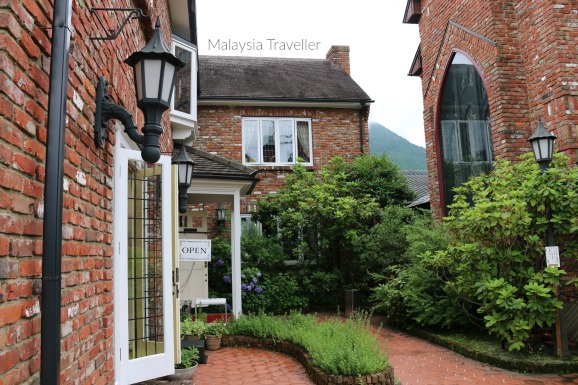 Yufuin Stained Glass Museum
Yufuin Stained Glass Museum
This is quite a strange subject matter to have in a museum in a small Japanese town but we all like to see beautiful things when we are on holiday so why not? The museum is contained in two buildings; a brick built house called Neil's House that looks like it has just been transplanted from England (in fact it looks very similar to my Mum's house!) and, next door, a brick built church called St.Robert Chapel. Both buildings are filled with replicas of stained glass windows found in churches and cathedrals of various European countries. The church is available for rent as a wedding venue.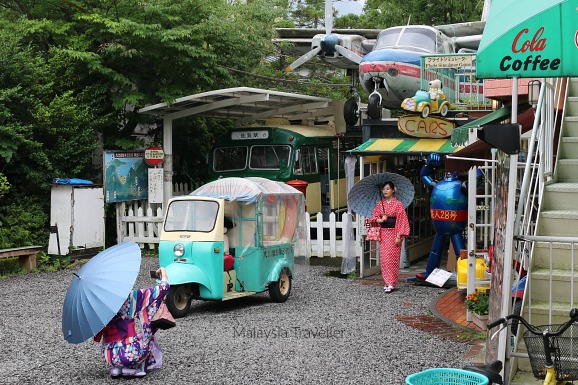 Kimono clad lady posing outside the Retro Car Museum.
The owner of this museum has put together a great collection of vintage cars, motorbikes and transport related memorabilia and collectables. The assortment of old Japanese cars from the 1930s onwards (including Datsun, Toyopet and Sambar - predecessor brands of Nissan, Toyota and Subaru respectively) is especially interesting. Japanese cars have come a long way since those early days!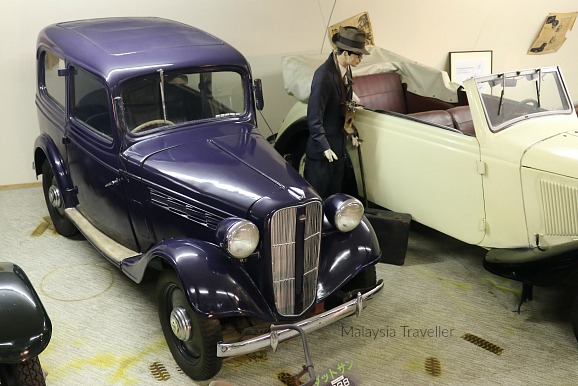 A 1938 Datsun.
 2. Temples & Shrines
Here are four of the more notable temples and shrines in Yufuin:

Kozenin Temple
This Zen temple can trace its origins back to 1370. The temple's hydrangeas were in bloom during our visit and added colour to the attractive garden. Two statues guarding the gateway to the temple were toppled during the 2016 Kumamoto earthquake which was felt here.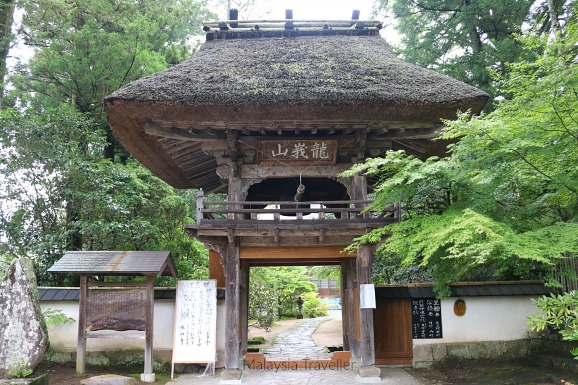 Bussanji Temple
This temple is in a heavily wooded outskirt of town. The temple's thatched entrance gate is quite unusual.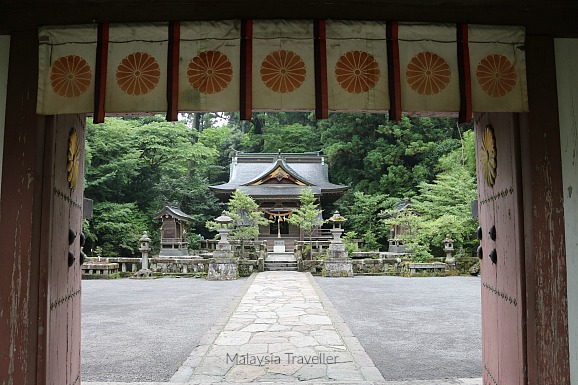 Unaguhime-Jinjya Shrine
The grounds of this shrine contain the stumps of some giant cedar trees, estimated to be hundreds of years old and considered to be sacred.

Thousand year old cedar tree at Ogosya Shrine
Perhaps the most atmospheric of the four, this shrine is built alongside a massive sacred cedar tree which is said to be more than 1,000 years old. The trunk has a 5 square metre cavity inside which caught fire in 1897 and burnt for two years but amazingly the tree survived.  The shrine is surrounded by a bamboo forest.

3. Kinrinko Lake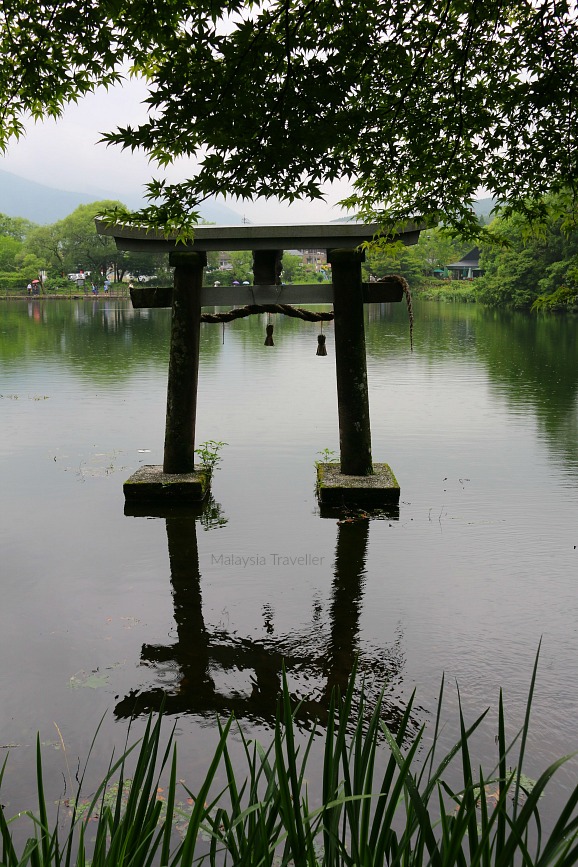 Kinrinko Lake
This pretty lake is fed by naturally hot spring water, raising the water temperature and creating a microclimate that causes morning mists to form, especially in the cool autumn and winter months. Surrounded by landscaped gardens with footpaths and Japanese bridges, this is one of the top Yufuin attractions for tourists to take their selfies.

4. Mt. Yufu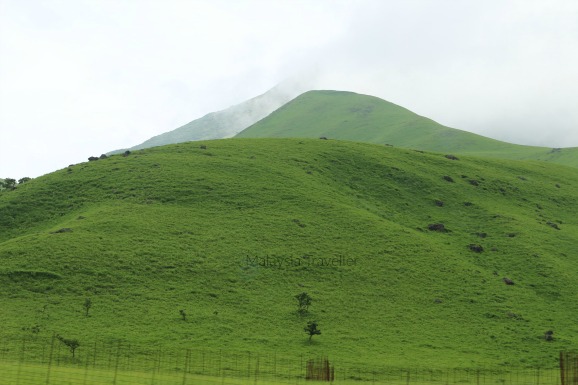 If the weather is clear you will enjoy a great view from the top of Mt. Yufu.
Mt. Yufu is 1,584 metres high and its conical twin peaks overlook the town. It is a relatively easy hike of about 4 hours round trip. To reach the start of the trail you have to take a bus or taxi for about 20 minutes in the direction of Beppu. The peak was shrouded in cloud for most of our three day stay in Yufuin.

 5. Yufuin Floral Village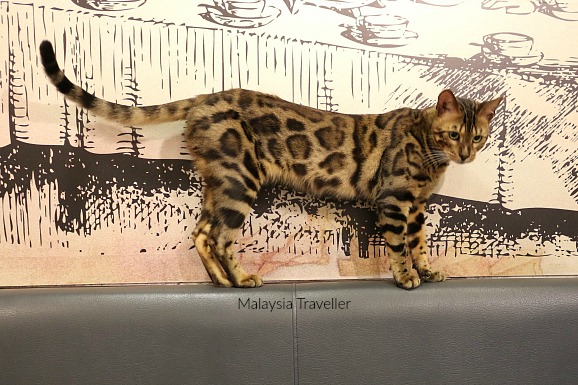 One of the 13 Bengal cats in the cat café at Yufuin Floral Village. There is another cat café in town featuring Norwegian Forest cats.
This is a scaled-down and idealised version of an English Cotswolds village filled with all the cute and fantasy things that Japanese people imagine England is famous for such as Beatrice Potter, Alice in Wonderland, an Owl Forest and so on. It's very well done and hugely popular which leads me to question why I don't build a place like this in England for foreign tourists.

 6. Lovely Scenery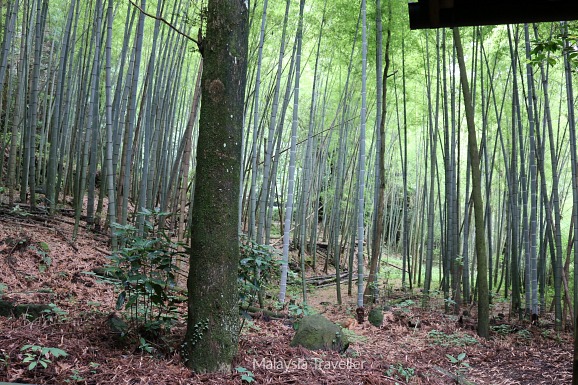 There are a number of gentle walking trails you can take along the river banks, past rice fields and through the back lanes of the town. You can obtain a walk map from the tourist information office on arrival at Yufuin railway station.

 7. Shopping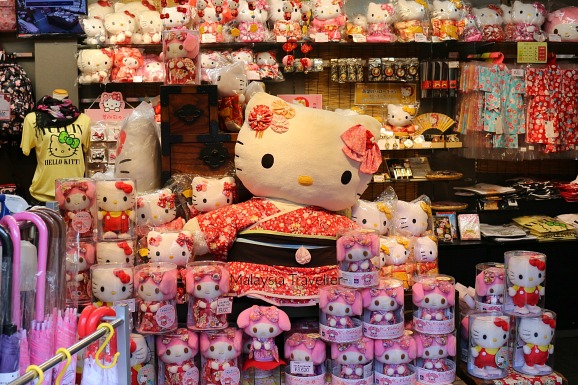 All kinds of souvenir, handicraft, artisan and specialty food shops line the main street. Japanese gourmet cakes, pastries, sweets, ice creams and delicacies seem particularly popular. Also cute stuff like Hello Kitty and Studio Ghibli merchandise.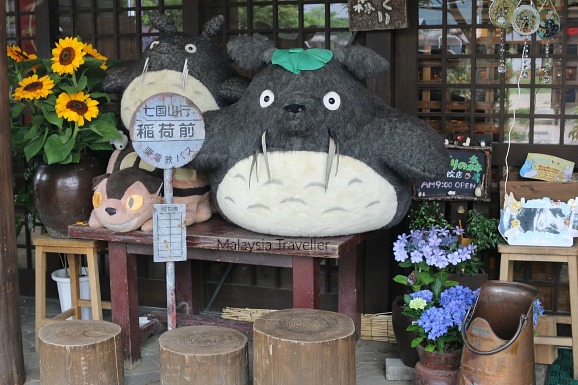 Donguri no Mori, a chain of shops for Totoro and other Studio Ghibli merchandise.
8. Eating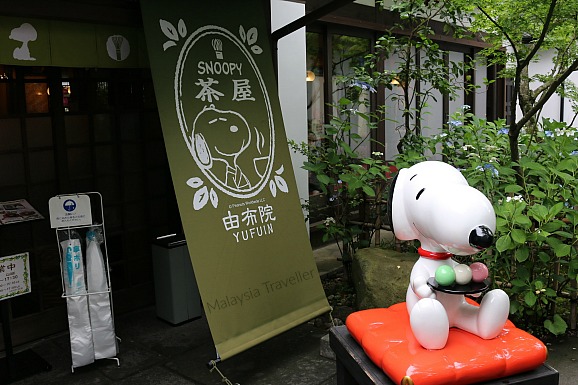 Cozy restaurant selling Peanuts themed meals and snacks.
There is no shortage of fun and tasty places to eat, including two cat cafés, a Snoopy tea house, Italian, Chinese, Korean and all sorts of Japanese cuisine.

9. Hot Springs
Many hotels and ryokans have onsens on the premises. Even our Airbnb apartment had its own hot spring bath but it was so unbearably hot we couldn't use it. On the hillsides behind Mt. Yufu you can find bubbling hot pools emitting sulphurous fumes, obviously not safe for entering.

Outside of Town
Two nearby attractions on the way to Beppu are:
Beppu Ropeway. Enjoy a cable car up the Tsurumi Mountain for a view over Beppu.
Kijima Kogen Park. This theme park's highlights include an amazing old style wooden roller coaster and a kids' driving school. Does not get crowded. No queuing.
 Getting Around the Yufuin Attractions
Vintage Tour Bus
Walking. The town is very walkable with the main tourist area alongside Yunotsubo Main Street which runs from the railway station up to the lake, a distance of less than 1.5 km. A walk to some of the temples and shrines mentioned above takes a little longer.
Bicycle. Bikes are available for rent from various places. It is mostly flat and traffic is light but you have to take care to avoid the hordes of pedestrians.
Horse Drawn Carriage. A romantic way to see the sights.
Vintage Sightseeing Bus. Tour buses depart from in front of the railway station.
Rickshaw. Fit-looking young people are willing to give you a ride in a traditional Japanese rickshaw for fixed prices depending on duration.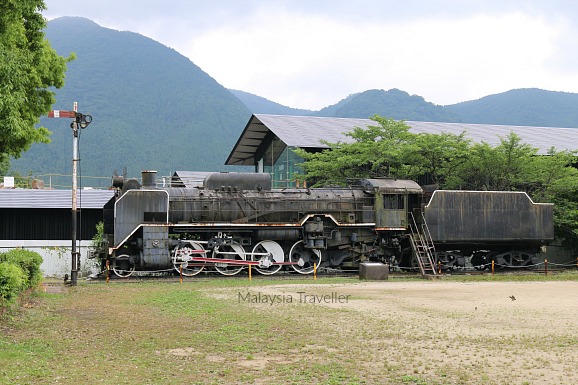 Old steam locomotive on display in a park in Yufuin.
 How to Get to Yufuin
The train to Yufuin from Fukuoka, the Yufuin-no-Mori Express, is itself one of the top Yufuin attractions. It only runs three times per day and you need to reserve in advance. Regular trains are also available.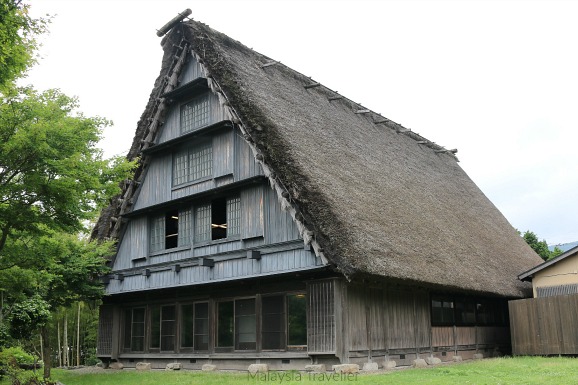 Heritage building serving as a ryokan.
Hope you enjoy discovering these Top Yufuin Attractions as much as we did.

---
Share this page: