Wat Meh Liew
Thai Buddhist Temple
in Kuala Lumpur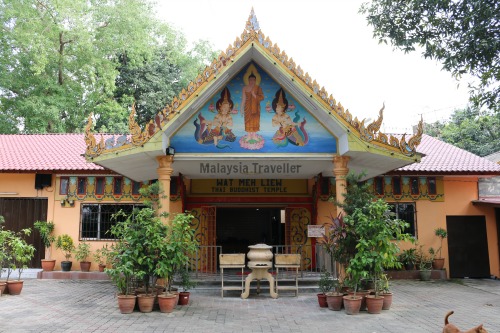 Wat Meh Liew is a Thai Buddhist temple in the Pekeliling district of Kuala Lumpur near Bulatan Pahang (roundabout) on Jalan Tun Razak.

History of Wat Meh Liew
The archives of the Malaysian Historical Society provide some fascinating background to the temple and surrounding area.
Wat Meh Liew was established in the late 1920s by a Chinese-Thai woman called Madam Yap Yoke Liew originally from Phuket. She was married to a Singhalese Buddhist and they purchased a cheap plot of swampy jungle alongside the Gombak River in northern KL which came to be known as Kampung Siam and is now called Pekeliling. Some Thai monks started to migrate to Malaya at that time and she built the temple for these monks to stay. In those days there were no immigration controls and soon other Thai families settled here in search of better prospects. By 1930 there were over 300 Siamese families in Kampung Siam.

When WWII reached Malaya, the British were concerned at the failure of Thailand to oppose Japanese forces invading Malaya via Thailand. The Thai population at Kampung Siam were deemed a security risk and the young men were rounded up and deported to Madras and imprisoned for the duration of the War. When they returned after the War, life was tough and, particularly after Malaysian independence, the Thai population of the village started to dwindle. 

Nevertheless the temple continues to survive and attracts Buddhists from KL and beyond with numerous Buddha, Guan Yin and other statues. 
You can read more about the history here.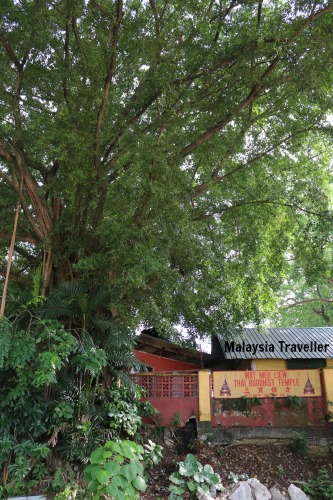 A tree planted in the temple from seeds brought over from India in the 1950s was said to be a seedling of the original Bodhi tree under which Lord Buddha attained enlightenment. There are a couple of massive trees here. I don't know if this is the one.
The Temple Today
The entrance is framed by a decorative Thai-style gate bearing a painting of Buddha sitting on a lotus leaf.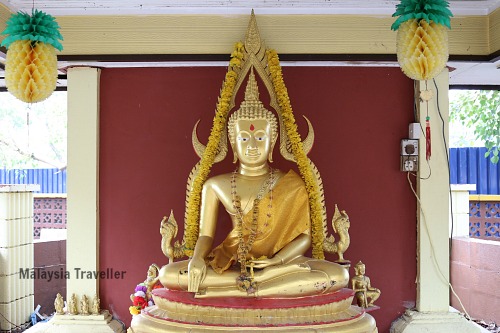 The temple compound contains a number of statues and pavilions, such as this one containing a golden Buddha.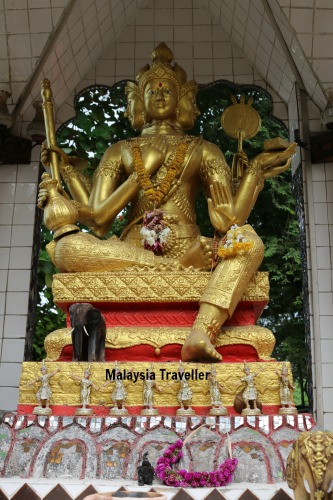 A four faced Buddha statue.
Wat Meh Liew is contained in a modest building which resembles a private residence inside.
There are a couple of counters selling amulets, statues and Buddhist literature.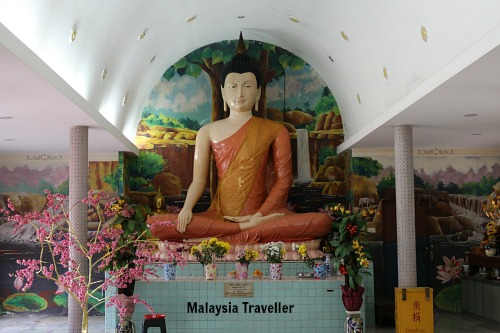 Inside the temple is a large seated Buddha statue. The plaque underneath commemorates the consecration of the temple by H.H. The Sangha Raja of Thailand Somdej Phra Ariyavongsakatayan on 15th March 1968.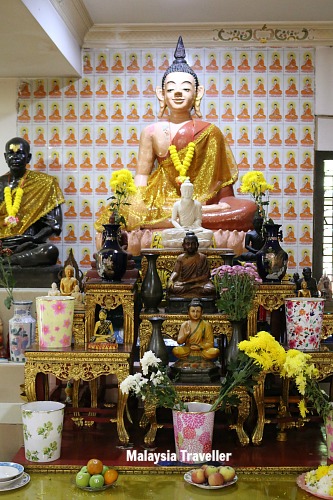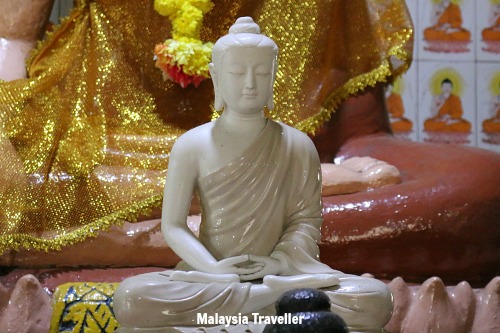 An altar displays statues of Buddhas and monks.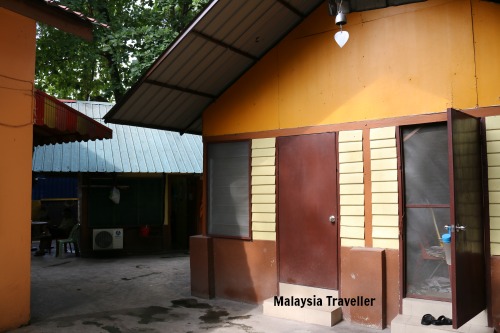 Around the back of the main hall are a few wooden buildings where monks are accommodated and a lot more statues.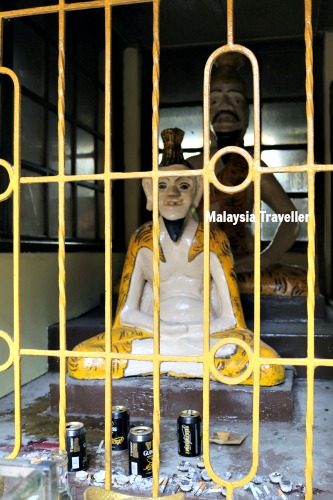 A pair of rather ugly statues, locked up behind bars, are apparently visited by gamblers seeking luck with their lottery purchases. In return the statues are given cigarettes and cans of Guinness. Somehow they manage to drink them all!

---
Entrance to the temple is free.
Donations boxes are provided.
---
 How to Get to Wat Meh Liew
By Road 

The exact location is marked on the interactive map on the Top KL Attractions page.

There used to be two entrances to the temple but one of them is now boarded up while massive construction works are going on in the neighbouring building site where the Jalan Pekeliling low-cost flats used to stand.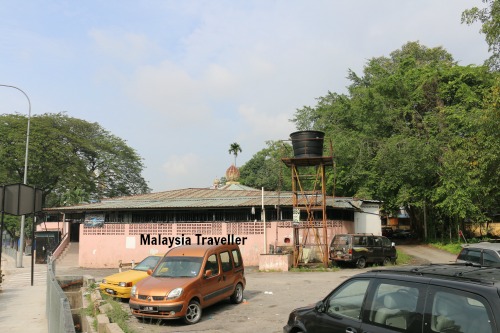 The temple is behind this mosque. Park here.
Now the only way into the temple compound is from the slip road going from Jalan Tun Razak towards Jalan Pahang and there is a turn off directly after the pink mosque, Masjid Bulatan Pahang.
There is space to park behind the mosque.

There were a lot of dogs in the parking area and within the temple compound area and not all of them were friendly towards me though they calmed down when they realised I was a dog lover.

GPS co-ordinates: 

3°10'30.3"N 101°41'52.4"E
3.175090, 101.697890
Address: 

The old notice board at the rear of the temple shows this address:

29 Kampong Siam, Pahang Road, KL
Nowadays this more modern address is used:

Jalan Tun Razak, Pekeliling, 53000 Kuala Lumpur, Wilayah Persekutuan Kuala Lumpur, Malaysia
By Monorail or LRT

The temple is a five minute walk from Titiwangsa monorail and LRT stations.
Nearby
Want to combine your visit with other places nearby? These are all within walking distance:
---

Share this page: