Vintage Postcards From Malaya
This interesting selection of Vintage Postcards gives an idea of how Malaysia used to look a century ago.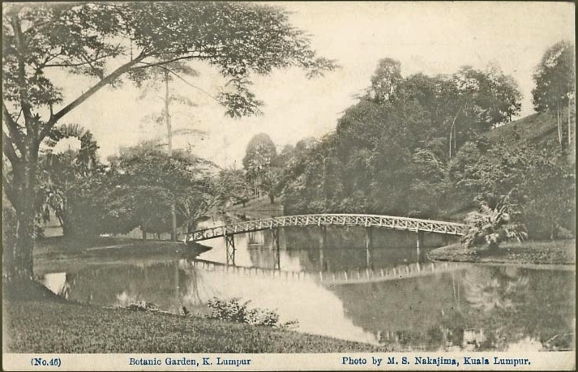 Botanic Garden, Kuala Lumpur - Photo by M.S. Nakajima, Kuala Lumpur
This postcard was postmarked 1915 so the photo was taken over a hundred years ago. The Botanical Garden still exists of course and the view is similar today except that the wooden bridge has been replaced by a termite-proof concrete bridge. The photographer, Nakajima was presumably Japanese and his studio produced many picture postcards in the early 20th century. Most of the large towns of Malaya had Japanese-run photographic studios and their work provided a useful cover for espionage activities in the run-up to the Japanese invasion of Malaya in World War Two.

Labuan
This hand-tinted image is simply entitled Labuan. Many black and white photo postcards were coloured by hand during the period 1915-1930.

Ayer Itam Temple, Penang - Raphael Tuck & Sons 'Oilette' Postcard No. 8962
The Kek Lok Si Buddhist Temple at Ayer Itam (Air Itam) is still one of Penang's top tourist attractions. The caption on the reverse of this oilette postcard reads 'Penang, the town and island which with Singapore forms the most important portion of the Straits Settlements. The island is about 15 1/2 miles long by 10 1/2 wide at the broadest point, and has an area of over 100 square miles. The town of Penang, built on a promontory at the point nearest the mainland, possesses a European club, a race course and good golf links.'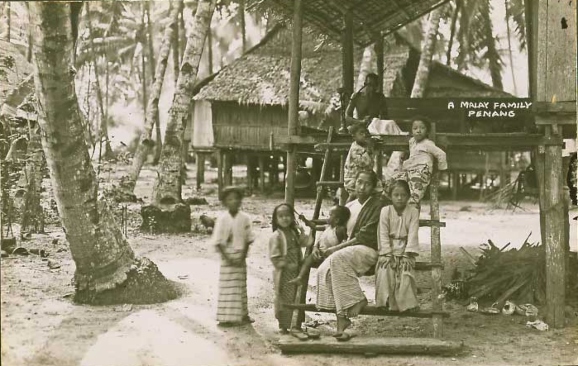 A Malay Family - Penang
The coconut trees suggest this photo was taken near a beach in Penang. Perhaps the man is a fisherman. It is a pity the focus was not clearer.

Landing Pier, Penang
This reverse of this vintage postcard tells us it was printed in Germany and the photographer was A. Kaulfuss, Penang. August E. Kaulfuss, originally from Germany, arrived in Penang in 1883 and ran a photographic studio in Farquhar Street, George Town until his death in 1908. This colour postcard was dated 1905 and depicts newly arrived Indian migrants at Victoria Pier. Sampans are waiting to ferry passengers.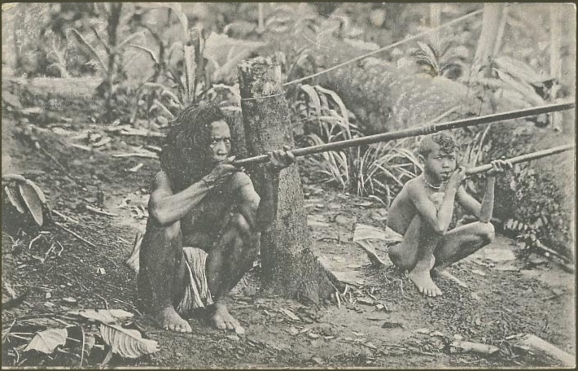 Orang Asli with Blowpipe.
This vintage postcard, which was printed in Italy, bears the caption 'Wild Sakei - Perak - Malay Peninsul. 1.a Serie Cerruti.' and shows an orang asli man and boy with blowpipes. Official usage of the word 'sakai' to describe members of Malaysia's indigenous communities was dropped in the 1960s as it was regarded as a derogatory term.

Traveller Tree, Penang
A great photo of three boys posing in front of a traveller's palm tree in Penang. The traveller's palm is one of Asia's most distinctive trees. I wrote about them in this blog post some years ago.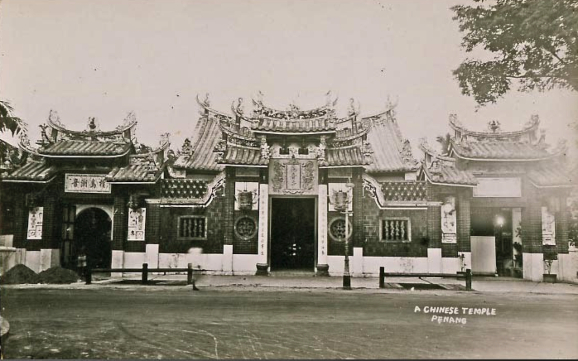 A Chinese Temple, Penang
Possibly this is the Kuan Yin (Goddess of Mercy) Temple on Jalan Masjid Kapitan Keling. It is believed to be the oldest temple in Penang with construction having commenced in 1728.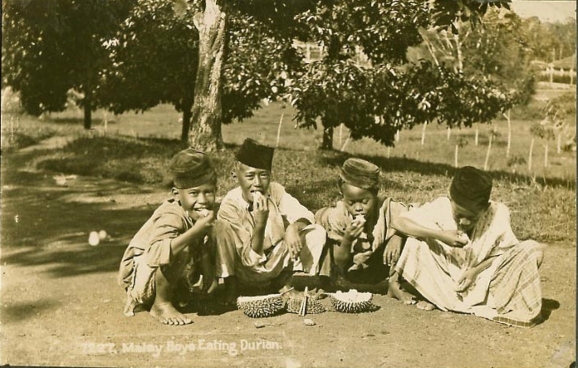 Malay Boys Eating Durian
They look like they are enjoying their pungent fruit.

Gold Mine in Pahang
Perhaps this photo was taken in the vicinity of Raub, a small town in Pahang famous for its gold mining heritage.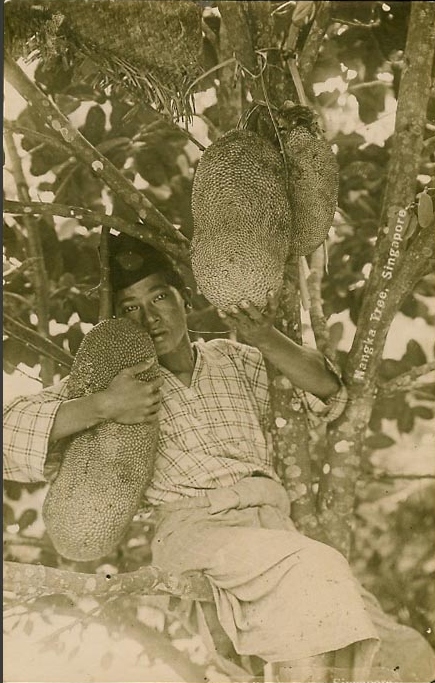 Nangka Tree, Singapore
This vintage postcard shows a boy in a nangka (jackfruit) tree. Although the caption says 'Singapore' the photo may not have been taken on Singapore island. Singapore was the capital of Straits Settlements at the time and many postcards of what is now Malaysia were given the caption Singapore.

Ploughing in Malacca
You don't see this sight much anymore.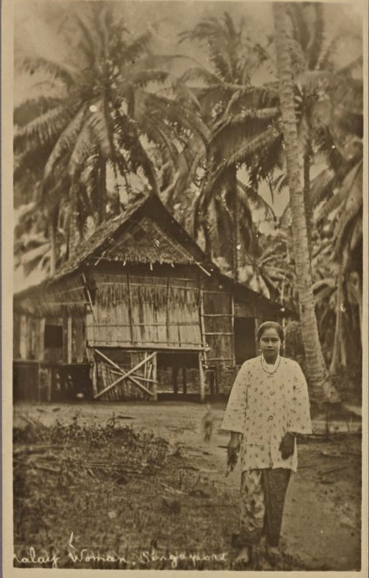 Malay Woman, Singapore
Her simple attap dwelling in the background was built on stilts to provide protection from flooding and animals and to improve cooling and air circulation.

More Vintage Postcards Coming
I may add more to this collection of vintage postcards from Malaysia in due course.
---
Share this page: