Tree Top Walk Sungai Sedim

Tree Top Walk Sungai Sedim
 Kulim, Kedah
Tree Top Walk Sungai Sedim is the world's longest rainforest canopy walk with a length of 925 metres and a height of 26 metres up above the forest floor at its highest point. The walkway follows a roughly rectangular shape and crosses the river twice.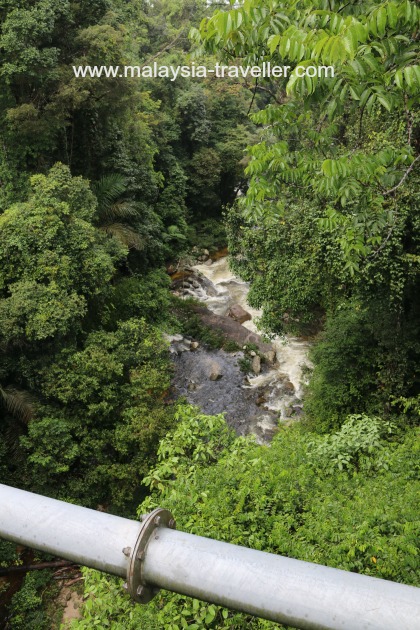 It is located in the unspoilt scenery of Sungai Sedim Recreational Park, about 30 minutes drive from the town of Kulim in Kedah.
It took 14 months to build and was completed in March 2005. It is a substantial structure made from steel pylons and trusses which together weigh a massive 422,214 kg according to a notice in the ticket office.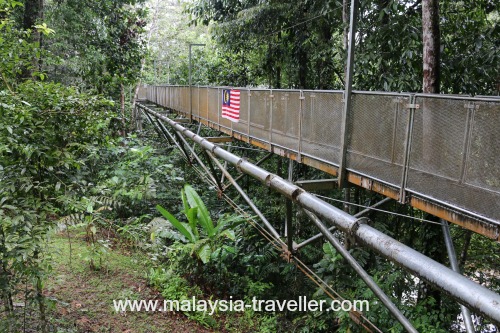 Some might argue that this is more like a pedestrian suspension bridge and not a proper canopy walk since it is not attached to the trees. However it does provide a bird's eye view of the roof of the forest and, since it is self-supporting, it does not damage the trees. Also, even thought he walkway is made of a sturdy steel grille, it does sway and wobble somewhat which children will enjoy although some vertigo sufferers might find this disconcerting. 
Here is a quick video to give you an idea of what to expect.
Canopy Walks in Malaysia
Malaysia must be the canopy walk capital of the world. 
Canopy walks have become popular eco tourism attractions in countries such as South Africa, Australia, Costa Rica and USA but no country on earth can compare with Malaysia when it comes to the sheer number and size of rainforest canopy walks.
So far I have come across 10 canopy walks in Malaysia. These are:
Place                                
Tree Top Walk Sungai Sedim   

Taman Negara                       
Mulu National Park                
Danum Valley, Sabah              
Penang National Park              
Bukit Gemok, Tawau               
KL Forest Eco Park                  
Poring, Sabah                      
FRIM, Selangor                     
Rainforest Discovery Centre, Sabah 
Length (m) 
925
530
480 
300
250
231
200
175
150
147

Height (m)
26 
50
25
26
15
26
15
43
30
28

Let me know if I have missed any out.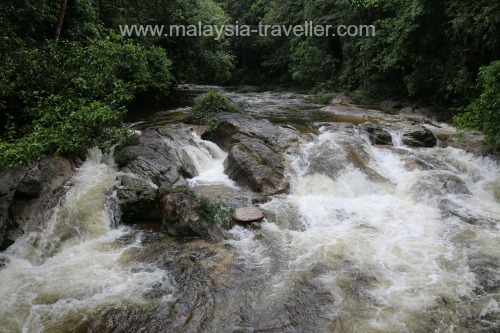 Other Attractions at Sungai Sedim
Hiking. According to a map next to the Tree Top Walk, there is a trail to Gunung Bintang, 1862 m, via Lata Riau. The distance shown is a very challenging 14.2 km (one way). 
Another trail passes a number of Lubuk (swimming holes) including the intriguingly named Lubuk 3 Beradik (three sisters).
White Water Rafting. The turbulent Sungai Sedim offers exciting white water rafting opportunities for the adventurous. 
Abseiling & Paint-balling. Various fun or team-building type activities such as all-terrain vehicles, abseiling, paint-balling, fishing, camping etc can be arranged here. The canopy walk is ideal for birding enthusiasts and butterfly lovers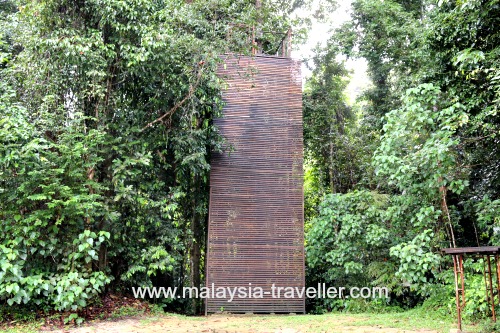 Opening Hours & Admission Charges
The Tree Top Walk is open daily from 9am to 5.30pm, weather permitting.
Entrance is RM10 for adults and RM6 for children aged 7 - 17. Concessions are available.
How to Get to Tree Top Walk Sungai Sedim
I have marked the location of Tree Top Walk Sungai Sedim on the map on my Top Kedah Attractions page. If you are driving, find the K115 highway between Kulim and Mahang and look out for signs to Sungai Sedim not far from Karangan.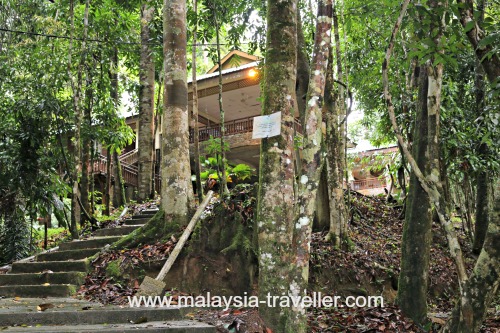 Chalets at Sedim Rainforest Resort
Accommodation
There is a resort located next to Tree Top Walk, the Sedim Rainforest Resort. They have chalets (look very nice), dormitory accommodation and camping facilities. They also arrange activities and team building packages. Details of these activities can be found on their website.
---
Tree Top Walk Sungai Sedim
Share this page: