Telekom Museum - Muzium Telekom
The Exhibits
The Telekom Museum (also known variously as Muzium Telekom, Telekomuzium and Muzium Telekomunikasi Negara) traces the history of telecommunications in Malaysia from 1870s up to the present.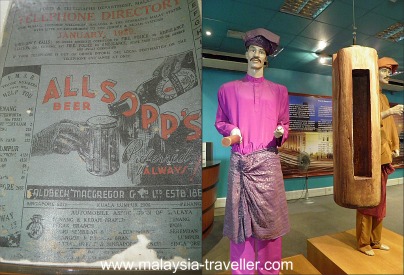 In fact the first exhibit goes back even further to the days when the ketok-ketok or Knock-knock, a hollow wooden or bamboo instrument that gives a sound which carries well when struck, was used as a traditional means of sending messages.
Telecommunications in Malaysia started with the introduction of a Morse code telegraph in 1870 on completion of a submarine cable between Malaya and the Dutch East Indies. This service was later extended to London from Penang and Malacca.
The first inland telegraph lines were in Perak and connected Taiping to Kamunting and Bukit Gantang, Simpang to Port Weld (Kuala Sepetang) and Batu Gajah to Gopeng and these greatly accelerated the transfer of news and other information between towns.
Within Taiping town itself, by 1878 the telegraph network connected strategic points such as the Resident's Office, The magistrate's office, the police station, army barracks and the hospital.
Exhibits include early Morse code equipment and mock-ups of transmission offices, complete with sound.

There is an old telephone directory on display from 1939 which is headed "For Penang, Province Wellesley, Malacca & The Federated Malay States with lists of subscribers to the Johore and Kedah systems." There is an advert on the front cover for Allsopp's Beer (a Burton-On-Trent brewery). Why can't we buy beer like that in Malaysia nowadays?
Advancing in time the exhibits move on to telephones, switchboards, marine communications, railway communications and more.
The museum tells of how the Japanese Occupation (1942-1945) was a dark period for telecommunications in Malaysia as thousands of telephone poles and miles of copper cable were taken away and used by the Japanese in their war effort. In some areas equipment was dismantled and shipped back to Japan and a lot was destroyed by the Japanese when re-invasion by the Allies looked imminent.
One of the exhibits is a diorama of the main transmitting and receiving station at Bukit Nanas which was completed in 1959. This was a red and white steel mast which was nicknamed KL's Eiffel Tower and was an important landmark. Presumably it stood on the same hill as where the new KL Tower now stands.
The upper floor of the museum was closed for renovation during my visit. This is where the modern era of telecommunications and more futuristic equipment is exhibited.
The Museum Building
The Telekom Museum is housed in a beautiful old colonial building (the former telephone exchange) which would have been demolished in 1985 had it not been for the intervention of the then Prime Minister, Dato Seri Dr. Mahatir Mohamed. It was decided to preserve it as a heritage building and it opened as a museum in 1994.
The building has two very different faces. The facade fronting on to Jalan Gereja has classic Greek or Roman style columns (eight of them), while the facade fronting on to Jalan Raja Chulan is almost central European in appearance with an archway leading into the central courtyard. From the air, the building is said to be shaped like the letter G - it is not clear to me what the G stands for, if anything.

Verdict
The Telekom Museum does a reasonable job at turning a potentially dull subject into something interesting. The magnificent building alone is worthy of a visit.
It was partly under renovation during my visit but even when fully open I imagine 45 minutes would be sufficient time to cover everything.
Opening Hours
Open Daily 9:00 am - 5:00 pm
Closed on public holidays.
Admission Charges
RM5 for Adult Mykad holders and RM10 for international visitors.
Location of Telekom Museum
Jalan Raja Chulan
50200 Kuala Lumpur
Phone: 03 2031 9966 

Click here to see the Telekom Museum's Official Website. 
If you are travelling by Light Rail, Masjid Jamek is the closest station (5 minutes walk away).
---
Share this page: