Taman Warisan Pertanian
Putrajaya


Taman Warisan Pertanian (Agriculture Heritage Park), in Putrajaya's Presint 16, is a good place to see a wide variety of tropical fruit trees, herbs and spices, rubber, palm oil, tea, coffee and other commercial crops.
This is what you can expect to find here.


As you enter the park you will find an information counter and park map at the top of the stairs.
You will see a covered space called Agriculture Square or Medan Tani where they hold exhibitions, shows or markets from time to time.
Here too are gift shops, snack shop, mini store, a florist, clothing store and so on.
This opens out onto a food court area with a number of eating choices including aLive Kitchen (Penanggah), a branch of the famous saté stall, Sate Kajang Hj. Samuri, and various kuey teow, noodle, roti and other Malaysian-style fast food stalls.
Many local Putrajaya residents regularly visit Taman Warisan just for the food.
From here take some more steps (wheelchair ramp is available) to the ticket booth selling entrance tickets to the main part of the park.
You can either walk round the park yourself, hire a guide or take a buggy ride if you don't like the look of the hilly pathways.
Taman Warisan is divided up into various sections comprising tropical fruit trees(these are the park's main attraction), herbs and spices, commercial crops, palms and a rubber tree grove.
There are many fruit species growing here including jackfruit, rambutan, sapodilla, jambu madu, cempedak, longan, durian, pomelo, mango, mangosteen, pulasan, dragon fruit, star fruit and guava.
Unfortunately you are not allowed to pick the fruits as you wander round.
You will see that some of the trees have plastic bags wrapped around the fruits to deter pests (insect, animal and human!).
Signage in English and Bahasa provides basic information on each fruit species including their health benefits.
Did you know for example that jackfruit can treat measles while star fruit can remedy chickenpox?
Other crops include citronella (an effective insect and snake repellent), pandanus, ylang ylang, lemon grass, sour garcinia and java tea (cat's whiskers).
There is even a mini rice paddy field, complete with scarecrow.
Oil palm is a useful crop. Not only does it provide oil used in soap, margarine, cooking oil and wax but its stem is used in ceiling plasterboards and the seed bunches are burnt to manufacture potash fertilizers.
In the rubber tree grove there are some mangles on display which are used to squeeze the raw latex into sheets of basic rubber material. There is also a replica of a typical rubber tapper's home in this area.
Educational tours and demonstrations can be provided to groups of children and students if arranged in advance.
On the last weekend of every month an Agro Bazaar is held in the car park area. There are usually a couple of dozen stalls selling fruit, pot plants, organic fertilizers, pet rabbits and sundry items.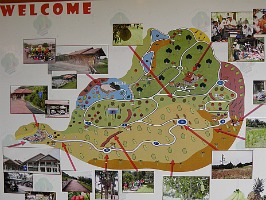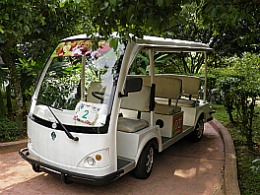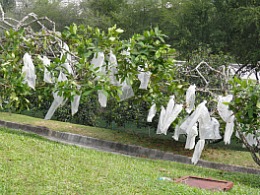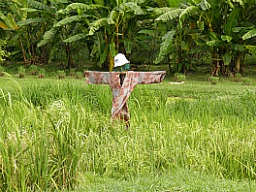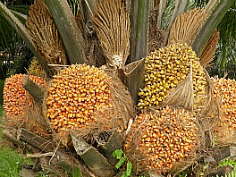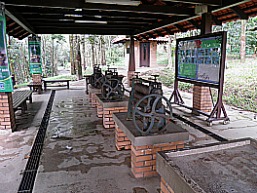 How To Get To Taman Warisan
Address:
Taman Warisan Pertanian
7, Jalan P16, Presint 16
62150 Putrajaya
Tel: 03-8887 7772
Fax: 03-8887 5038

You can find a map and bus information on the official Putrajaya municipality website.
Opening Hours and Admission Charges
The main park (the orchard) is open daily from 8.30am to 5.30pm (closed for Friday prayers between 12.15 - 2.45pm).
The eating area is open daily from 7am to 11pm.
There is no charge to access the eating area or Agro Bazaar.
Admission to the Orchard area costs RM2 for adults and older kids (age 12+).
Free for kids under 12 and students with ID or School Uniform.
The buggy cost RM 4 per head (student RM 3) or you could hire the whole buggy for RM 20 (6 seater) or RM 25 (8 seater).
---
Share this page: