Sungai Tua Recreational Forest
Selangor State Park
Sungai Tua Recreational Forest (Hutan Lipur Sungai Tua) is a popular recreational forest within the Selangor State Park located about 15km north of Batu Caves.
It is managed by the Forestry Department of Selangor.
Activities and facilities here include camping, picnicking, BBQs and bathing in the clear cool water of natural river pools and rapids amid mature rainforest.
The park is popular with locals, especially at weekends. 
See this short video clip to get an idea of what to expect: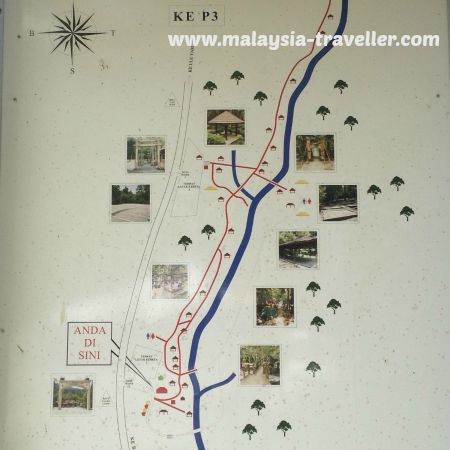 The layout is simple, consisting of a brick and cement path running parallel to the river for a distance of one or two kilometres. It takes about 30 minutes or so to walk from one end of the path to the other. Along the way there are around 24 gazebos for families to relax or to picnic. There are also a couple of king sized pavilions where larger groups could eat. 
There are two bridge across the river, one of which is a suspension (hanging) bridge.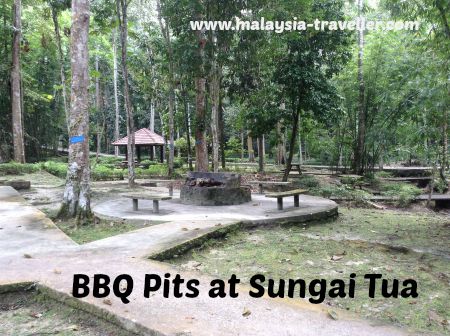 There are two or three campsites where visitors can pitch their tents together with a number of BBQ spots. Toilets and showers are available.
The main attraction here is the river which was looking clean and inviting during my visit. There is no waterfall and the rapids are relatively gentle. Families were wallowing in natural pools and sitting on rocks in the river.
A warning sign reminds visitors that this area is prone to flash floods so care is needed at all times.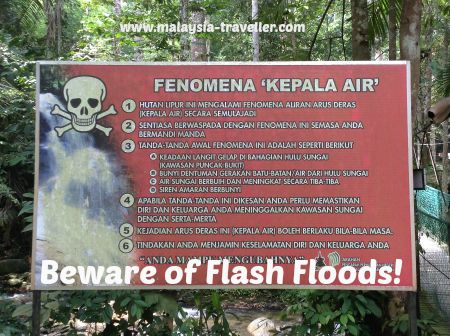 There are some food stalls near the entrances.
There are two entrances, each with its own car park.
Opening Hours
From 7am to 7pm daily, though overnight camping is allowed.
Entrance Fee
Adult RM 1
Children (age 12 and below) RM 0.50
Campsite Rates
RM 5 per tent.
RM 2 for students.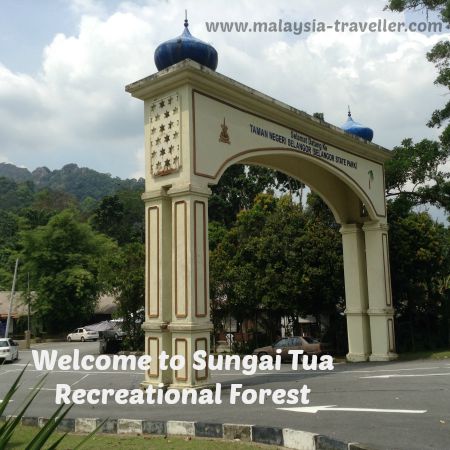 How to Get to Sungai Tua
Turn off Jalan Kuching close to Batu Caves and take highway B23.
The road passes Empangan Batu reservoir along the way. This would be a good place to explore but unfortunately the reservoir is fenced off to prevent public access. Continue on B23, until you see the sign and archway marked Taman Negeri Selangor (Selangor State Park) which is the entrance to the recreational forest.
The exact location is marked on this map.
---
Share this page: