Perak Tong Cave Temple
There are more than 30 cave temples in and around Ipoh and Perak Tong is one of the most famous and frequently visited.
I expected more people there when I visited recently - it was almost empty. It was a weekday though and I imagine it gets more crowded at weekends and public holidays.
History of Perak Tong
There is an information plaque outside the temple which provides some background. It reads as follows:
"In 1926 Chong Sen Yee and his wife Choong Chan Yoke who came from Jiao-Ling province of China, discovered Perak Tong.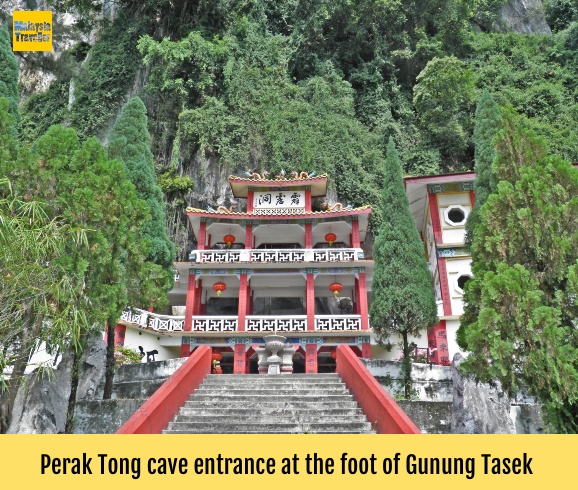 On approval from the Perak State Government they started to develop the cave temple. As Chong Sen Yee was mainly involved in the planning and development of the cave temple his wife went all out to look for donations to carry out the plan, locally and internationally.
After more than 50 years of diligent and careful work in and around the cave temple, Perak Tong has become one of the best cave temples in Malaysia.
Chong Sen Yee passed away in 1980 and his wife Choong Chan Yoke in 1983, handing the heritage to the son Chong Yin Chat. He put even greater effort into the temple and thus enhanced Perak Tong into an international tourist spot in Perak."
The Cave Temple
After climbing the steps and passing through the narrow entrance passage, the limestone cave opens up into a giant space with a high dome and branching off into hidden recesses and grottoes.
A golden sitting Buddha statue, 40 feet tall, dominates the temple. He is flanked by four guardian deities which I have seen described as 'goddesses' but since a couple of them have beards I doubt that they are female.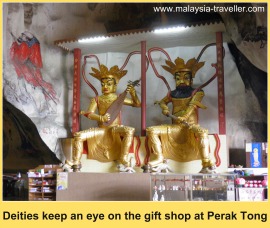 The walls of the cavern are decorated with colourful murals depicting characters and events from Chinese mythology and Buddhist scriptures.
Chinese calligraphy also adorns the walls some of which was painted by the afore-mentioned Chong Yin Chat.
There are numerous statues and carvings scattered around the temple, including a female with 18 arms who could be Guan Yin, the Goddess of Mercy. The strong aroma of incense mixed with the earthy cave smell lends the cave a special atmosphere.
The View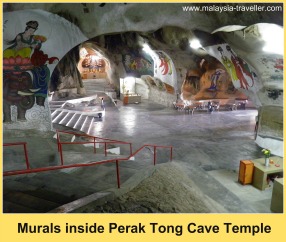 Now time for some exercise. Behind the main altar, a flight of steps makes its way into the far recesses of the cave and out through an opening on the side of the hill.
From here the steps continue to wind their way up the hillside passing gazebos and pavilions where people rest and enjoy the views of the surrounding area.
On reaching the highest pavilion I thought I had arrived at the end of the trail before realising that there was a staircase alongside a vacant building from where another set of steps continued to greater heights.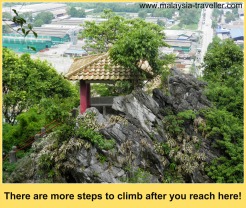 In all there are supposed to be 450 steps to the top where there is a double storey pavilion providing excellent views over the northern suburbs of Ipoh and a nearby industrial zone.
From here the distinctive limestone hills which circle the city are clearly visible on the horizon. I could see away in the distance that some of the hills are being dynamited and quarried to be turned into cement and kitchen work-tops. That's a big shame. Surely there are other places where limestone and marble could be obtained without demolishing Ipoh's most distinguishing characteristic?
In my humble opinion these karst towers should all be designated as protected areas of natural heritage.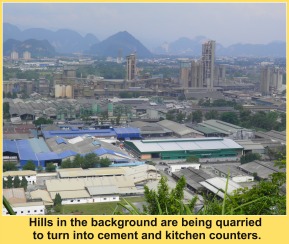 Facilities
There is a pond and landscaped garden in front of the temple (not as good as the one at Sam Poh Tong).
There is supposed to be a vegetarian restaurant here but it did not appear to be open on my trip. There is a shop selling snacks and drinks.
Another shop sells gifts and you can have your fortune told there if you wish.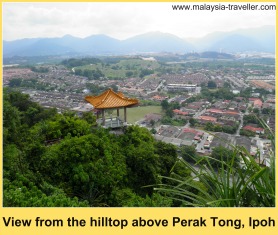 How to Get to Perak Tong
This cave temple is marked on the above map. Coming from Ipoh's historic railway station, head north on Federal Route 1 following the signs for Jalan Kuala Kangsar. Perak Tong is in the northern outskirts of Ipoh near Taman Loke Lim and Taman Permai. It is located right next to the road so you cannot miss it. It sits at the foot of a hill called Gunung Tasek (163m).
If you are travelling via the North-South Expressway, the temple is very close to the Ipoh Utara Interchange (exit #140).
Here is a short video from the Malaysia in a Minute series which covers many of the places listed here: 
---
Share this page: