Perak Museum
Taiping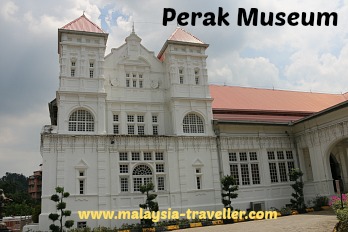 Perak Museum is the oldest museum in Malaysia, founded in 1883 and housed in a fine heritage building opposite Taiping Gaol.
It started out as a repository for a vast collection of ethnological, anthropological and zoological items curated during Sir Hugh Low's tenure as Resident of Perak (1877 - 1889).
This used to be an old style museum with exhibits arranged in dusty display cabinets but has now been given a more modern makeover.
The attractions are divided between four galleries:
Nature Gallery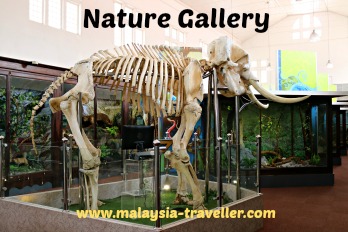 This gallery focusses on natural history and has complete skeletons of an elephant and a tiger among others. There is much taxidermy on display with the creatures set in life-like jungle dioramas - like a zoo, only with stuffed animals.
Cultural Gallery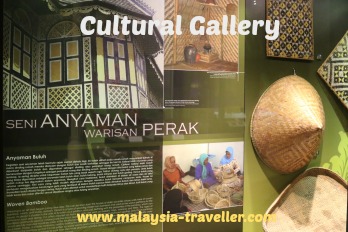 This gallery features examples of Malaysian handicrafts, in particular woven bamboo items from Perak. Mannequins wearing typical costumes worn at Malay, Indian and Chinese weddings are on display (similar wedding exhibits can be found in a number of museums around Malaysia).
Indigenous People Gallery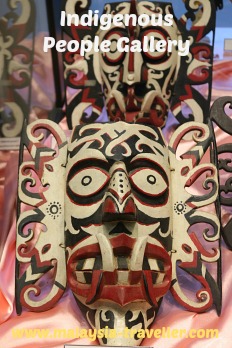 Something a little different is this gallery which describes the different ethnic groups of Malaysia's aboriginal people, the Orang Asli and where they are distributed, their physical characteristics and their lifestyles. Particularly interesting is a fine collection of indigenous masks.
Also in this section is a selection of traditional earthenware pottery and utensils which are crafted in Perak.
Temporary Gallery
This gallery is used to rotate some the museum's unseen stockpile of exhibits.
Outdoor Exhibits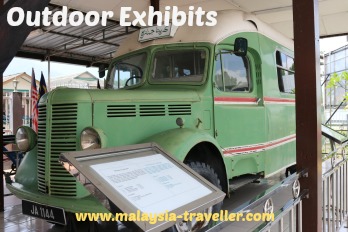 In the grounds of the Museum there are a number of vintage cars on display namely, a Rolls Royce Silver Cloud 1964, Rolls Royce Phantom 1972, Alvis TD21 Tourer 1960, and a more classic model made by the Star Motor Company in Wolverhampton, probably dating from the late 1920s.
There is also a 1930s Bedford Lorry which was originally an ambulance but came to be used as a hearse by the Taiping Muslim Community Association until 1982.
Other outdoor exhibits include a carriage of the Perak State Railway Company, a 19th century steam engine used to power high pressure hoses in open cast tin mining operations, a Malaysian airforce jet fighter and an old anchor reclaimed from the Straits of Malacca.
Gift Shop
There is a small museum shop which sells, among other things, some good quality Perak Museum T-shirts.
Verdict
Worth visiting even if only to admire the architecture of the Museum building. The orang asli mask collection is the best I have seen in Malaysia.
Opening Hours and Admission Charges
The Museum is open daily from 9am to 6pm.
Closed on the first day of Hari Raya Aidil Fitri and Hari Raya Aidil Adha.
Ticket Price
Adult RM 2 (MyKad) RM 5 (foreign guests)
Kids (ages 6 - 12) Free for MyKid. RM 2 for foreigners.
How to Get To Perak Museum
Address:
Jalan Taming Sari, 34000 Taiping, Perak Darul Ridzuan.
Tel : 05-807 2057
The exact location is marked on the map on my Taiping Heritage Trail page.
Nearby
There is so much to see in Taiping. See my Taiping Heritage Trail for full details.
---
Share this page: