Pasir Salak Historical Complex

Pasir Salak Historical Complex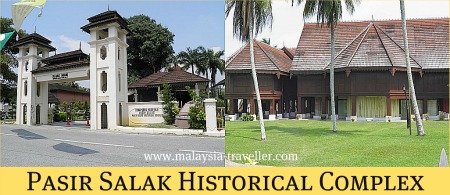 Pasir Salak Historical Complex is a pleasant compound of traditional Malay buildings which together form a museum alongside the Perak River about 50 kilometres south of Ipoh.
Pasir Salak Historical Complex was officially opened to the public in 2004. Everything seems peaceful now but it was not always so for it was here that the first British Resident of Perak, Mr. J.W.W. Birch was assassinated in 1875.
Under the Pangkor Treaty signed in 1874, Perak was established as a British Protectorate and an advisor was appointed to the Sultan of Perak. This British advisor or Resident assumed complete control of Perak in all matters except those involving customs and religion.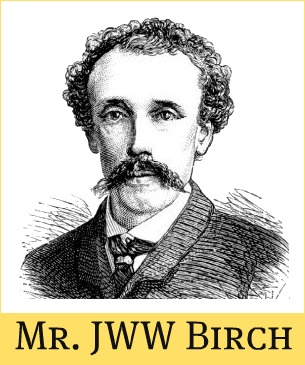 James Wheeler Woodford Birch, a career colonial servant whose last posting was Ceylon, was the man selected for the job. By some accounts, Birch was said to be impatient, arrogant and disrespectful of local customs such as refusing to remove his shoes when entering the palace of the Sultan.
Some say he spoke no Malay while other accounts from the time say that he did speak Malay. Perhaps as he was still fairly new to the country he was studying hard but not yet fluent.
Whatever his personal qualities it seems he had a difficult job to do and it was one that cost him his life.
He was travelling in the area and distributing proclamations defining the authority of the Resident under the terms of the Treaty.
I imagine it must have been hard for the local chiefs to accept some new foreigner coming along to say that he now runs the place. Most chiefs bowed to the inevitable but Datuk Maharajalela boasted to others that he would not allow the proclamations to be posted in his settlement, Pasir Salak. Some say that Datuk Maharajalela made money from the slave trade and it was Birch's intention to outlaw the practice. Whether it was this or just bravado on Maharajalela's part, he soon had to put his money where his mouth was when Birch arrived in the early hours of 2nd November 1875. He was received by Datuk Sagor and 50 armed warriors who told him that he had no right to post the proclamation (Maharajalela refused to see Birch).
While Birch picked this time to take a bath in a floating bath house in the river, he had his man, Mohd Ashad post the proclamation. Then all hell broke loose - Ashad was killed and Birch was speared to death through the mat walls of the bathhouse by Pandak Indut, Siputum and others.
Whether or not it was heroic to murder an unarmed naked man in this way, it was brave in the sense that they must have known that retribution would be swift and severe. This act of resistance and others allows the Malaysians to justifiably claim that British colonisation did not go unopposed.
Three days later on 5th November 1875 (bonfire night), the British launched a punitive raid against Pasir Salak and the mosque was one of the buildings burnt down.
In the days and weeks that followed, the perpetrators of the assassination, including Datuk Maharajalela, were rounded up, tried and hanged. The Sultan of Perak, Sultan Abdullah was deposed and exiled to the Seychelles (not a bad place if you have to be exiled - I wonder if any of his descendants are still there).
Birch's death sparked a small war and greatly accelerated Britain's control over the state.
With Birch avenged, Queen Victoria bestowed a Civil List pension of £75 a year on his three children and the eldest, PCJW Birch, was given a job in the colonial service and went on to become the 4th British Resident of Perak with much more success than his father.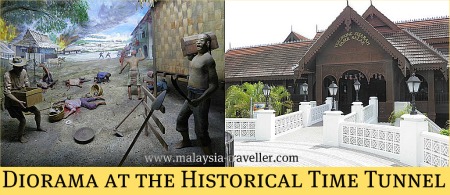 The Historical Time Tunnel
The main attraction at Pasir Salak Historical Complex is the Time Tunnel. This is a traditional Malay building with a series of dioramas inside arranged in chronological order, depicting the main flash points and important events in the history of the Malays and Malaysia beginning with the early settlement of Kuala Selingsing in 200BC.
The dioramas are interesting and nicely made. I feel that the tone of the commentary is rather anti-British but I suppose that is not surprising in a museum which is intended to rouse the spirit of nationalism and pays tribute to those involved in the struggle for independence. Luckily we Brits are not over sensitive when it comes to these matters!
This building also includes a large collection of krises.
Other attractions at the complex include a watch tower, Belotah (harvest dance) stage, the Lela Rentaka (a type of cannon used by the Malays), traditional Perak houses called Rumah Kutai and a wooden mosque built in 1964 on the site of the old one which was burned down.
There is also a monument stone erected around 1900 close to the spot where Birch was killed 'in the performance of his duty'.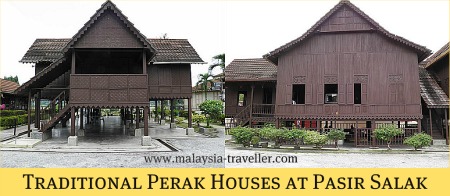 How to get to Pasir Salak Historical Complex
I have marked Pasir Salak Historical Complex on the map on the main Top Perak Attractions page. Coming from the Ipoh direction, highway A15 from Batu Gajah takes you most of the way. You will see plenty of signposts for Pasir Salak Historical Complex (Kompleks Sejarah Pasir Salak). The final few kilometres takes you in a roundabout direction because you have to cross the Perak River and there are not many bridges in this vicinity.
Opening Hours and Admission Charges
Opening Hours:
Saturday - Thursday 9:30am - 5pm
Friday 9:30am 12:15p/2:25pm - 5pm
Adult Admission is RM4
Pasir Salak Historical Complex was almost deserted when I went on a Saturday afternoon which is a shame because a lot of effort has gone into creating this attraction.
Accommodation
If you want to stay longer in this area, the Pasir Salak Resort Hotel is right next door to the complex. It offers chalet style accommodation at reasonable prices in a scenic riverside setting.
---
Pasir Salak Historical Complex
Share this page: