Pangkor Marina Island &
Best Western Marina Island Resort
A Readers' Travel Story
By Louis (Malaysian Living Abroad)

Pangkor Marina Island
For those who charter a yacht or own a private yacht, there is a new docking location. It is called the Pangkor Marina Island, a newly reclaimed 318 acre island just off the Perak coast facing Pangkor Island.
The docking fee is charged at MYR1 per foot, i.e. a 53ft yacht costs MYR53 per day, and electricity is MYR10 per day. The fuel cost is MYR2.85 per litre, and they will come to you.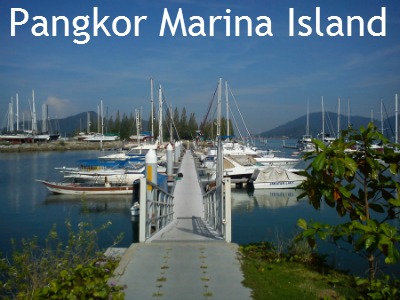 For hiring additional ground labour crews support services, there will be a charge of MYR100 per crew per day.
For regular yacht upkeep and maintenance, and other services arriving at each port, they can do all the necessary arrangements onsite.
This will ease the onboard crews' workload and allow them to have some time off as well.
Advance notice to book Pangkor Marina Island is best.
For Pangkor Marina Island enquiries contact Miss Akina on (05) 680 5888.
Best Western Marina Island Resort
In front of this yacht dock is the Best Western Marina Island Resort.
This resort has excellent service but don't expect full resort facilities or in-room amenities.
The exterior of this so called "resort" doesn't look like a resort at all. In fact, it looks more like a regular international 3 star hotel building.
The 1 Bedroom Apartments don't have the so called "apartment concept". Although there is a separation between the living room and the bedroom, there is a king sized bed in the living room, and an extra super single sized bed in the actual bedroom itself.
The living room does not have any sofa, but has 2 single chairs and a coffee table. There is a writing desk, vacant mini bar / empty mini fridge, and a kitchen counter with no cooking facility at all.
I can only make coffee and tea. However, they can stock your mini-bar upon your request.
The television doesn't have any cable / satellite channel. There is no CNN or BBC channel either. It only has Malaysia's local channels.
The bathroom layout is not very practical. There is a rain-shower head in the middle of the bathroom. After a shower, the entire bathroom will be wet, and there is no non-slip mat in the bathroom.
Otherwise, it is pretty basic! There is a swimming pool, but is small. There is also a gym, but with basic gym equipments only. Don't expect any more than that!
Of course, there are meeting rooms and function halls in the resort's premises.
There is only one Food & Beverage Outlet. Surprisingly, the food is delicious, and the food presentations are very innovative.
Right next to the resort is the Lagoon Beach Bar. At night, you can order your favourite cocktails and local beers, and chill on the sand, enjoying the peace and fresh sea air next to the man-made lagoon.
The resorts' employees are truly friendly, and the services are excellent! In fact, most of them can even remember my name, and my room number. Any of my additional personal requests, they did take notes, and I don't even need to repeat my requests. In fact, they remembered it all!
Truly all of them have shown their hospitality competency skills.
The price is also very reasonable. For the 1 Bedroom Apartments, weekday will cost MYR208 and weekend will cost MYR308 per night, which comes with breakfast for 2 persons.
If you need further information on the Best Western Marina Island Resort or would like to make a booking you can find them on Agoda's website.
---
---
Return from Pangkor Marina Island to Top Perak Attractions
---