Top Nagasaki Attractions
There are too many Nagasaki attractions to see in just one day but if you only have a few hours to spare, perhaps you are on a cruise liner or on a day-trip from Fukuoka, here are some suggestions of places to visit if you are interested in history.

1. Dejima - Site of the Former Dutch Factory
Dejima is a small 15,000 square metre, fan-shaped island which was constructed in 1636 to house Portuguese traders who wished to do business in Japan. The Portuguese were confined to this island to prevent them from mixing with the Japanese and spreading Christianity. Three years later the Portuguese were expelled and Japan cut off all contact with the outside world. Dejima was left unused until 1641 when the Dutch East India Company's trading post in Hirado was transferred here. For the next two centuries Dejima was Japan's only gateway to European influences and technology.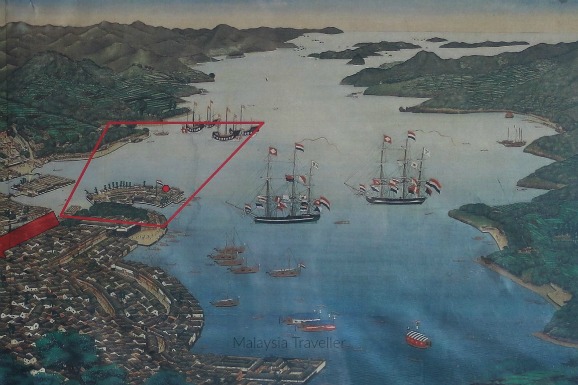 During the Meiji period, harbour reclamations meant that Dejima ceased to be an island.
Since 1996 a project has been underway to restore the buildings and surrounding stoneworks on Dejima to how they used to be at the start of the 19th century. It will eventually become an island again.
It is now a tourist attraction with restored warehouses and residences, decorated in the style of the period. It is open daily from 8am to 6pm with an entrance fee of ¥510 for adults.
 2. Former Hongkong and Shanghai Bank Nagasaki Branch Museum

(incorporating the Nagasaki Museum of Modern-Era Exchange, Sun Yat-sen & Umeya Shokichi)

.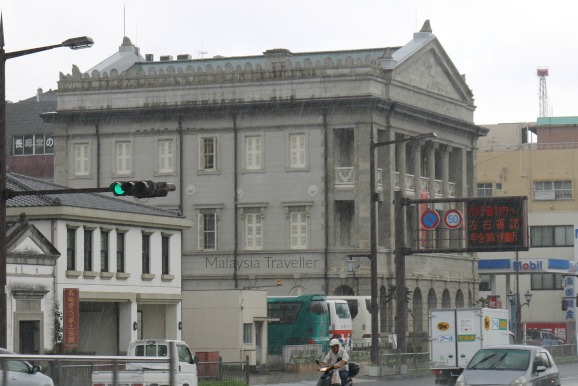 This rather grand and dignified building on the harbour waterfront served as Hongkong & Shanghai Bank's Nagasaki branch from 1904, when it was completed, until 1931. The ground floor preserves the look and feel of a bank branch from that period. The second floor exhibits the story of Sun Yat-sen, the father of the Chinese Revolution, and his Nagasaki-based friend and supporter Umeya Shokichi. The third floor tells the story of Nagasaki's role in international trade and modernising Japan and describes the lives of those living in the city's foreign settlement.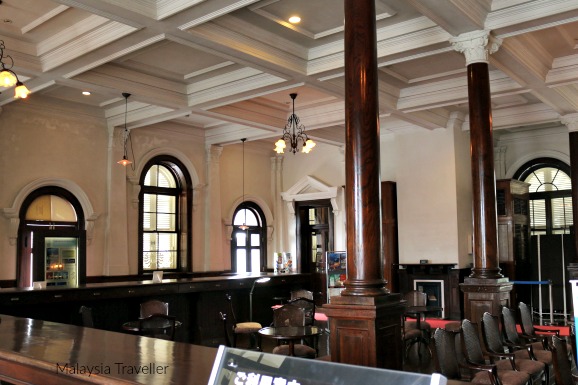 I guess this museum may not be everybody's idea of a top attraction but I had to see it as a former employee of HSBC in Japan.

 3. Glover Garden
Talking of the Foreign Settlement, Glover Garden is the name given to an important section of that settlement built on a hillside overlooking the city and harbour. It comprises the former residences of four foreign families, Glover, Ringer, Alt and Walker, who played a significant role in the modernisation of Japan in the late 19th century, together with other historic buildings and monuments. Here are some photos: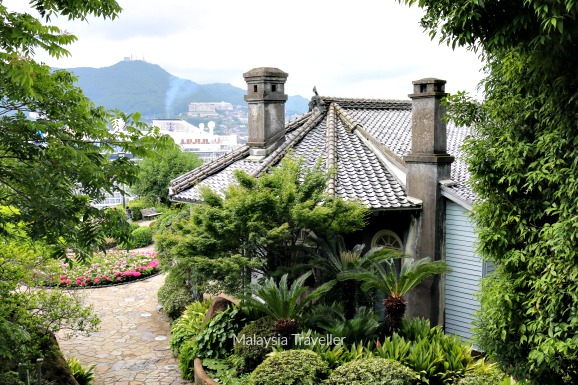 Thomas Glover's House
This is the oldest western style wooden building in Japan, built in 1863. Glover was only 21 when he arrived in Nagasaki but he was in the right place at the right time, just as Japan was opening up and looking to import all kinds of western technology and products. His trading company expanded into shipbuilding, coal mining, tea trade, brewing and much else besides.

15 Commerce Street in 1838.
Thomas Blake Glover was born in this house at 15 Commerce Street in Fraserburgh, Scotland in 1838.

15 Commerce Street today.
Interestingly the house today appears to be a fish and chip shop called Glover & Co. with a portrait of old Thomas Glover hanging outside. Comparing the grey skies and bleak surroundings of his ancestral home in Fraserburgh with his lovely home and garden in Nagasaki it is hardly surprising that he never went back to live in Scotland.

Glover married a Japanese lady, Tsuru, and they had, among other children, a son Tomisaburo Kuraba (which is the Japanese pronunciation of Thomas Albert Glover) (1870-1945) who introduced trawling, produced the Glover Atlas of fish and established the first golf course in Japan.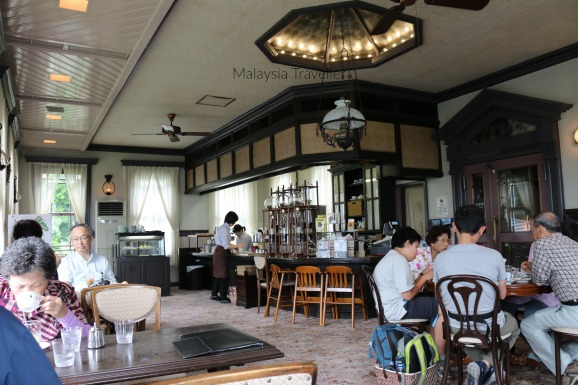 Jiyu-Tei Restaurant
This was Japan's first Western-style restaurant, now a coffee shop with great views.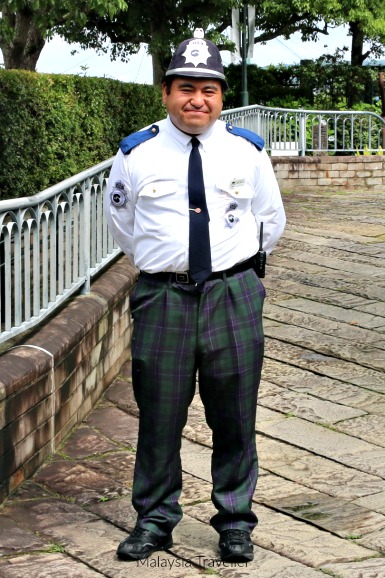 British Bobby?
The security guard has a familiar looking uniform.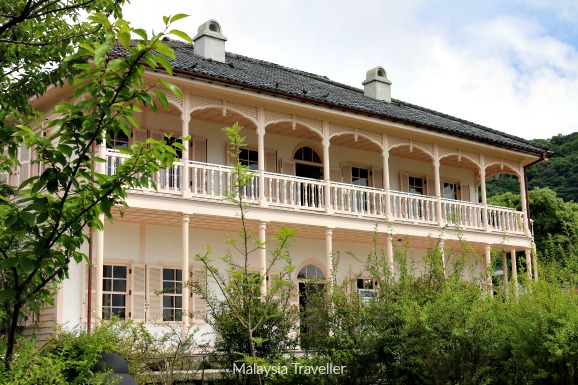 Former Mitsubishi No.2 Dockhouse
Sitting at the highest point of the Glover Garden compound this elegant mansion constructed in 1896 once boarded ships' crews while their vessels were undergoing repairs in the shipyard here.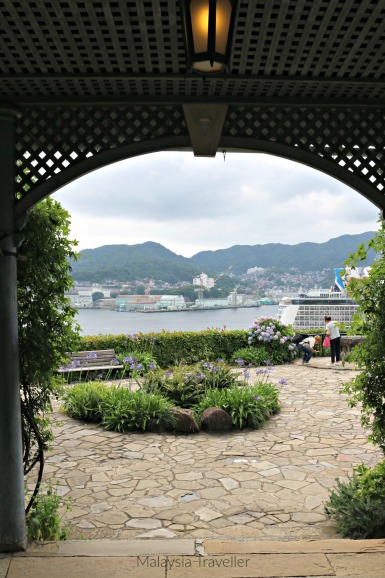 View from Glover's House
Glover Garden is definitely worth a visit as you can learn so much about Nagasaki's history all in one place while enjoying the gorgeous gardens and views.

4. Oura Church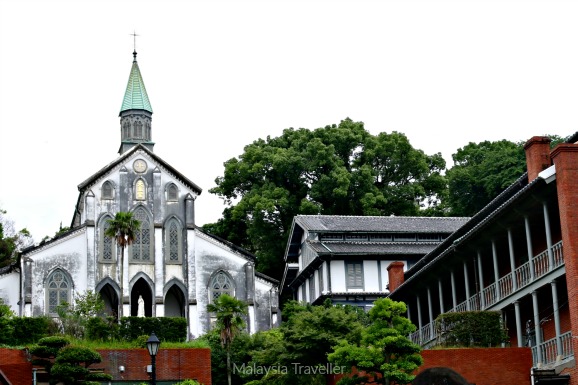 This Catholic church was built in 1865 and you will pass it on your way to Glover Garden. You have to pay to go inside so I did not bother.

How to Get Around the Nagasaki Attractions
The 4 Nagasaki attractions above are all within walking distance of each other but quite a distance from the main Nagasaki railway station. Nagasaki's tram system, which includes some retro design trams, is a cheap and convenient way to get around.

Other Nagasaki Attractions
One obvious one is the Nagasaki Atomic Bomb Museum and Memorial Hall, especially if you have not already seen the Hiroshima version. Time did not permit a visit on this occasion. Next time!
Gunkanjima, also known as Hashima or Battleship Island, is an abandoned island 15 kilometres outside the city which has become strangely popular with tourists, especially since appearing in the James Bond film, Skyfall. Since a round trip tour by boat takes 3 hours we did not have time to see this either.
Dutch Slope, or Oranda-zaka, is another foreign settlement street. 
Nagasaki Chinatown.
Ovation of the Seas, a massive cruise liner, was in port during our visit. It completely dwarfs the buildings on Nagasaki's harbour front.
Hope you enjoy discovering these Top Nagasaki Attractions as much as I did.

---
Share this page: