Logan Memorial
Penang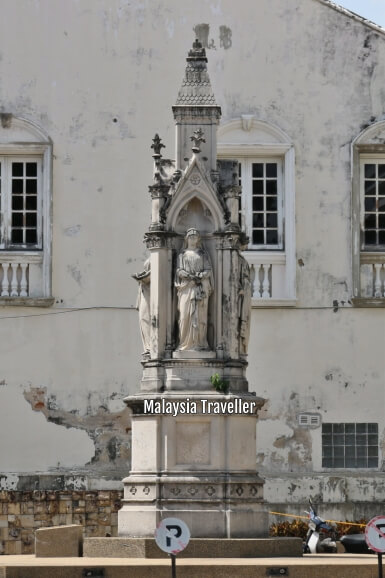 Photo Taken December 2018
The Logan Memorial Penang is a gothic style memorial erected in 1873 in memory of James Richardson Logan (1819-1869), a Scottish lawyer, newspaper editor, writer and ethnologist who is best known for defending the rights of 'the little man' against official restrictions in colonial Penang. The monument stands opposite the Sessions and High Court complex at the junction of Lebuh Light and Jalan Tun Syed Sheh Barakbah, within the UNESCO World Heritage Zone of George Town, Penang Island, Malaysia. The statue has been moved a couple of times, once by the Japanese during WW2, and it has suffered some damage along the way but is still in reasonable condition given its age.
The Logan Memorial Penang features four female statues representing the four moral virtues, Justice, Fortitude, Wisdom, and Temperance. Logan's profile is carved in stone on one side while another panel contains an inscription, glowingly praising his attributes. It reads:
"This monument is erected by the peoples of the Straits Settlements as a tribute of their respect and gratitude to JAMES RICHARDSON LOGAN, Advocate, F.R.C.S. - F.E.S. whose death in the prime of his manhood they regard as a public calamity. He was always first, and sometimes stood alone, in every movement having the welfare of these settlements for its object, and success to his personal efforts and to his unflagging zeal and great ability. He was an erudite and skilful lawyer, an eminent scientific ethnologist and he has founded a literature for these settlements as the projector and editor of the Journal of the Indian Archipelago. Above all he was an upright, true and honorable man, held in the highest respect and esteem by his fellow countrymen and loved and implicitly trusted by all the native races around him. He was born at Hutton Hall in Berwickshire, Scotland April the 10th 1819. Arrived in the Straits Settlements in February 1839. He died at Penang on the 20th Day of October 1869."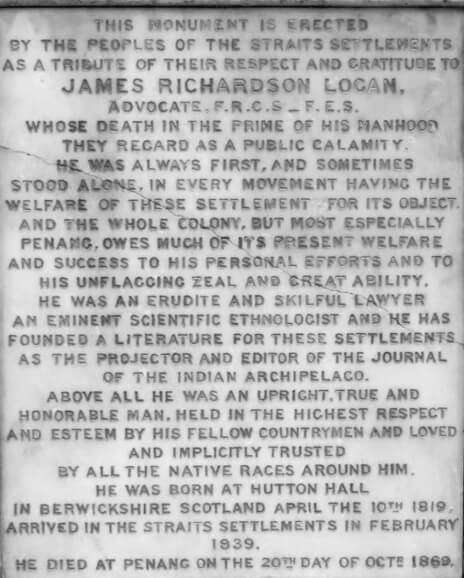 To add a little more detail, he was born at Hutton Hall in Berwickshire, the son of a gentleman farmer, Thomas Logan. He was educated at Duns Academy (clearly he was no dunce!) then he trained with a relative's law firm in Edinburgh before travelling to Asia to find his fortune. Although only aged 19 on arrival in Penang he was soon admitted as an advocate. His elder brother Abraham joined him in Penang the following year before they both moved to Singapore where Abraham became editor-owner of a newspaper, The Singapore Free Press.
James Logan returned to Penang in 1853 to practice law where he often defended European, Indian and Chinese communities against burdensome over-regulation by the English East India Company. He also helped Penang's Chinese community to overturn the ban on the activities of several Chinese clans on the island. 

In 1855 the brothers purchased the Penang Gazette which, with James as editor, lobbied hard for free trade policies and against dictatorial rule by the East India Company, much to the annoyance no doubt of the authorities in the colony. His campaigning against the EIC would have contributed to the decision in 1867 to make the Straits Settlements a British crown colony answerable directly to the Colonial Office in London instead of coming under the EIC in Calcutta.

Logan authored the Journal of the Indian Archipelago and Eastern Asia and he was a respected member of learned bodies such as The Geological Society of London, The Asiatic Society of Bengal and the Ethnological Society. It was in this journal that he first coined the term 'Indonesia' for Dutch East Asia so modern Indonesians visiting Penang should perhaps make a short visit to the Logan Memorial to say 'terima kasih'.

He was an avid traveller, often to the detriment of his health, and he died of malaria on one of his trips at the age of 50. You can find his tomb, which he shares with his brother Abraham, at the Protestant Cemetery, George Town. 

If he were alive today he would be regarded as a human rights lawyer. He would still find plenty of cases to keep him busy in modern Malaysia.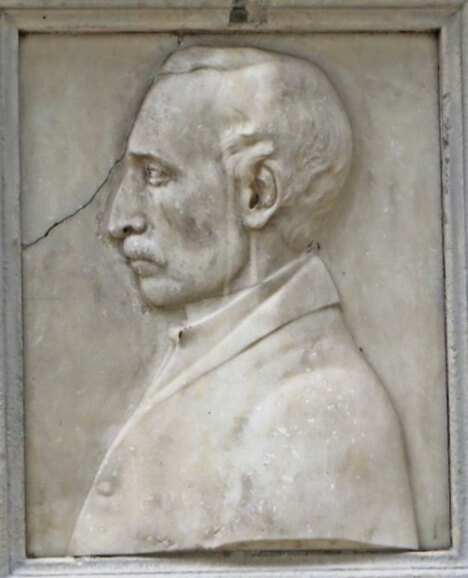 Terima kasih James.
You can read about another of Penang's colonial pioneers, David Brown on my blog.
Location of Logan Memorial Penang
The exact location of Logan Memorial Penang is marked on this map:

GPS: 5.42107, 100.33983

Nearby
See my Penang Heritage Trail for details of the many attractions worth seeing in historic George Town.

---
Share this page: