Kedah Paddy Museum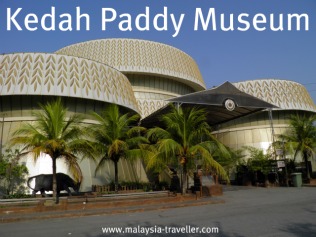 The Kedah Paddy Museum is nothing to do with Irishmen. It is dedicated to the rice plant, paddy, the world's most important crop.
The word "paddy" is derived from the Malay word padi meaning rice plant so it is appropriate that one of the world's few rice museums should be in Malaysia. The other rice museums that I am aware of are the Gohan Museum in Yurakucho, Japan and IRRI's RiceWorld in Los Baños, Philippines.
The Paddy Museum is big, with an area of 12,000 square meters spread over three floors.
The architecture of the building is designed to symbolize bushels of harvested rice stalks.
Rice motifs decorate the external facade and are used on railings in the interior.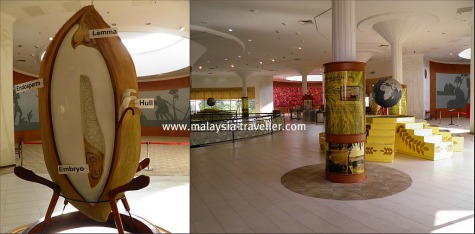 The museum explains the rice cultivation process, displays different varieties of rice, showcases equipment and tools used in rice cultivation through the ages and in various countries.
On entering the museum I was directed to a spiral staircase which has been decorated to resemble the interior of a cave, possible inspired by the cave in Gunung Keriang which is located a short distance away.
The stairs lead to the top floor of the museum and I emerged onto a revolving platform equipped with forty cinema seats from which visitors can admire a 360 degree diorama and mural which has been painted on the entire inside wall of the upper level.
Apparently the mural was painted by a team of 60 North Korean artists and I have to say they did an excellent job in creating a realistic panorama of the paddy fields and scenery found in this part of Kedah.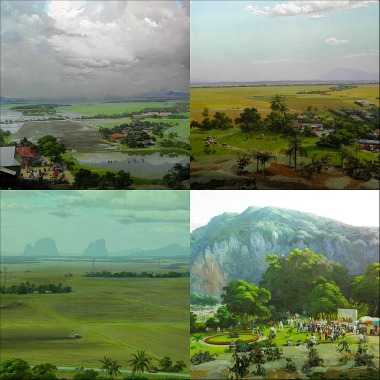 Elsewhere in the museum the exhibits are spread around thinly and there is quite a lot of underutilized space. I suppose with rice grains being so small it is difficult to fill a 12,000 sq. meter museum but it is still well worth visiting if only to see the murals.
Opening Hours and Admission Charges
Open daily from 9am to 5pm (Closed between 12:30pm and 2:30pm on a Friday).
Closed on Hari Raya Aidilfitri and Hari Raya Aidiladha.
Adults RM 3
Children (ages 7 - 12) RM 1
Camera Charge RM 2

How to Get to the Kedah Paddy Museum
Address:

Muzium Padi
Lot 798 Jalan Gunung Keriang, Mukim Gunung Keriang
06570 Alor Setar, Kedah Darul Aman
Tel: 04 735 1315
The location of Kedah Paddy Museum is marked on the map on the Top Kedah Attractions page. It is well signposted from Alor Setar.
Suggested Kedah Itinerary
Now you can plan your trip and travel in Kedah with your Garmin navigation device without worrying about out-of-date guide books and maps.
Malaysia Traveller has collaborated with Garmin, the leading satellite navigation products company, to create travel itineraries for Malaysia for use on your Garmin portable street navigation device.
Click on the image below for details.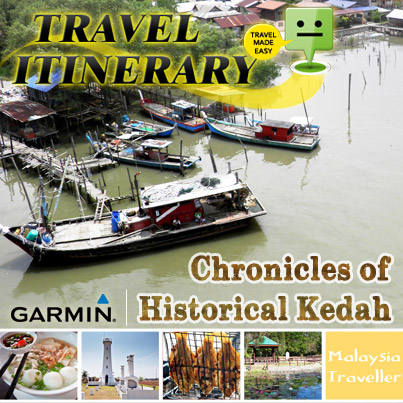 ---
Share this page: