Islamic Museum Melaka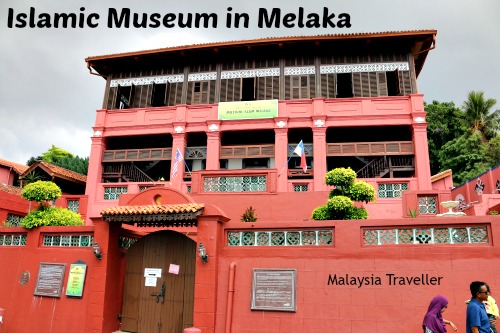 Islamic Museum Melaka was officially opened in 2001 in an old colonial building on Jalan Kota in Melaka's Bandar Hilir district.
The Building
The exact date of construction is uncertain but it has been estimated to date from the 1850's meaning that it is a piece of British colonial architecture not Dutch as has been wrongly stated in many websites. On the other hand it may have been remodelled and enlarged from an earlier Dutch building so perhaps both arguments are correct.
Its airy design with full length windows on the upper floor would have been designed to catch the cooling sea breezes as this building originally stood on the shore line before extensive land reclamations were carried out.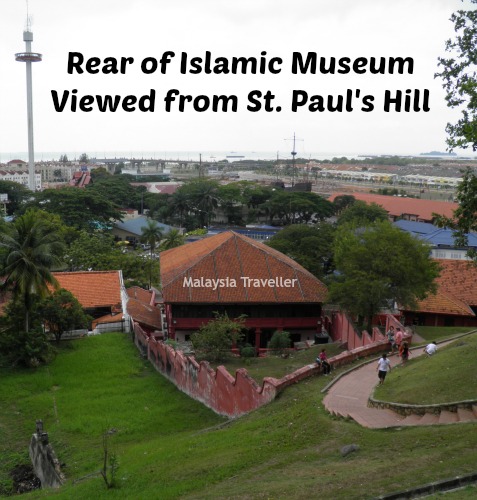 The Museum
The museum contains over 100 exhibits including religious texts and documents, displays on the five tenets of Islam, a collection of krises bearing inscriptions from the Holy Quran, paintings of mosques, wood carvings and books. The museum tells the story of how Islam came to be introduced to Malacca and spread around the region.
Of particular interest is a replica of the oldest Quran in the world. There is also a replica of the  Prophet's sword.

Opening Hours and Admission Fee
Open 9am - 5:30pm.
Fridays Open 9am - 12:15pm and from 2:45pm - 5:30pm.
Closed on Mondays.
Ticket Prices (Foreigners and Malaysians with MyKad same price)
Adult RM 3

Child RM 2 (ages 7 - 12)
Child 6 Years and below: Free
How to Get to Islamic Museum Melaka
I have marked the exact location on this map of Melaka Museums (click on the View Larger Map symbol in the top right corner to expand the map):
GPS Coordinates:
2.192393, 102.248608
2°11'32.6"N 102°14'55.0"E
Address:
 Jalan Kota, 75000 Melaka
Tel: 06-282 2973 / 06-281 4872

Nearby
The Museum is located in the heart of Melaka, a UNESCO World Heritage site, and is surrounded by places of interest. Read more on my Top Melaka Attractions page.
---
Share this page: