Gunung Nuang


A Strenuous Climb but Worthwhile 

Here is a short slide show to give you a feel of what climbing Gunung Nuang is like. For full details read on below.
Introduction
It had been a while since I climbed one of Malaysia's mountains so I decided it was time to take on Gunung Nuang.
This mountain, situated in the Hulu Langat district of Selangor state is often described as Selangor's tallest peak but according to my list of Malaysia's Tallest Mountains, it is only the 3rd highest after Gunung Semangkok and Gunung Ulu Kali. I think the discrepancy arises because all three of these mountains are right on the border between Selangor and Pahang so sometimes they might be classified under Pahang.
Gunung Nuang is 1493 metres high (4898 feet) making it the 86th highest peak in Malaysia according to my list. Although it is a relative baby in Malaysian terms, it is still a good size - higher than any mountain in Britain for example (Ben Nevis is 95m shorter). 
I had read various reviews about this mountain and they vary in their opinions. One review said that it is harder than climbing Mount Kinabalu. I think that is an exaggeration but there is no doubt it is a gruelling and strenuous trip particularly if you are going up and down in one day which is what most people do.
The problem with most mountain reviews that you read on the internet is that they are written by super-fit ironmen or women who find a small hill like Nuang to be just a stroll in the park. Those climbers who give up before reaching the top are generally not the ones who write the reviews.
Malaysia Traveller reviews are different. I have never been superfit and now that I am nearly 57 with a pair of dodgy knees you can believe me when I say that, for most of us with average fitness, climbing Gunung Nuang is very arduous and exhausting.
Guide
I have divided the climb into 4 stages as illustrated on this height elevation chart: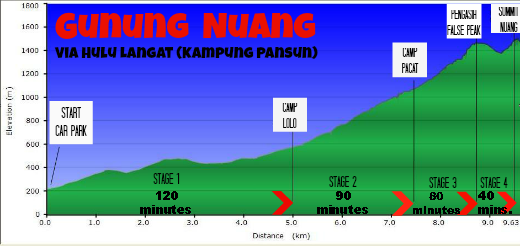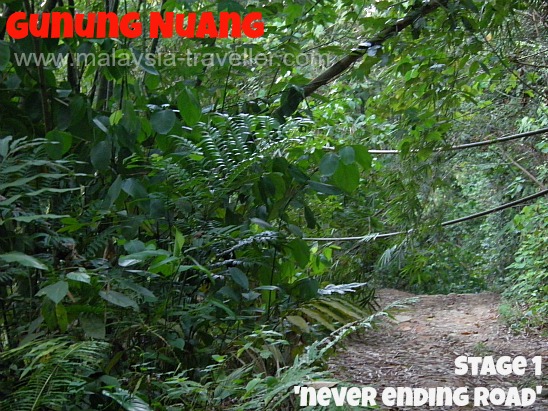 Stage 1
The entrance to the trail is near the village of Pangsoon (location details given below). Here you park your car, register with the ranger and start walking. The start of the trail is around 200m above sea level.
You walk on an undulating stony track, wide enough for a 4WD vehicle, for a distance of 5km, which some have described as the 'never-ending road'. Thick forest lines each side of the track and the loud insect, bird and monkey calls made this one of the noisiest stretches of jungle that I have encountered in Malaysia. Six shelters have been spaced along the 5km road with notices pointing out how far you have travelled and how much further you have until you reach Camp Lolo, the first campsite.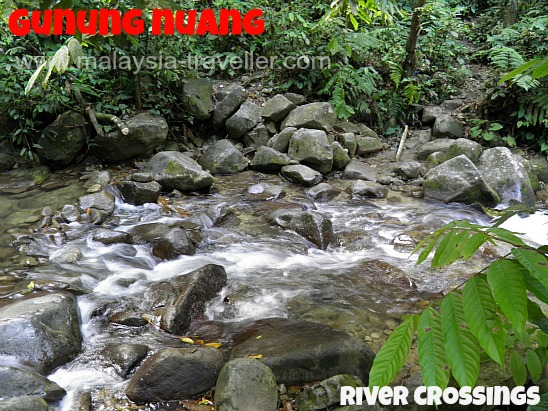 River Crossings
The 6th and last of these shelters is next to a small river. Here you have to cross the shallow river using stepping stones which thankfully were not slippery. (If the water is covering the rocks you might want to change into Kampung Adidas or cross in bare feet rather than get your shoes and socks wet at this early stage of the climb.). Then the path narrows, following along next to an old water pipeline for a while before reaching a waterfall and a water sluice gate where you have to make a second river crossing. A third and fourth river crossing follow shortly after.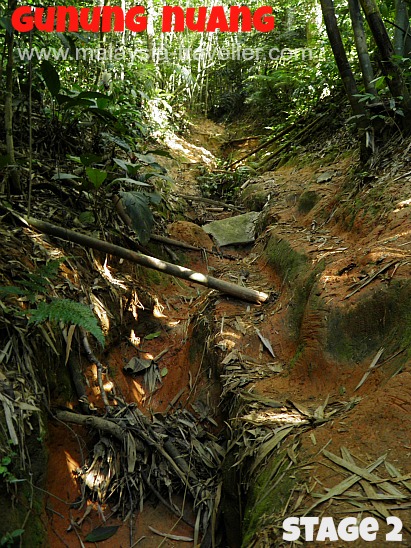 Stage 2
Next you arrive at Camp Lolo where some people choose to camp overnight before tackling the next stage of the climb. There are no facilities at this camp site other than a few sandy plots where tents can be pitched.
A small sign points the way to the next stop, Camp Pacat 1.2km and 150 minutes away. This is where the hard work starts. While struggling along this fatiguing stage I occupied myself with some calculations. If the sign said 1.2km should take 150 minutes that meant 8 metres per minute or 1 metre every 7.5 seconds which seemed terribly slow even on this demanding terrain. In the end I think I took 90 minutes to complete this stage, which is still quite slow.
The path was mostly deeply rutted clay which no doubt turns into a nightmarish torrent during heavy rain. Thankfully on my trip the rain did not start until the evening just after I had returned to my car.  
Although I went alone on my trip, I deliberately chose a Saturday as I knew there would be lots of other climbers around who could help me out if I got into trouble. I encountered several groups including a group of friendly students from Kelantan who seemed impressed that I had managed to make it so far.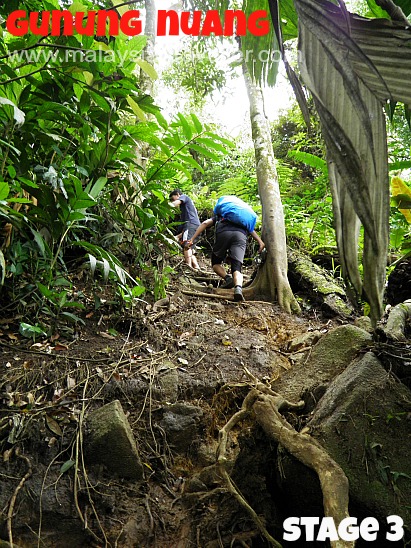 Stage 3
Pacat means leech but fortunately there didn't seem to be any leeches around this time - no doubt it depends on the season. Camp Pacat consists of a shabby bamboo shack and an open area where people could pitch tents.
Another sign pointed the way to the next stop, Camp Pengasih, another 1.2km away. The sign said this stage should take 40 minutes but it took me 80 minutes. The path here was even steeper and in places uprooted trees had gouged great holes in the trail which had to be scaled by pulling on tree roots and branches. In one or two places there were breaks in the vegetation and you could get an encouraging view perhaps indicating that the summit must be near.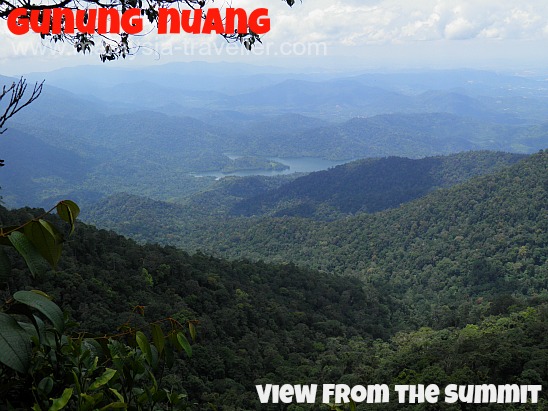 Stage 4
Camp/Puncak Pengasih is a false peak meaning that you are not at the top yet. It was muddy and boggy there and not conducive to hanging around so I pressed on to the real peak. This involved a steep descent for 20 minutes of scrambling down through large moss covered granite boulders. This was very demoralizing as you know you have to climb all this distance back up again, and more, before arriving at the summit. After a final laborious ascent I emerged on the peak. This stage took me about 40 minutes. On the top there is a metal trig point (which in Malaysia is called a beirut for some strange reason) and a small open area where jubilant climbers were enjoying the food they had so painstakingly lugged to the top.
Through gaps in the bushes there were far-reaching views as the visibility was good.
In total it had taken me 5 hours and 30 minutes to reach the top from the starting point.
Going back down should be quicker for most people but as I was suffering from knee pain I had to take it slowly and the return journey took another 5 and a half hours, i.e. an 11 hour round trip!
Tips for Climbing Gunung Nuang
What Time to Start. I started my hike at 7am. If I were to do the climb again (highly unlikely!) I would start at 5.30am or 6am (torch needed) so as to improve the chances of having clear visibility at the peak and to reduce the likelihood of getting caught in afternoon thunderstorms.
Footwear. Worn-in hiking shoes/boots with good grips and comfortable socks are a must. You could also bring along a pair of kampung adidas (cheap Malaysian rubber shoes) to change into for the river crossings. I saw some hardy people doing the whole climb in kampung adidas.
Water. I carried 3 litres of bottled water and 500ml of an isotonic drink with me which was just enough for my 11 hour round trip. Some websites say you do not need to carry so much water as you can fill up with river water at Camp Lolo. Personally I would not risk drinking river water except as a last resort.
Reduce Walking Distance. By the time you have descended from Gunung Nuang you might feel you have had enough exercise for the day and wish to avoid repeating that 5km 'never ending road' back to the car park. Some local boys were extra earning pocket money by ferrying people on the backs of their motorbikes along this long road. This is probably only possible at weekends.
Location of Gunung Nuang Trailhead
It is easy to find the start of Gunung Nuang trail.
Exit the E7 Cheras Kajang Expressway when you see the sign for Pekan Hulu Langat. Take route B52 through Hulu Langat and keep going straight as far as you can. You will end up in Pangsun (Pangsoon) where the road forks. Keep left towards the Pangsoon Reservoir and Dam. When you reach the locked security gates of the reservoir compound, turn left into the Gunung Nuang Park. There is a car park here. You have to register with the park ranger and pay RM1 per adult or RM0.50 per child. 
There is an alternative trail up Gunung Nuang from the Pahang side which starts at Janda Baik. The route's starting point is 280m higher and it is reckoned to be easier. 
---
Share this page: