Gua Kelam Recreational Park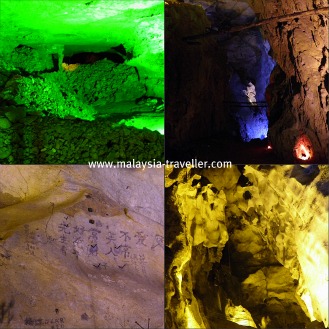 I visited Gua Kelam recently (March 2012). Gua Kelam translates as Dark Cave but I shall use the Bahasa name to avoid confusion with another Dark Cave at Batu Caves.
The caves are located at the top end of Perlis which is about as far north as you can drive in Malaysia, a few kilometers from the Thai border.
I had driven over 800km to reach the caves in a roundabout trip from Kuala Lumpur and I was looking forward to seeing them as one of the highlights on my Grand Tour of Peninsula Malaysia.
I knew that there were two caves open to the public at this site.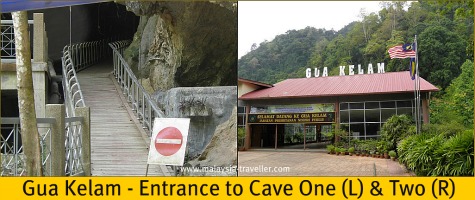 I arrived at the first cave and found a no-entry sign and construction work going on. The worker told me that that the cave was closed for repairs and improvements following serious flooding which occured here in March 2011.
That was a pity because I knew that this cave was interesting with a boardwalk which is used as a shortcut by local villagers walking from Kaki Bukit to Wang Kelian.
The notice board outside said that the construction work will be completed on 15 September 2012. Better check first if you are planning to go as these types of projects have a habit of getting delayed.
Never mind, I thought, I will visit the other cave instead, Gua Kelam 2.
This one is accessed via a modern building but there was nobody at the reception counter and a worker told me that this cave was closed to the public as the trolley train used to enter the cave was out-of-service.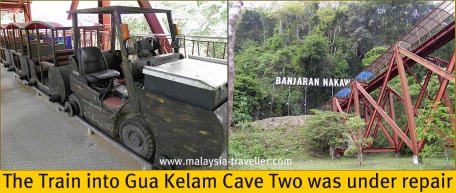 This was a real blow! After driving all that distance, both caves were closed.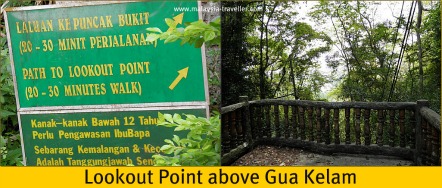 I consoled myself by taking the steep path leading up to the Lookout Point above the caves. After a long sweaty climb I reached a viewing terrace but the view was mostly obscurred by trees. This was not actually the top but the steps did not go much further before petering out. So this was also a waste of time apart from discovering this unusual lizard with pink spikes. Anybody know what it is called? If it is unknown to science I suggest calling it the Punk Rocker Lizard.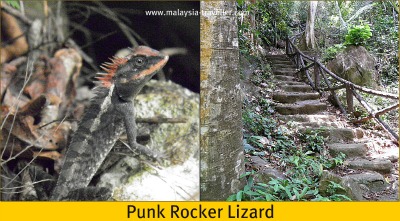 When I reached the bottom of the steps the worker who I had spoken to before came up on his motorbike. Perhaps he had sensed my disappointment or maybe with an eye to earning some pocket money he said he could arrange a private tour (with a guide) of Gua Kelam 2 if I did not mind walking along the 400 meter train track to get inside.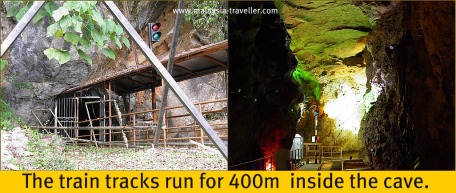 That was fine with me and I paid a fee and received a hard hat to wear. The height of the tunnel is slightly too low for an average adult to walk upright so the helmet grazed the roof on a number of occasions.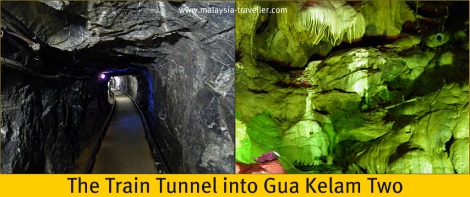 At the end of the tunnel, the guide led me along paths and up steps through a number of caverns with impressive limestone curtain formations and remains of tin mining activity which took place during the middle decades of the 20th century.

Normally, this cave is used for adventure caving which entails climbing up ladders and wading through water before emerging an hour later at a separate exit higher up the valley. That part of the cave was closed off during my trip. Technicians were working on the coloured lighting so hopefully this cave will be fully reopened to the public soon (mid 2012 according to the guide).
Apparently the train service was suspended after a group of boisterous youths rocked the train while in motion and managed to uncouple the carriages from the loco which could have led to a serious accident. Safety reviews will have to be completed before the service is resumed.
In front of the caves is a landscaped area alongside a river which is known as the Gua Kelam Recreational Park. It is a picturesque and relaxing spot but signs remind couples not to get too romantic!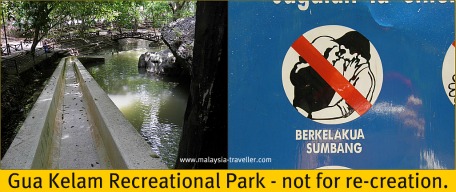 How to Get to Gua Kelam
Take Highway 7 from Kangar towards Perlis State Park. You will see plenty of signposts directing you to the caves.
Contact Information
The caves are managed by the Perlis Forestry Department. Their website does not mention the caves being closed so if you are planning a visit I suggest you contact them first to check they have been reopened.
Jabatan Perhutanan Negeri Perlis
Km 2, Jalan Kaki Bukit, 01000 Kangar, Perlis Malaysia. Tel: 04-9776626, 04-9765966 Fax: 04-9767901
Email : forestry@perlisforestry.gov.my
---
Share this page: