Gua Charas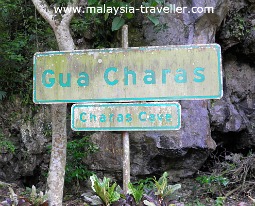 Gua Charas is a temple cave found in a limestone hill (Bukit Charas) about 25km north west of Kuantan, Pahang.
The cave is a holy site for both Hindus and Buddhists and their symbols and statues are dotted around the interior of this vast cavern.
Bukit Charas is a 400 million year old limestone and granite massif reaching 355 metres at its highest point. (The Tourism Malaysia information plaque outside the cave says that the mountain is 1000 metres high but I do not think that is correct.)
As you can perhaps tell from this satellite image, the hill is surrounded by oil palm estates. The approach road was quite badly potholed and it was a bit surprising to be charged RM 2 for parking my car at the entrance to the caves as these carparks are normally free.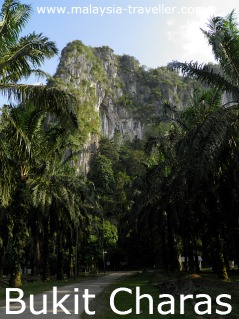 Once inside the entrance gate I was charged a further RM 2 for admission to the cave. This fee presumably helps pay for the lighting and for maintaining the steps and pathways.
You have to climb a flight of metal steps and at the top you see a sign marked 'Sleeping Buddha' pointing into the mouth of the cave. See this short slide show to get an idea of what's inside.
Inside the cave is quite untidy (caves are naturally untidy with rocks jumbled all over the place).
The air is damp and dank. In the darker recesses you can hear bats screeching and the odour of their droppings is quite powerful.
Some shirtless Hindu priests were washing an altar and a black pillar named Jala Lingam, representing the deity Lord Shiva.
Nearby, statues of an elephant and a monkey were kneeling before a Buddha while towards the rear of the cave, another holy man was attending to a modestly sized Reclining Buddha statue.
It is not the most attractive reclining Buddha in Malaysia but the fact that it was constructed in such a setting is impressive.
Back outside the cave, some concrete steps lead further up the mountain where there are some shallow, open-sided caves from where you can catch a cooling breeze and glimpse a view of the surrounding countryside though the treetops.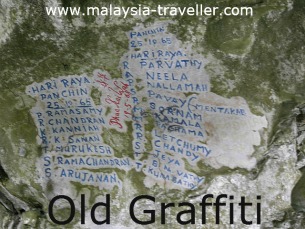 Some 47 year old graffiti can be seen on the cave wall here. It is so old it could almost be considered as heritage now instead of pure vandalism.
It is lucky that this spectacular limestone outcrop contains a temple otherwise it might have shared the same fate as its near neighbour, Bukit Panching which was completely destroyed and excavated by quarrying during the 1990s. A lake now lies where that hill once stood.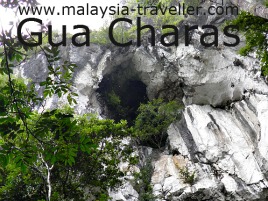 Admission Charges and Opening Hours
Entry To Cave:
RM 2 Adult
RM 1 Child
Parking:
RM 5 Bus
RM 2 Car
RM 1 Motorbike
Open:
8:30am - 5 pm daily.
How to Get To Gua Charas
If you zoom out on the satellite image above you can see the location of Gua Charas.
The cave is located on the main road from Kuantan to Sungai Lembing (C4). You cannot miss Bukit Charas and the cave is clearly signposted.
---
Share this page: