Gopeng Heritage House


Gopeng Museum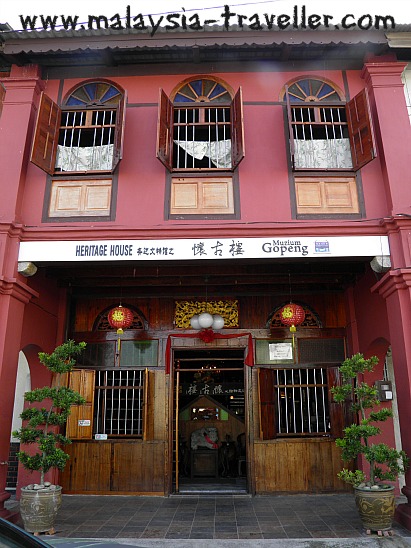 Since Gopeng Heritage House opened its doors in May 2011, I have been meaning to go there and I finally got my chance while visiting Gopeng recently.
Here is my review.
Heritage House is an annex of Muzium Gopeng which opened to the public in 2009. They are located a short walk from each other so both can be conveniently visited if you are passing through the quaint historic Perak town of Gopeng.
Gopeng was a tin mining town for about 100 years from the 1870s onwards. Its early development was dominated by three groups - the Mandailings from Sumatra, Chinese miners led by Eu Kong and European mining companies.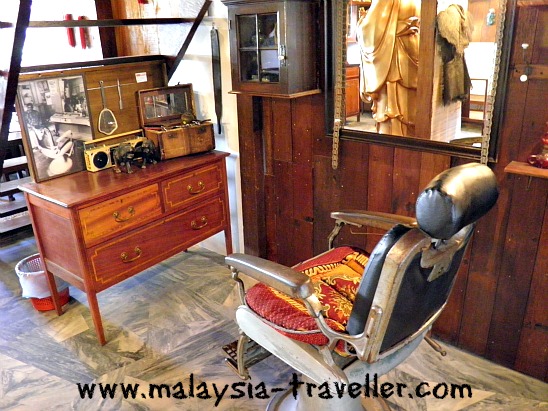 Heritage House contains displays items from Gopeng's glory days and contains an eclectic selection of curios and collectables dating from 100 years ago up until the 1960s.
The exhibits are arranged over two floors. On the ground level is some Chinese furniture, ornaments and ceramics. Near the entrance is an antique mirrored hall stand of European appearance, a grandfather clock, an ancient fan and a mock up of a barber's shop, complete with an old style barber's chair.
There is a small but pretty courtyard garden with bonsai trees and a stall selling some souvenir items including postcards (sample pictured below) and a book called Tin Mining in Malaysia, The Osborne & Chappel Story by David Palmer and Michael Joll which has a lot of information on Gopeng and profits go the museum.
Upstairs are a couple of bedrooms and a sitting room which may be available as overnight accommodation if you fancy staying in a traditional shophouse building with period furniture and authentic antiques. You would need to check with the curator if the rooms are available.
One of the bedrooms has an old fur stole and hat on display (not really necessary in Gopeng's tropical climate) while the sitting rooms has a sweat stained pith helmet hanging from the hat stand.
Old radios, clocks, lamps, torches, suitcases, beer bottles, vintage cigarette packets, musical instruments and gramophone records complete the displays.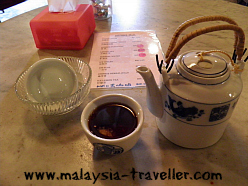 There is a tea room at the rear of the Heritage House where coffee, tea, ice cincau, Chinese herb jelly and other items can be purchased.
I ordered a pot of tasty Pu Erh tea far a bargain RM1.50.
Verdict
Interesting little museum and well worth a visit.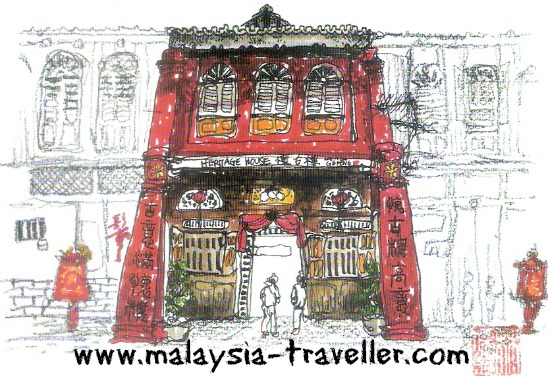 Opening Hours and Admission Charges
Admission is FREE but donations are welcome (and required to keep the museum going). 
Heritage House opens on Saturdays and Sundays only from 9am to 3pm.
Muzium Gopeng opens daily except Wednesdays and Thursdays from 9am to 5pm (closed for lunch 12.00 - 1pm).
How to Get to Gopeng Heritage House
The location of both the Muzium Gopeng and Heritage House are marked on this map (zoom and pan to get your bearings).
If driving from KL, exit the North South Expressway at the Gopeng turn off and follow the signs into town.
Address:
Gopeng Heritage House: 6, Jalan Sungai Itek, 31600 Gopeng, Perak.
Muzium Gopeng: 28, Jalan Eu Kong, 31600 Gopeng, Perak, Malaysia.
The museum curator is Mr Phang. His number is 05-3597828. You can also try the following numbers for enquiries:
017-5785185 
016 542 1287
Nearby
Gaharu Tea Valley is worth visiting.
My Gopeng Resort is 7km from town. It specialises in outdoor, adventure and team building activities.
---
Share this page: