Gemencheh Bridge



Sungai Kelamah Memorial
The Ambush
The WWII ambush at Gemencheh Bridge, near Gemas in Negeri Sembilan, took place on 14th January 1942. It was the first time that a company-strength unit of Australian troops had engaged the Japanese.
Since the Japanese invasion of Malaya began on 8th December 1941, the Imperial Japanese Army had made spectacular progress in its southward drive down the Malay Peninsula.
So much so, that by the time Japanese units were advancing along the main trunk road from Tampin to Gemas, they were lulled into a false sense of security and were travelling as a convoy of cyclists without protection from tanks.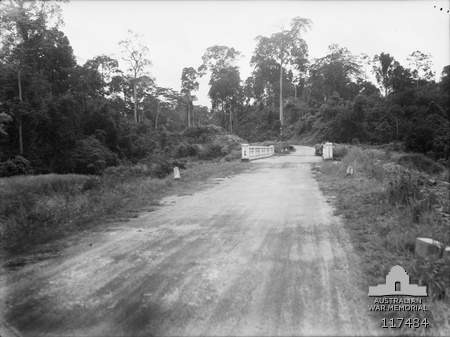 The Allied commander in charge of this area was Major General Gordon Bennett, an Australian, who believed that it would be more effective to stage ambushes against the invading the Japanese rather than the unsuccessful tactics so far employed by the British army.
New South Wales Battalion 2/30 B Company and C Troop of 2/15 Field Regiment deployed 200 men to set an ambush near Gemencheh where a bridge crossed over the Kelamah River.
Their plan was to allow the first batch of Japanese cyclists cross the bridge before blowing it up and dividing the Japanese force.
The Japanese arrived at around 4pm and the ambush was brilliantly executed with Captain Desmond Jack Duffy in charge, blowing the bridge just as a large group of Japanese were crossing to cause maximum casualties.
Many were killed instantly while grenades and bren guns mowed down many more. A 300 yard stretch of the road was thick with the bodies of the dead and dying. In all at least 500 Japanese soldiers were killed and this represented their biggest set-back of the campaign. Around 21 Australians were killed in the following day's withdrawal under Japanese counter-attack.
The Japanese soon recovered the initiative however and resumed their relentless advance all the way until the surrender of Singapore.
Many of the surviving members of 2/30 Bn. spent the remainder of the war as prisoners and some slaved on the Burma Railway. Some 300 died in captivity.
Gemencheh Bridge Memorial
The memorial site, officially known as the Sungai Kelamah Memorial, lies alongside the new bridge on N1 highway. The wooden stumps of the old destroyed bridge are still visible, some sticking out of the river bed and others on the river bank.
A marble column and inscribed plaque commemorate the Australians who died here while a Malaysian Tourism plaque honours the memory of both Australian and Japanese casualties (they put the wrong date - 1941 instead of 1942).
Unfortunately this latter plaque was lying on its side, whether due to vandalism or storm damage was not clear.
In fact the whole site is in need of repair. Perhaps the Japanese government should finance a more fitting memorial; after all it was mostly Japanese who perished here.
How to Get to Gemencheh Bridge
The location is accurately marked on the interactive map on the Top Negeri Sembilan Attractions page.
---
Share this page: