Galeri Seni Rakyat

Folk Art Gallery, Melaka
Visited Oct 2018 
Galeri Seni Rakyat, or Folk Art Gallery occupies one of the red heritage buildings on Laksamana Street in the heart of Melaka's UNESCO World Heritage zone. Judging by the art-deco style of the building I would imagine it would originally have been built for a commercial company or bank, possibly in the 1930s, but I could be wrong.
The gallery reopened in April 2018 after a one-year closure for renovation of the building.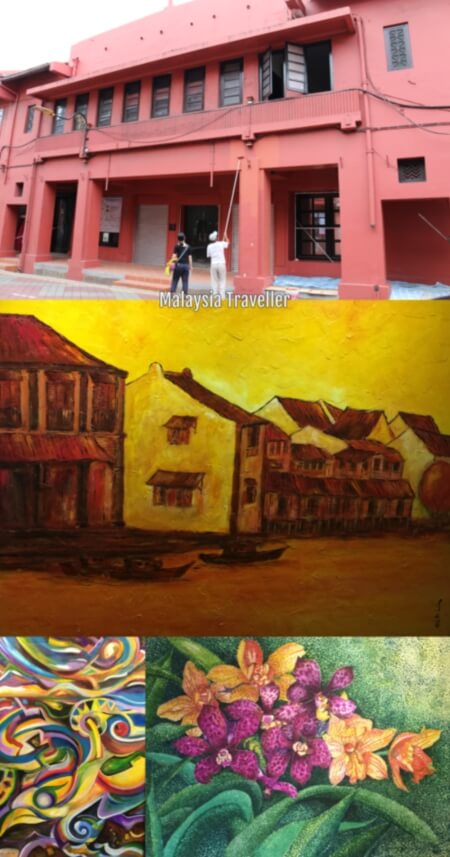 The gallery is arranged over two floors and displays a number of paintings and a couple of statues, mostly by local amateur artists. Some look rather amateurish while others are quite competent. The photos shown here are of the good ones.
No photography is allowed inside. There was no sign to this effect but the surly gentleman who worked there let me know in a very impolite manner. Probably better if he were replaced by someone who has been on a customer service course.

Opening Hours 
Tuesday - Sunday from 9 am to 5 pm
Fridays closed between 12.15pm - 2.45pm for prayers.
Ticket Price
Admission is free.

Review Verdict
If it's raining outside or you need some air-conditioning you could spend 10 minutes here. 

How to Get to Galeri Seni Rakyat
The exact location is marked on this map:

Address:
Jalan Laksamana

5 Bandar Hilir
75000 Melaka
Malaysia

GPS Coordinates:  2.194901, 102.24948

---
Share this page: