Fortune Dragon Statue
Yong Peng, Johor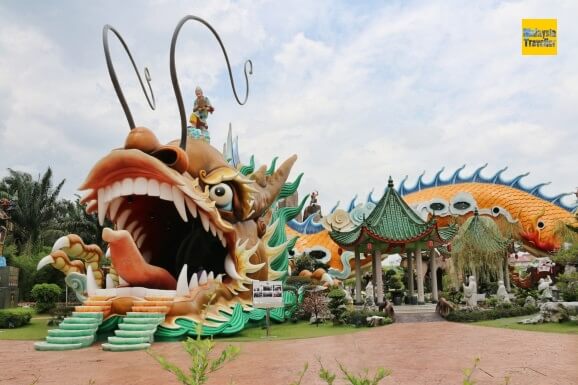 The Fortune Dragon Statue in Yong Peng, Johor was completed in 2016 at a cost of RM 8 million. It is said to be the world's largest dragon tunnel with a length of 115 meters but this cannot be correct since they were building a 21 km long dragon in China's Henan Province a few years ago, but this massive project attracted some criticism so I don't know if it was ever completed.
The Fortune Dragon snakes its way around the garden and visitors enter through the dragon's mouth and exit near the tail. Inside there are 144 steps up and down.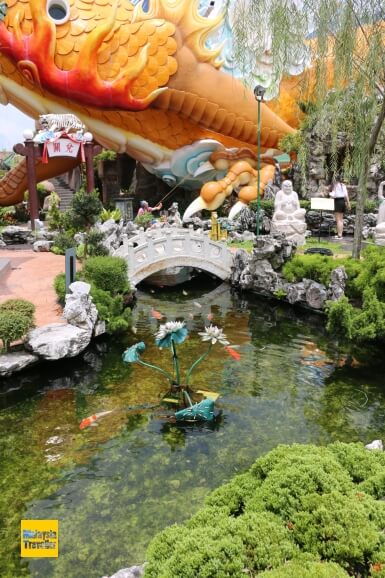 The interior walls of the dragon are lined with a series of traditional Chinese paintings with captions in Chinese, Malay and English. The first series of paintings concerns the subject of filial duty and tell stories of sons and daughters who went to great lengths to honour, protect and serve their parents. For example a boy who slept outside his father's room at night and exposed his bare skin to the bites of swarms of mosquitos so that the bugs would not disturb his father's sleep. There is no mention of whether the boy caught malaria as a result!
Then there is the story of a son's wife who breast-fed her aged mother-in-law when the old woman could no longer eat solid food. That's a bit weird!

NB. Unfortunately no photography is allowed inside the dragon so I am unable to show you a picture of this.

The second section of paintings describe the Ten Chambers of Hell and illustrate the gory fate which awaits sinners of various kinds in the next world. This is a theme which you can find in other temples around Malaysia such as Chin Swee Caves Temple and Tua Pek Kong Temple, where they have a similar walk-in dragon, though not as elaborately designed.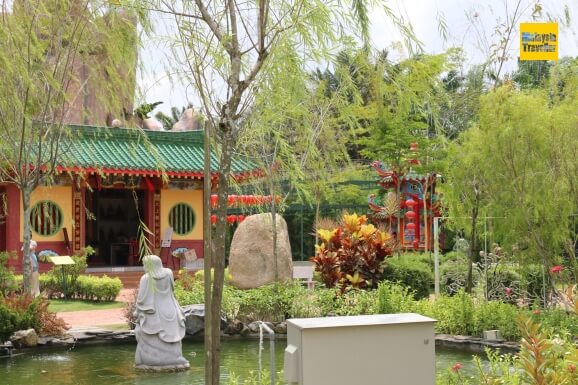 The gardens are beautifully landscaped with koi ponds, water features, statues, a temple, gazebos and ornamental planting. I visited during the day time but there is coloured lighting everywhere so it must look equally nice after dark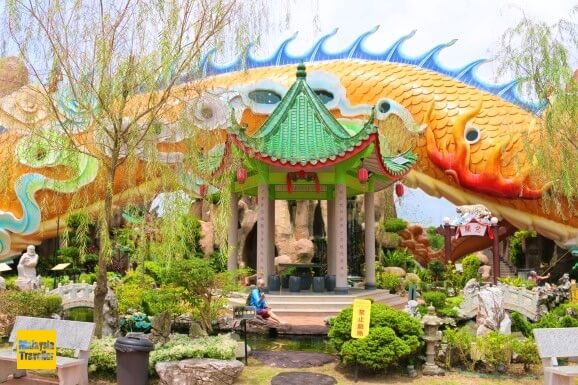 Opening Hours and Ticket Prices
The attraction is open daily from 8.30 am - 10 pm. Last ticketing at 9 pm.
Admission Fee

Adult RM 25
Child less than 135cm RM 10
Child less than 110 cm FREE
Seniors age 60+ with IC RM 10
Yong Peng Residents with IC RM 10
The entrance ticket is a little expensive but I suppose the management wish to recover some of their construction costs. They will also want to maintain the gardens and dragon in excellent condition.

How to Get to Fortune Dragon Statue
The town of Yong Peng (or Everlasting Peace in Chinese) was established in the mid 1800s at a time when Johor encouraged the immigration of labour from China to clear forest for plantations. 
The Fortune Dragon's location can be found on this map:
GPS: 2°01'15.6"N 103°04'52.0"E
            2.021004, 103.081103
Address: 
Fortune Dragon Statue 
Yong Peng
Johor, 83700
Malaysia
---
Share this page: