Floral Tea Mansion
Rumah Teh Bunga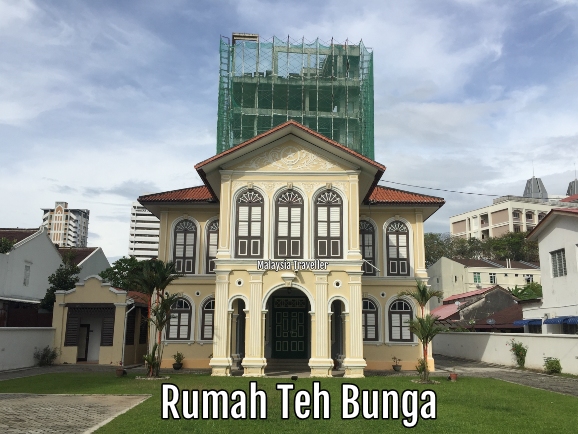 The Floral Tea Mansion, or Rumah Teh Bunga, is a beautifully preserved and restored heritage building at No. 138 Jalan Hutton, Georgetown, Penang.
This 130 year old mansion was restored by the National Heritage Department in 2009. They erected a plaque outside which reads as follows:

This mansion was built in 1893 on a plot of land measuring 1,608 square meters and had been a residence for several generations. In earlier times Hutton Road was well known as the residential district for the rich, with mansions owned by urban Malay and Indian Muslim merchants. This mansion was known as Rumah Teh Bunga, literally translated as Floral Tea Mansion, for its colour. Its original owner was Tuan Abdul What, a local Malay who resided very briefly. The mansion was bought over by Mr. Tan Chong Keat in the early 1900s. Several generations of this family lived in the mansion and for a specified period three to four families lived together.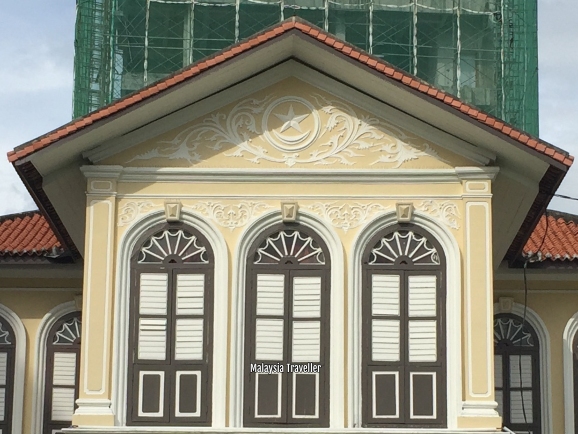 Star and Moon Symbol
Of 'Sino-Malay' design, the mansion combined the architecture of the pyramidal roofed Malay house with Chinese and European features, resembling the Syed Al-Attas Mansion at Armenian Avenue and Ku Din Ku Meh Mansion at Penang Road, Penang. The concrete plastered brick building has Indian tile roofing. The pediment in the mansion's front facade bears the star and crescent of Islam, signifying the religion of its original occupant, embellished with floral motifs. The mansion is divided into the primary quarter/area, a connecting kitchen block and a separate garage. The primary quarter consists of a porch, living room, toilet, storage room and an open drying area. The garage is located besides the primary quarter consisting of the driver's room, an area for two horse carts with two stables. A car garage was built later besides the kitchen block.
The mansion was bequeathed Amanah Raya Berhad as real estate trustees by its last owner. The Ministry of Culture, Arts and Heritage had purchased the property with the owner's agreement that the mansion to be converted to a Penang Malay Gallery, being the only heritage building of Penang Malay ownership remaining in its very original state. Restoration works by the National Heritage Department commenced on 23 December 2008 and was completed on 22 August 2009.

Whilst its ownership may have changed and several generations have lived in it, the entire fabric and character of the mansion remains preserved and uncompromised.

For a time after restoration the building served as the Penang Malay Heritage Gallery but when I visited in 2018 the gallery signboard had been taken down and it appeared to be closed to the public.

How to Get to the Floral Tea Mansion
The location is marked on this map:

Address:
Rumah Teh Bunga

140, Jalan Hutton, 10050 George Town, Pulau Pinang, Malaysia
GPS Co-ordinates:

5°25'18.0"N 100°19'40.1"E
5.421659, 100.327815
---
Share this page: