Department of Museums Building

Department of Museums Building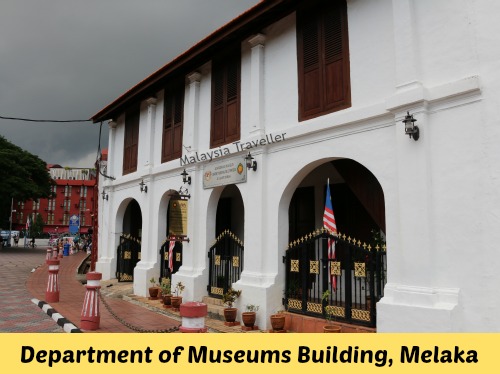 The Department of Museums Building in Melaka is housed in an old white painted house built before 1700 for use by officials of the Dutch East India Company (VOC). 
The architectural style is similar to other Dutch colonial buildings in the tropics with four symmetrically placed louvred windows upstairs and an open porch with 4 arches which are now enclosed behind an attractive metal grill fence.

This building is not a museum but is used as an office by the Southern Region of the Department of Museums, also referred to as the Museums & Antiquities Department.

As a private office it is not open to the public unless you have official business to attend to there.

Where is the Department of Museums Building?
It is located on the museum strip on Jalan Kota, sandwiched between the Islamic Museum and the UMNO Museum.
You can find the location on this map of Melaka Museums (click on the View Larger Map symbol in the top right corner to expand the map):

Address:
 No. 3, Jalan Kota, 75000 Melaka
Phone: 06 286 4763 / 06 286 4757

Fax: 06 286 5092
Website: www.jmm.gov.my

Nearby
The building is located in the heart of Melaka, a UNESCO World Heritage site, and is surrounded by places of interest. Read more on my Top Melaka Attractions page.
---
Department of Museums Building
Share this page: