Colonial Penang Museum

A Treasure Trove of Delights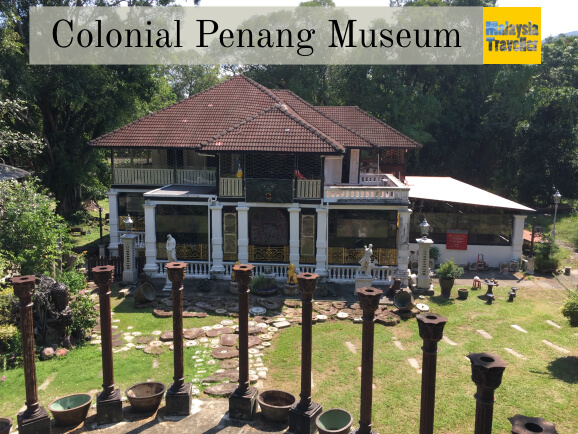 My visit to Colonial Penang Museum was something of a surprise. I had expected it to be about the British colonial period in Penang but instead this spacious house contains a fantastic collection of antique furniture, gorgeous stained glass windows and hundreds of priceless ornaments, artworks and collectibles.  In terms of sheer quality of the exhibits, this has to be among the top museums in Malaysia.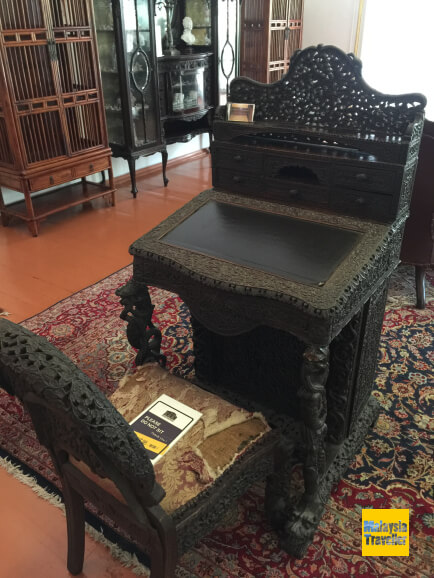 During the colonial era, the British created the conditions for Penang to become a vibrant, cosmopolitan free port attracting successful merchants and traders from all over the world who amassed tremendous wealth and liked to show it off. Chinese and Peranakans (Baba-Nyonya) particularly thrived under British rule and they emulated and sought favour with the English by building sprawling European style mansions and filling them with the best that money could buy from Europe, China and elsewhere.

The founder of the museum Madam Jasmine Tan assembled this wonderful collection of artefacts over half a century, gathered from the mansions of these wealthy merchants in the leafy, opulent districts of George Town, Penang and elsewhere in the region. 

I had a guided-tour round the museum by Alvin. I am not normally a fan of guided tours but Alvin was most knowledgeable, cheerful and entertaining. 

There are so many beautiful pieces in this museum which you will have to see for yourself but here are a few of the highlights: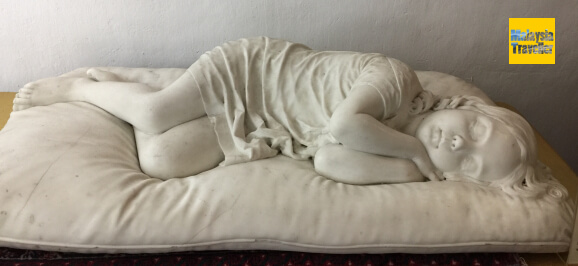 This charming 19th century white Carrara marble statue of a sleeping girl by R. Bigazzi of Florence graces the entrance hall. The pillow looks so realistic it is difficult to believe it is made of stone.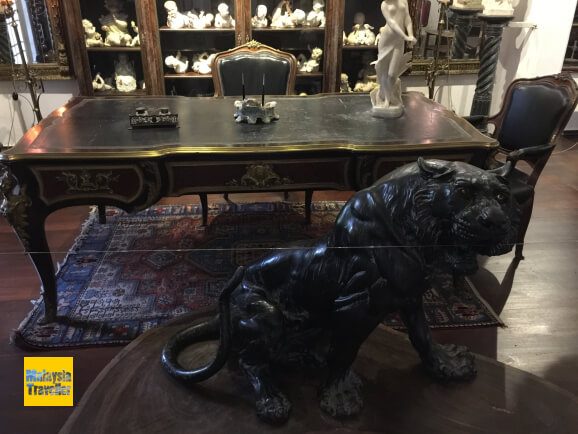 This elegant French desk, circa 1890, by renowned craftsman Francois Linke, would be quite valuable. A similar one was on sale recently for over US$160,000.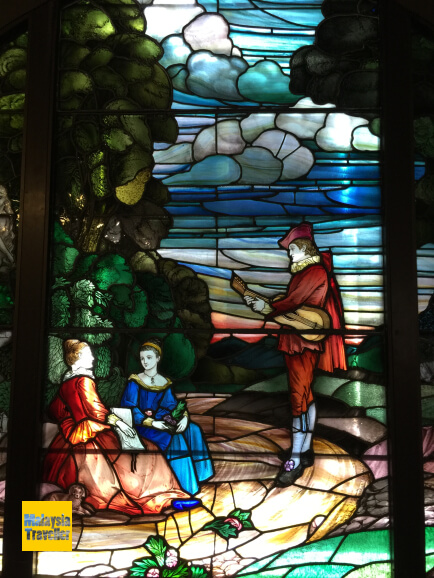 There are a number of splendid stained glass windows on show, depicting non-religious subjects, created by celebrated Irish artists such as Kathleen Quigley and Hubert McGoldrick and famous English artist and designer William Morris.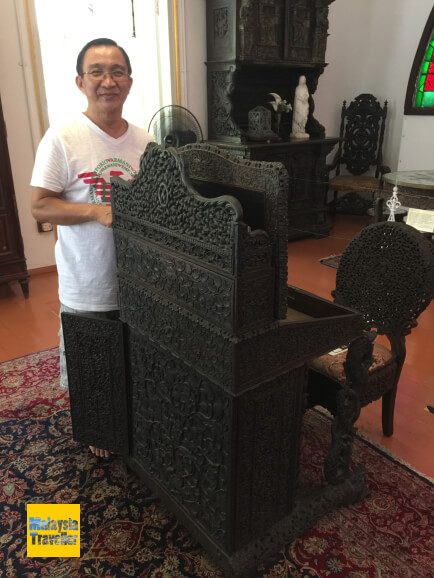 Alvin, my guide, showed me the secret compartments in this exquisitely carved Indian-made captain's desk.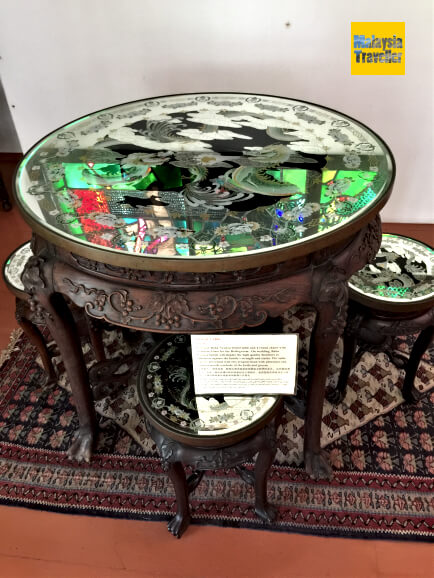 East meets West in this fabulous bridal table and chair set carved in traditional Chinese style and topped with Venetian glass etched with dragon and phoenix designs. The colour is the reflection of the stain glass window above.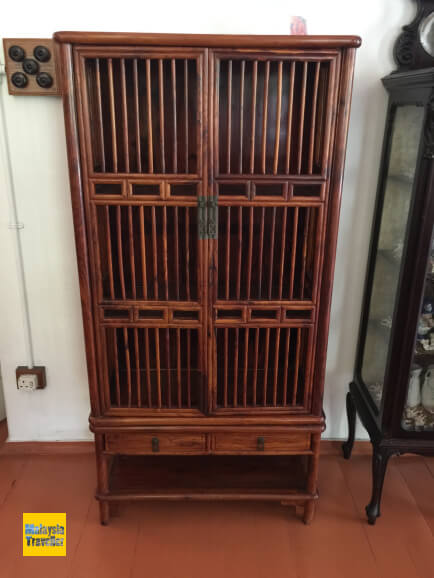 Even this relatively plain cabinet is special as it is made from huanghuali wood, an increasingly rare and highly coveted type of rosewood which maintains its lustre after decades of use.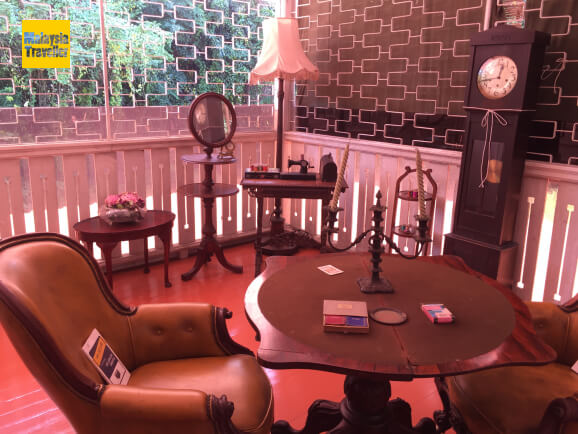 This card table once belonged to David Brown (1778-1825) who became the largest land owner in Penang and one of the pioneers in establishing successful clove and nutmeg cultivation on the island.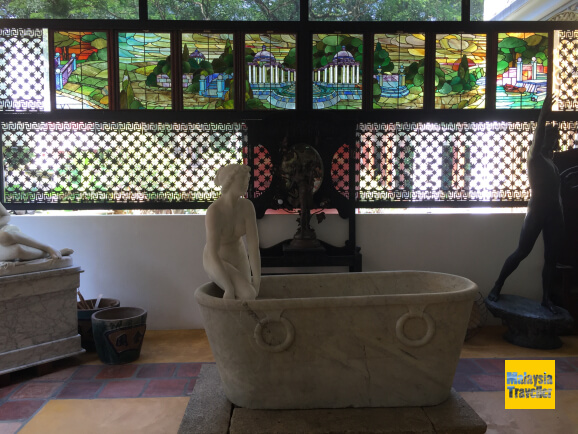 Some items from Eu Tong Sen's mansion are on display such as this marble bathtub. Eu Tong Sen (1877-1941) was a leading businessman in Malaya, Singapore and Hong Kong.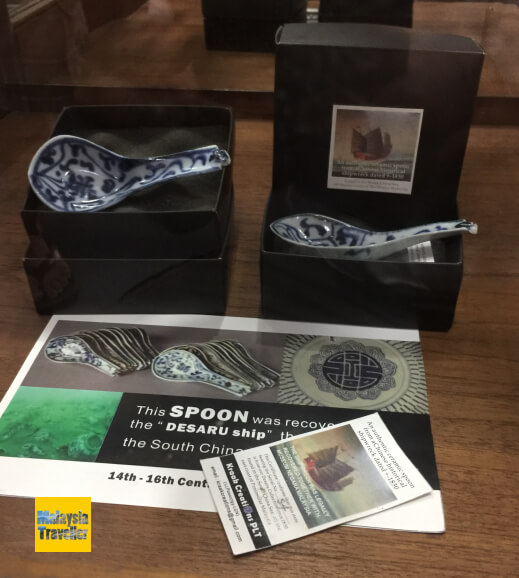 Like all good museums there is a gift shop selling a range of tasteful items such as these spoons recovered from the 'Desaru' shipwreck of a Chinese junk full of ceramics which sank off the coast of Johor in the 1830s. There are also hand-painted perfume bottles, handmade jewellery and much more.

In the garden is a treehouse perched on top of a once-mighty angsana tree, from where the photo at the top of this page was taken. 

Review Verdict
If you like antique furniture, works of art and fine things you will not want to miss this museum. One of the best museums in Malaysia in my opinion.
Opening Hours & Admission Charges
Open daily from 9.30am to 6.30pm.
Admission Fees
Adult RM30
Child RM15 (age 5 - 12)
How To Get to Colonial Penang Museum
The exact location is marked on this map:

Address:
Colonial Penang Museum, 7 Jalan D.S. Ramanathan (Scott Road),
Pulau Tikus, 10350 George Town, Penang, Malaysia
GPS: 5.429156, 100.306396
Contact 04-2288561 / 012 5288005 for more information.
Colonial Penang Museum Facebook Page

Nearby
Penang Botanical Garden
Arulmigu Balathandayuthapani Temple
---
Share this page: