Hiking Bukit Sri Bintang
Kepong, Kuala Lumpur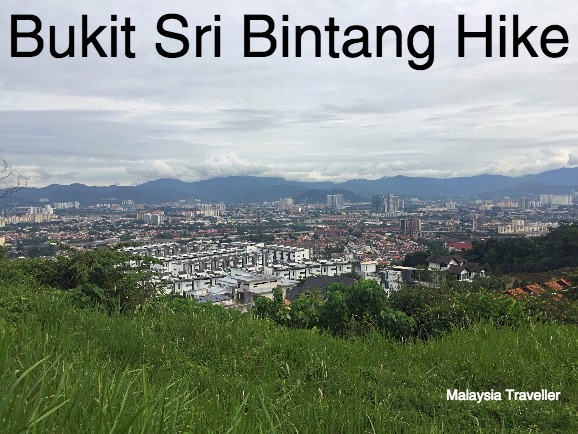 Bukit Sri Bintang is hill and a patch of forest next to Desa Park City, close to Kepong in northern Kuala Lumpur. It is actually part of a more extensive forested area which extends south as far as Bukit Kiara and is separated from this area by the E1 Lebuhraya Utara-Selatan.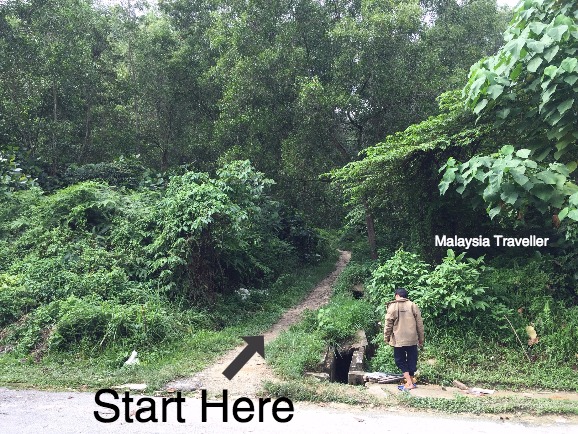 Here is the start of the trail on Jalan Seri Bintang 8 also known as Jalan 11/36  (see below for directions).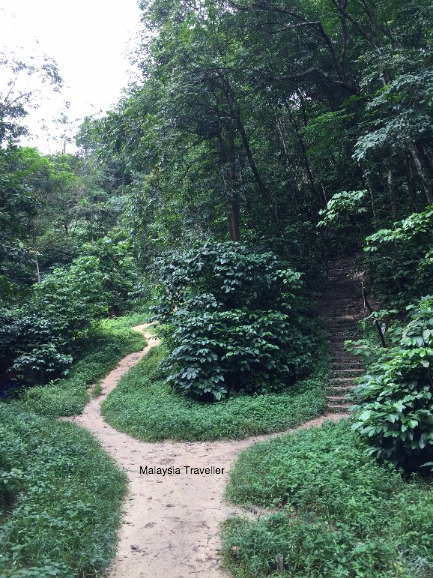 You soon reach a fork. You can take either path as they meet higher up. The right fork was less muddy after the heavy rains we have been having recently (1 December 2017)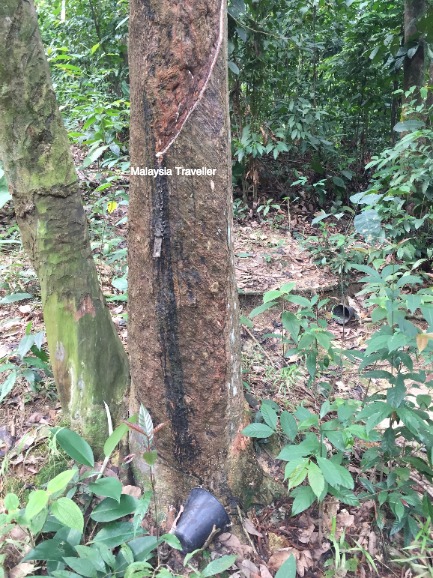 The Bukit Sri BIntang trail passes through an old rubber plantation. Most of the rubber collection cups were strewn on the ground so perhaps it is not being worked seriously.
There were a lot of monkeys (macaques) on the trail and I could hear the squealing of new born monkeys as I walked past. Adult monkeys can be aggressive when their babies are around so keep your distance. With KL's expanding urban development squeezing these monkeys into an ever tighter area they must be having difficulties in finding enough to eat.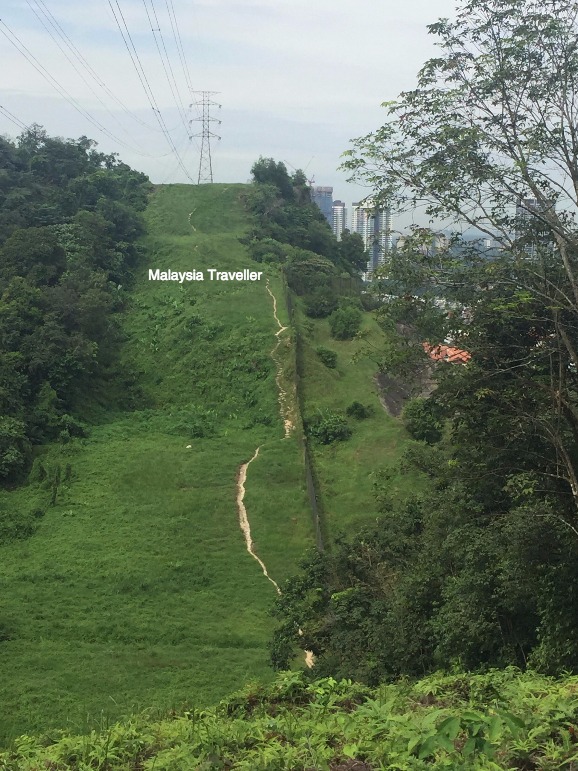 The twin peaks of the hill, highest point around 150 metres above sea level, were shaved of forest some years ago for the construction of pylons and high voltage power cables. Now the scar has healed leaving pleasant grassy vegetation and great views over the city.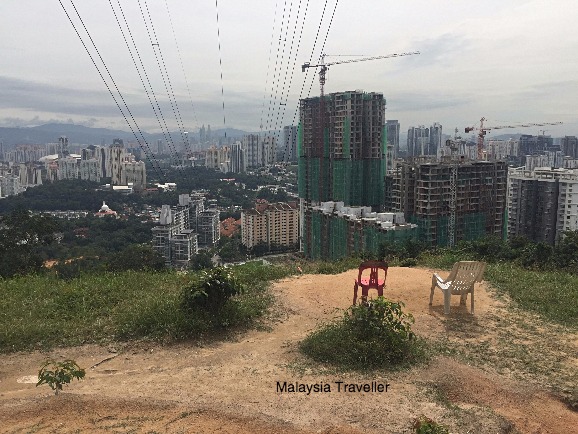 A seat with a view. Pity about the power lines.
I have been critical before on this website of the practice of building power lines through KL's dwindling forested areas but I have to admit that in this case it has opened up vistas that otherwise would have been obscured by trees.
This walk probably has some of the best views of any walk in the KL area. It is possible to see Petronas Twin Towers, KL Tower and even Batu Caves.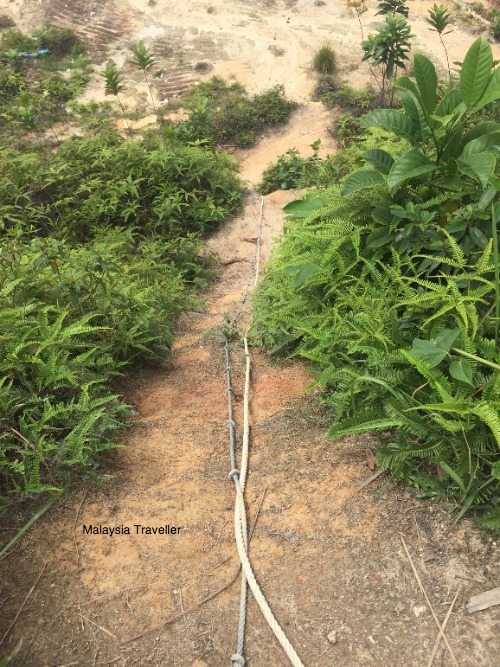 From the 1st Pylon view point there is a steep slope going down to a cleared area which is probably a future development site. Knotted ropes have been left in place for those intrepid hikers approaching via this route.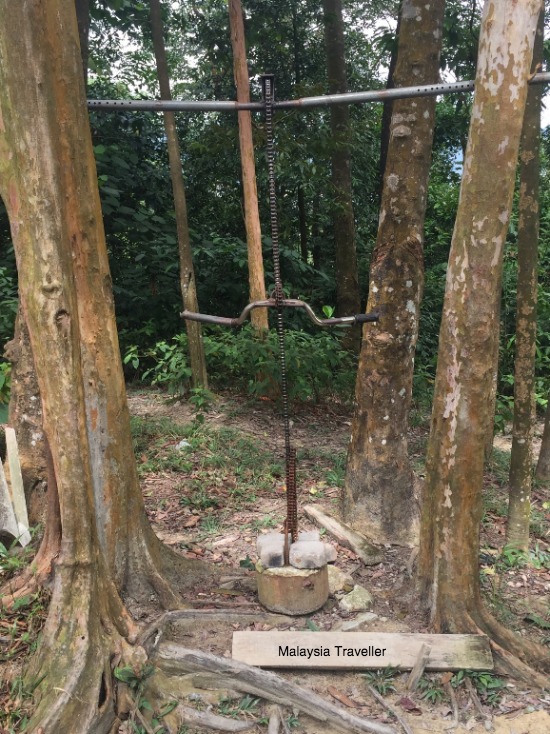 There is an improvised gym here with a range of clever home-made exercise equipment for those who still have energy to burn.

This razor wire fence protecting the high-end residential development, Desa Park City, seems a bit superfluous. No burglar is going to attempt to climb down this sheer cliff.
Distance Covered
According to the Health gizmo on my phone, the distance walked was a rather pathetic 3.4 km with 'flights climbed' equivalent to 73 floors and 5,543 steps. That's a fairly easy hike, but enough to get a good sweat. There are various extension trails leading off from the main trail for those looking for a more vigorous workout. 
I took about 90 minutes to complete the up and down hike with one diversion to check out a side path.

What to Bring
The usual: water, snacks, insect repellent, comfortable shoes, mobile phone.

How to get to Bukit Sri Bintang
The route to the start of the Bukit Sri Bintang hike takes you round the houses. Best to use Waze (see the Show The Way widget below).
I have marked the start point on this map:
GPS Co-ordinates of the starting point.
3°11'03.4"N 101°38'37.6"E
3.184280, 101.643780
Address of starting point:

Jalan Seri Bintang 8 (also called Jalan 11/36)

Taman Sri Bintang
Kuala Lumpur
Wilayah Persekutuan Kuala Lumpur, 52100
Malaysia

Parking
On a weekday you can probably park on the road (Jalan 11/36) close to the start of the hike or else nearby on Jalan 4/36. Park responsibly and be considerate to the residents. 

---
Share this page: