Bukit Gasing Forest Park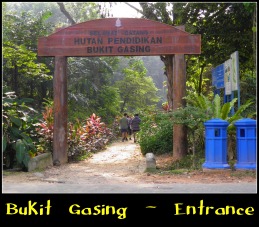 Bukit Gasing Forest Reserve is a 100 hectare stretch of green belt dividing the city of Petaling Jaya (Selangor state) from the Federal Territory of Kuala Lumpur.
It was once a rubber estate but, in the intervening 60 years, the miraculous restorative powers of nature have been allowed to work their magic and the park is now a haven of lush secondary forest including some pretty large trees.
Being surrounded by heavily populated areas, Bukit Gasing is a popular place for nearby residents to stretch legs, get the lungs and heart working and sweat off any extra weight.
There are a number of hiking trails within Bukit Gasing park to suit all levels of energy and fitness.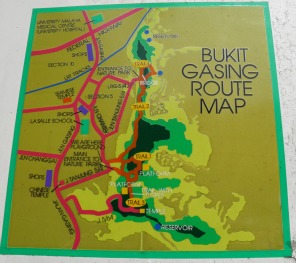 I did not pay much attention to the map at the entrance and I just climbed up the first set of steps I came across with the aim of reaching a vantage point.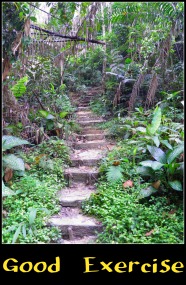 Before long I arrived at a modest and graffiti covered watchtower* from where I could see a Hindu temple (Siva Temple) and a massive communication tower on a neighbouring hilltop.
*since removed
The signage within the park could do with a bit of improvement and more frequent maps would be helpful. There are lots of forks in the path. I just stuck to the main path and, more by luck than judgement, I think I covered most corners of the park while leaving a few side routes unexplored for a future visit.
Being a Saturday morning there were quite a lot of hikers about and walking behind them I could pick up snippets of their conversations. Hikers are such caring people - they care about their health: "My doctor told me my cholesterol level is a bit high" and they care about the environment "I'm going to get solar panels fitted". Hikers are good people!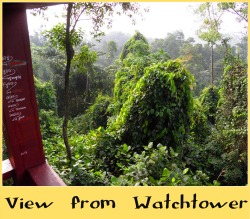 The highest point in the park (presumably Bukit Gasing which means 'Top Hill') is about 160 meters. That makes it a baby hill by Malaysian standards but there are a number of steep slopes in the park (including one called the Abu Baker Slope) and it is a good place to get in some training for more challenging peaks. I spent about 1 hour 45 minutes on my hike.
There are plenty of benches where you can take a rest.
The suspension bridge was unfortunately closed for repairs (since repaired and reopened).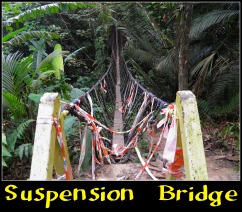 From a clearing overlooking the KL side I saw what I first thought was a lake. On closer inspection it was an expanse of concrete shimmering in the early morning mist. Development appears to be encroaching! According to WWF's Malaysian website the park's 36 hectares on the Petaling Jaya side of the border have been gazetted as a protected area but the remainder of the park on the KL side is not protected. Hopefully the powers that be will see the value of conserving the park as a nature reserve rather than just thinking of its development potential.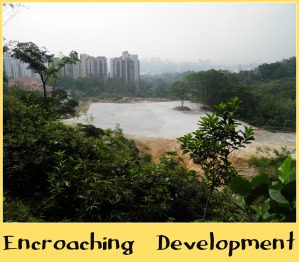 What to Bring?
There are no facilities here - no shops or toilets. Bring your own water.
There are some heavy duty mosquitoes here, so big you can feel them when they touch down on your skin. Be sure to wear industrial strength bug repellent.
Long sleeve shirt and long trousers are a good idea too. You can find a great range of comfortable and practical hiking gear with discounted prices on the PTT Outdoor website.  Enter the coupon code MT to enjoy an additional RM10 off your first purchase (minimum of RM80 applies).
I did not encounter any leeches.
Quite a few people had dogs with them which is understandable as there not that many places where dogs can be walked legally in KL. They should be kept on a leash though. Even if your dog is cute and cuddly others might not be and there are monkeys here.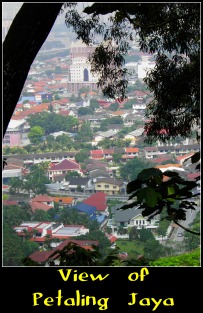 How to Get to Bukit Gasing Forest Park?
If you are coming from KL on the Federal Highway, exit at the EPF building signposted Jalan Gasing. From Jalan Gasing turn left into Jalan Lembah 5/2. Fork right onto Jalan Tanjung 5/4. The main entrance to the park is on this street.
You will probably see cars parked on the verge. Park somewhere and walk until you see the entrance arch.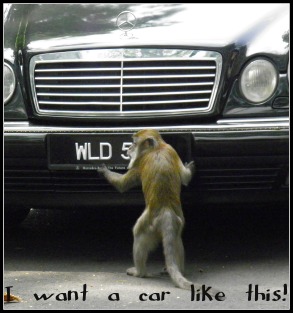 Not Challenging Enough?
Looking for a more extreme activity? How about rock climbing at Gua Damai at Batu Caves? You can spend 3-4 hours climbing with qualified guides with all gear and safety equipment included. Find more details and obtain an 11% discount by buying online through Tripcarte's secure website with instant ticketing, refundable* and hassle free e-tickets.
*(subject to conditions)
---
Share this page: