Bodhi Homecare Cheras
An Oasis of Kindness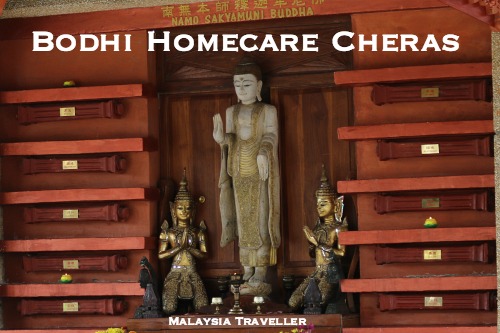 I came across Bodhi Homecare Cheras by accident while driving on the Sungai Besi Expressway (E9). From the elevated highway I spotted a distinctive hexagonal terracotta coloured stupa with some unusual outbuildings which I presumed must be a Buddhist temple. After some effort I managed to find the place and took a look around.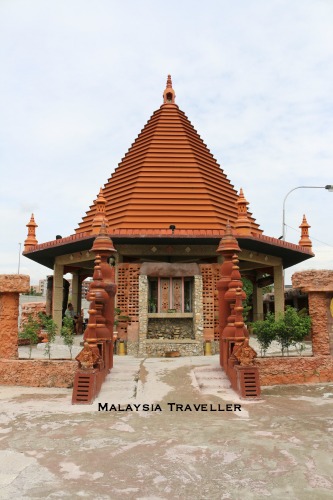 Bodhi Homecare is a registered NGO care home established in 1989 to look after handicapped and abandoned children and provide other charitable services to the needy people in this area of low cost housing blocks. The temple was founded by a monk from China who has since passed away.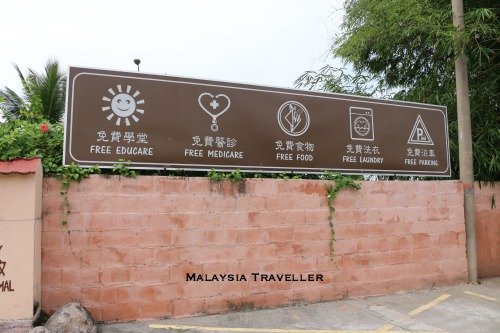 According to their website, and the signboard outside, their services include:
Free tuition, kindergarten lessons, and kids learning camp for 'instilling kindness'.
Free traditional Chinese medicine treatment and consultation every Sunday.
Free vegetarian meals.
Recycling with the proceeds helping to fund the centre.
Provide a garden and pond for animals, fish and unwanted pets to live peacefully.
Free monthly distribution of necessities for poor local families.
Free laundry.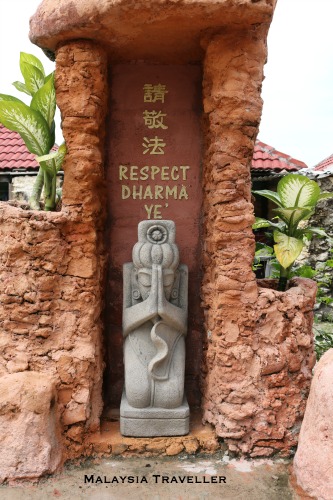 These are lofty and noble ambitions. In practice, with very limited resources, the good people running the centre probably have their work cut out just looking after the 20 or so child residents and a number of elderly disabled folk under their care.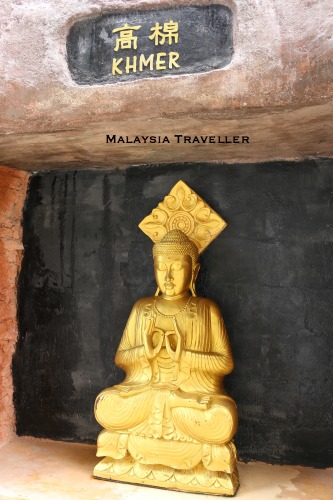 The temple, in open air style, houses a Sakyamuni Buddha statue on one side and a Guan Yin statue on the other. One of the walls of the compound is recessed with nine alcoves, each named after a major Buddhist nation and containing a Buddhist statue representing that country. The nine countries / regions are India, Sri Lanka, Thailand, Myanmar, Khmer (Cambodia), Laos, Tibet, China and Japan.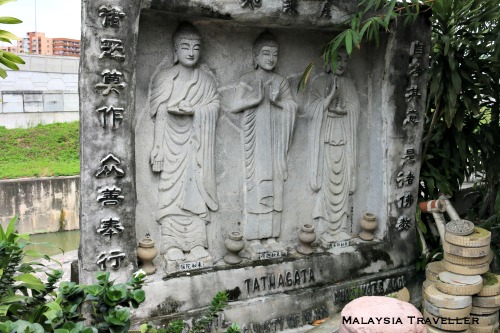 Other decorative walls are inscribed with Buddhist sayings.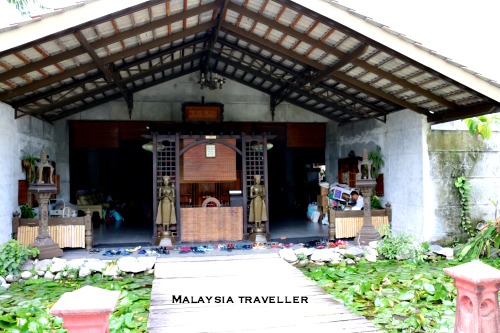 The main hall is co-joined with the care home. I did not enter during my visit as there seemed to be a party going on and I did not wish to intrude. Perhaps it was not a party but just a normal day in the care home. I hope so because they seemed to be having a lot of fun!

 How to Get to Bodhi Homecare Cheras
The exact location is marked on this interactive map:

GPS co-ordinates: 
3°07'05.5"N 101°43'06.4"E
3.118190, 101.718450
Address: 
Jalan Jelawat / Jalan Ikan Emas

Next to Market ABC
Taman Ikan Emas 
Cheras Batu 3 1/2
56100 Kuala Lumpur
Visitors are welcome 8 am - 8pm.
Entrance to the temple is free.
Donations are welcome (and needed).
Contact
If you want to donate, volunteer or otherwise support Bodhi Homecare Cheras you can contact them on these numbers:
Tel: +603 9171 5181

Mob: 016 277 4076 (Ms Ng Ching Yuet)
---
Share this page: