Biomedical Museum
(Muzium Bioperubatan)
Photos: (L) Biomedical Museum entrance, ( R) Institute of Medical Research, original building
Kuala Lumpur's Biomedical Museum is an antiquated, old-style museum housed in a heritage 1928 building on the campus of the Institute for Medical Research (IMR).
The museum aims to " provide an introduction to the IMR and enable visitors to acquaint themselves with the historical background and research activities of the Institute since its establishment in 1900.
It is intended to be a biomedical reference depository for IMR as well as the Ministry of Health."
Here is my review.
The Galleries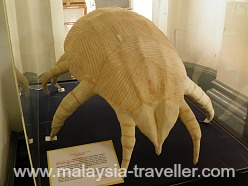 Inside the entrance lobby there is a large scale model showing the layout of the IMR campus.
Another model is a cut-away cross-section of Peninsular Malaysia showing how different habitats are prone to different tropical diseases.
Giant sized models of house dust mites and chiggers come next. The accompanying text explains how 'house dust mites accompany you every night' and are a common species found in mattresses, furniture and carpets all over Malaysia. They are important medically as they produce allergens that can cause allergic reactions.
Chiggers are the larval stage of trombiculid mites. These widespread parasites live on many kinds of animals but especially rats. Chiggers transmit the agent of scrub typhus.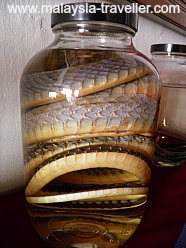 On the staircase landing there is a glass cabinet displaying various stuffed rodents, squirrels and flying foxes.
Posters and photos line the walls giving background to the IMR's history and current work and details of the public health problems facing Malaysia such as malaria and dengue.
Upstairs is a warren of rooms around a central courtyard garden. Most of these rooms are not open to the public, apart from two galleries.
Here you can learn facts such as how some people (rarely) can be allergic to ginseng with asthma and rhinitis being triggered by ginseng dust.
The first gallery displays some antique laboratory equipment like microscopes and scales, models of the life cycle of the mosquito and old photos and documents.
The other gallery contains specimen jars full of snakes, other creatures and diseased human organs preserved in formaldehyde.
The most interesting exhibits for me, also the most gruesome, were a number of human foetuses preserved in jars of liquid. Some of these were grotesque, multiple embryos with deformed features while others were seemingly normal looking. Unfortunately there were no explanatory notes to provide information on these grim trophies.
Verdict
The Biomedical Museum is one of KL's more unusual museums but worth a visit.
There is probably a wealth of material in this small museum for researchers and students but much of it is locked away and what is on show is not very well displayed. Overall it is rather outdated and resembles the office of a nutty professor but this is a heritage building and somehow the subject matter rather suits these historic premises.
Opening Hours and Admission Charges
The museum works government office hours, i.e. is open weekdays from 9am to 5pm (closed for Friday prayers between noon and 3pm). Closed at weekends and public holidays.
Admission is FREE!
How to Get To Biomedical Museum
The best way to get there is on the monorail. The museum is located 2 minutes walk from Chow Kit station.
Address:
Institut Penyelidikan Perubatan
Jalan Pahang
50588
Kuala Lumpur
Tel: 03-26162755
http://www.imr.gov.my/
NB. The museum is inside the campus of the Institute for Medical Research. When I visited, the security guard was reluctant to let me in without an appointment and I had to leave my ID card in exchange for a visitor's pass.
To avoid disappointment I suggest telephoning first to confirm it is open.
Facilities
As you would expect for a place that specialises in diseases, the toilets are spotless.
There are no other facilities here.
Nearby
While you are in the vicinity, you might as well visit these other nearby attractions:
---
Share this page: