Batang Tiga Police Station Gallery

Batang Tiga Police Station Gallery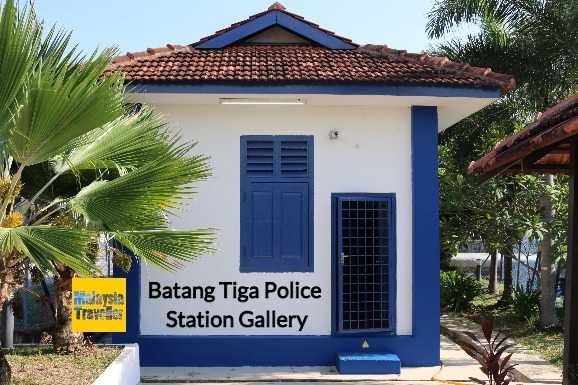 Batang Tiga Police Station Gallery is probably the smallest museum in Malaysia. It is housed in a tiny former police post at Kampung Batang Tiga near Tanjung Kling on the outskirts of Melaka City.
There is not a lot to see inside, mostly information graphics explaining the history of the Batang Tiga old police station and some of the achievements of the police and the armed forces in combating the Communist terrorists in Melaka State during the Emergency.

The old police station was built in the early 1900s to maintain public safety and peace to the surrounding area. It also served as the local time keeper by beating a copper gong every hour since most people lacked watches and clocks. It was manned by a team of 5 or 6 Malay and Sikh policemen under the command of a British officer. The police station had no electricity and kerosene lamps were used for lighting. 

Some items of uniform and equipment are also on display.

The exterior of the building maintains its original quaint appearance.

Opening Hours and Admission Fee
Open 9am - 5pm.
Closed on Mondays.
Entrance is free.

Review Verdict
Not really worth making a special trip but if you are passing by you could spend 5-10 minutes here.

How to Get to Batang Tiga Police Station Gallery.
The exact location is marked on this map.

GPS Coordinates:
2.220485, 102.187132
Gallery Address: 

Gallery of Batang Tiga Police Station
Jalan Klebang Besar/Klebang Kecil
Kampung Batang 3 Timur
Tanjung Kling
Melaka, 76400
Malaysia
Phone: 06-282 1303

 Nearby
Dataran 1 Malaysia Beach Side Park
---
Batang Tiga Police Station Gallery
Share this page: